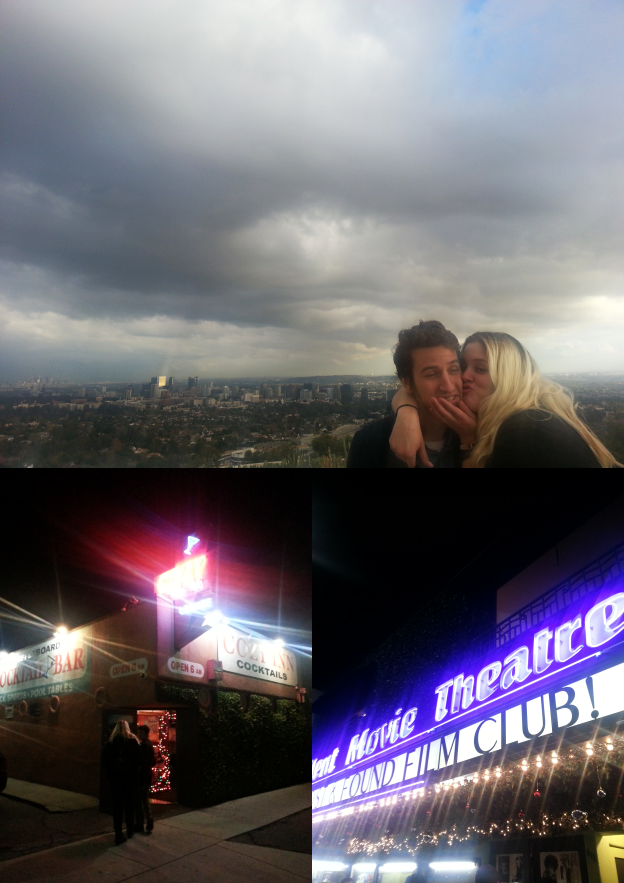 DAY ONE.
I had the best time when my sister
Liz
and her boyfriend Nick came to visit, so naturally, I'm going to tell you about every single day. They got here very late at night, so we grabbed
In-N-Out
on our way back from LAX and just chilled at the house. The next morning they were jet-lagged and I was hungover, so we slept in a little bit and then had brunch at
IHOP
which was like $20/person for mediocre food. I don't know why I liked that place so much in college. Anyway, we went off to
The Getty Museum
after that which is one of my favorite spots for photos. It had been raining that morning but after it cleared we could see the skyline and ocean! That night we got yummy Indonesian food at
Simpang Asia
, then hit up the
Museum of Jurassic Technology
(super weird + cool) and grabbed drinks at
The Cozy Inn
(so cheap + good, I must go back). We had one more beverage at
The Dime
(meh, too pricey for a dive) before going to see a collection of holiday shorts at
The Lost & Found Film Club
. It was an awesome experience but I had trouble staying awake after such a packed day! I'm getting old...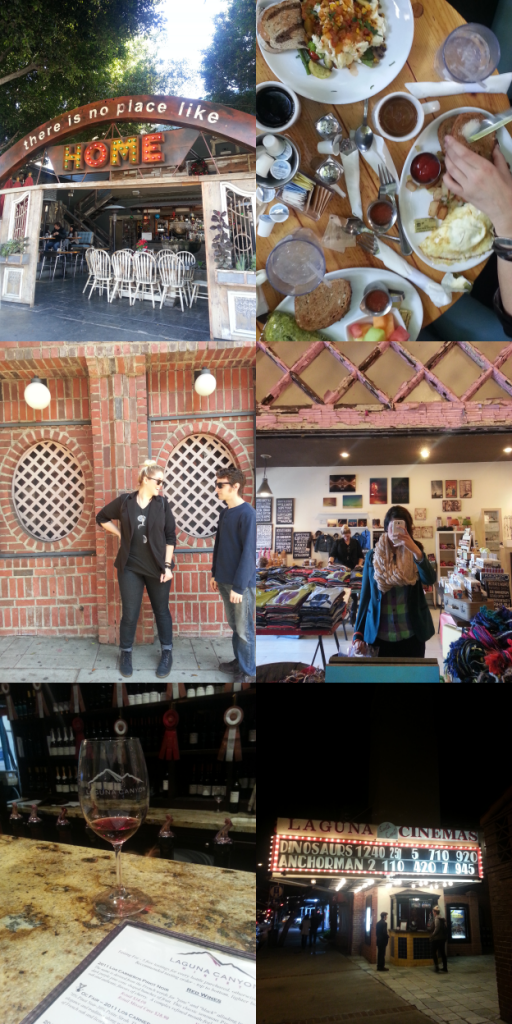 DAY TWO.
The next day we hopped over to Los Feliz and ate a delicious breakfast at
HOME
(another place I need to re-visit). The decor was adorable and the vibe was so serene. After that we dipped into a few vintage shops and grabbed a few last Christmas gifts. We indulged in frozen yogurt at my favorite spot,
Froyo Life
, then headed down to Laguna Beach for the night! That was a first for me. We went wine tasting at
Laguna Canyon
, then bought
Anchorman 2
tickets and snacked on free bread at fancy Italian restaurant
Alessa
while waiting for the movie to start (which, by the way, was hilarious).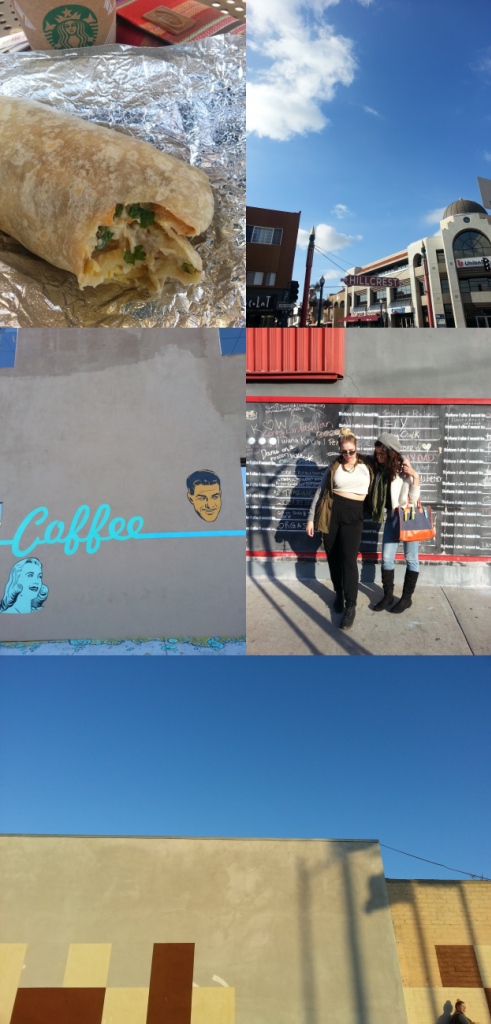 DAY THREE.
After partying and sleeping in a San Clemente living room found via
Airbnb
, we got scrumptious breakfast burritos at
La Tiendita
and hung out at Starbucks for a bit. After that it was time to make the rest of our way down the coast to San Diego! We stayed with darling
Jessica
of course and spent most of our first day exploring thrift shops. We had a second helping of froyo (this time at
Golden Spoon
) and grabbed a beer at
Hillcrest Brewing Co
. Then we ate at
Mimmo's
for dinner in Little Italy, stopped by
Declan Suites
to visit
Christina
who just happened to be in town at the same time, and ended our night at
Seven Grand
. It's one of my favorite bars in LA and I was thrilled to find out they had a San Diego location. If you like whiskey, this one's a must!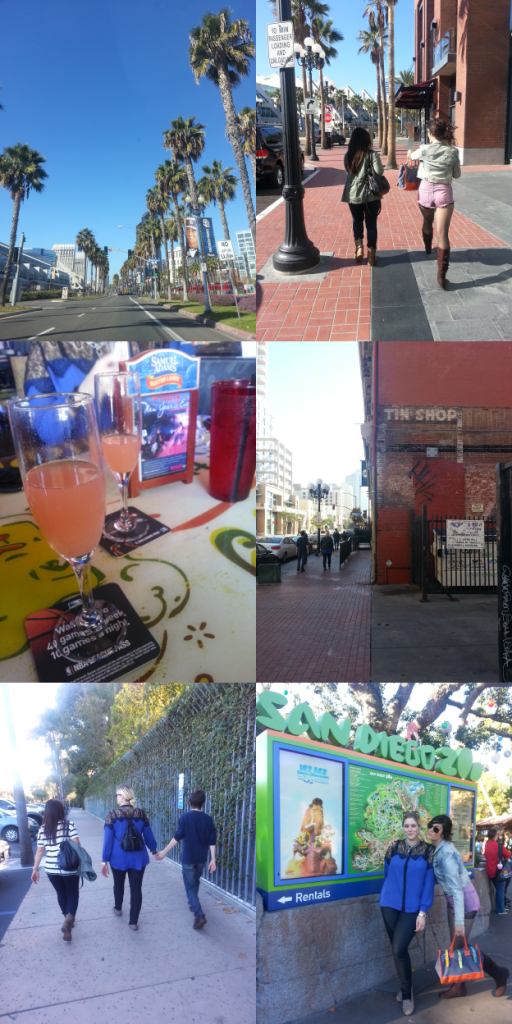 DAY FOUR.
We started our day with another yummy breakfast, this time at
Whiskey Girl
(which included gloriously bottomless grapefruit mimosas). Christina,
Michelle
, Liz, Jess and I had a great time snapping group photos and laughing about the previous night's hijinks. I'm not sure if Nick was too excited about being the only male in the room, but he certainly attempted to play along. After that the original four of us headed off to the
San Diego Zoo
while the other two girls left for LA. We had a blast trekking through the massive grounds and gazing at cute, albeit cooped up, animals. Eventually we grew hungry again and went over to Old Town for dinner at my second favorite Mexican place in the world,
Casa de Reyes
. That night we cuddled up in the living room to watch
Elf
with the dogs. Jess and Nick went to bed while Liz and I attempted to watch
The Mask
(so not good).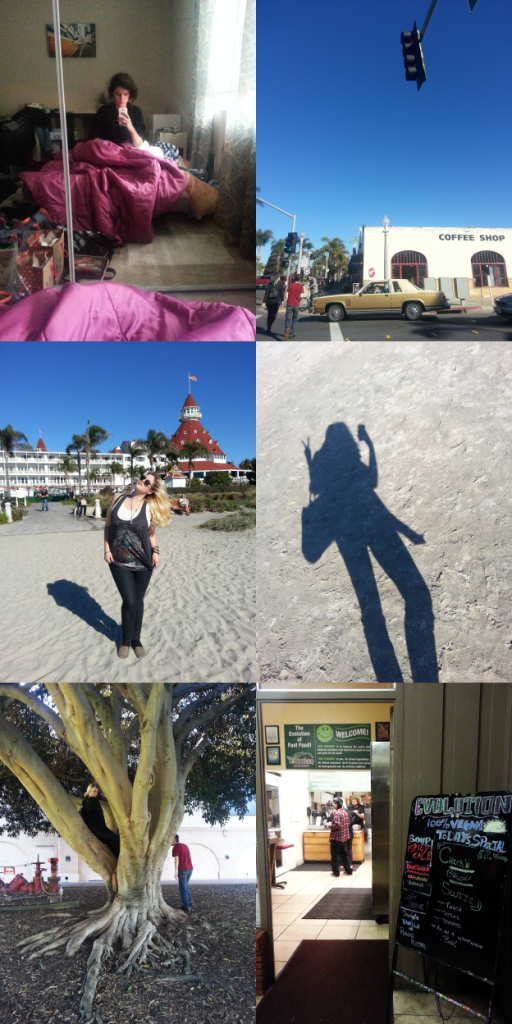 DAY FIVE.
After waking up in Jessica's office (a cornucopia of crafty scrapbooking supplies which made me feel inspired each day) I headed off to breakfast with Liz and Nick (who stayed in the lovely guest room). Tour guide Jess had to work, but we made our way around town just fine. We ate at
Clayton's Coffee Shop
, which was '50s themed and super cute. Then we walked around Coronado and hung out on the beach. I can't believe how warm our Christmas week was -- even for California! We spent our afternoon at the
Reuben H. Fleet Science Center
and played with as many hands-on child exhibits as possible. After that we grabbed dinner at vegan joint
Evolution
(awesome) and headed back to Jessica's place where her husband
Scott
was preparing the fire pit. Our last evening in SD was super relaxing. We just hung out in the backyard with the dogs whilst sipping beer and wine, and eventually came inside to watch
The Hunger Games
(which I'd seen before and is pretty cool -- still need to catch the second one).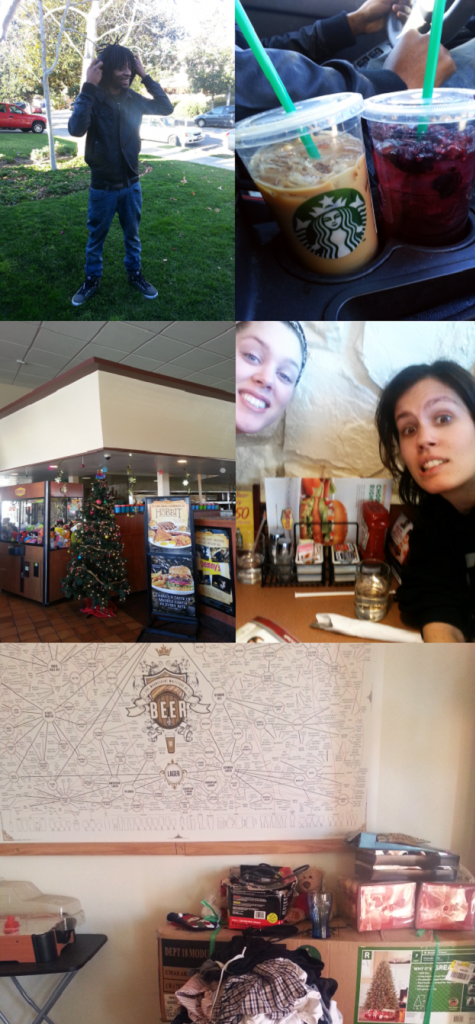 DAYS SIX + SEVEN.
I actually have zero pictures from day six. We spend the majority of it making our way back up to LA and hanging out at the house. I'd really missed B and was so excited to see him! It was Christmas Eve and we toasted to Liz's birthday that night. The next day was Christmas, of course, and it was the laziest one I've ever had. B and I got Starbucks and exchanged gifts (he loves his jacket +
Supras
from
Zumiez
) then met up with Nick and Liz at
Denny's
(they stayed at a hotel down the street). It was much better than IHOP, in case you were wondering. We ended up not cooking at all, nor did we put the tree up; this is the second year in a row it's stayed in the box. There's always next Christmas, right?
*Bag c/o
OASAP
. All photos taken with my phone. See the rest of my December adventures
here
and my 2013 recap
here
.