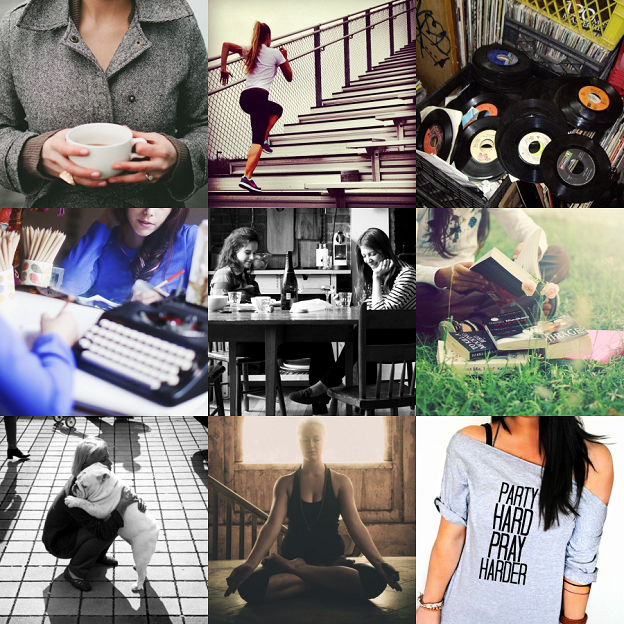 Be honest, we've all had those weeks that just seem to be the worst ever. Whether you're experiencing work stress, relationship struggles or health issues, I've provided nine ways that I get through a rough week myself. Pick and choose which tactics work best for you, 'cause we're all different. Hope these help if this coming week isn't fun!
1.
Coffee.
You guys should know by now that I'm a fiend. Unfortunately, I've had to stick with tea lately, but maybe I can live vicariously through you. Here's
how to make spiked coffee
and
two of my favorite cafes
.
2.
Exercise.
Endorphins, yo. Working out just seems to help things work out. Take a shot at my
40 Days of Fitness
challenge, or try
Whole30
if you want to change your eating habits too.
3.
Music.
I've mentioned before that cool tunes can make a big impact. Here's my
superstar playlist
to pump you up, and
the artists I loved
as a youngster (ah, nostalgia).
4.
Writing.
If you don't have your own blog or journal yet, it's time to start one. Writing my thoughts and feelings down is so cathartic for me, and I just realized I've pretty much been doing it for the past 20 years!
5.
Talking.
Sit down and have a nice chat or phone convo with your best friend, boyfriend, sister or personal
cheerleader
. Talking things out really helps, and everyone could use a good venting sesh.
6.
Reading.
It's one of my favorite, most relaxing hobbies. Here are
10 inspirational books
to get you started.
7.
Cuddling.
Grab your beau, a pet or a pillow and have a good cuddle sesh. (Or use a
Pillow Pet
, which is like, a combination of all 3. I have two.)
8.
Breathing.
It might feel silly at first, but breathing exercises really do work. I've found some to try
here
. Meditation pose optional.
9.
Praying.
Even if you're not particularly religious, channeling your thoughts and energy toward a higher power, nature or the universe can't hurt.
*Photos from
Andria Lindquist
,
Healthy Fitness Ideas
,
Noisy Sonny
,
Wish Wish Wish
,
Nicole Franzen
,
Anyone Else But You
,
Oh Western Youth
,
Style Craze
, and
Pebby Forevee
(love that shop).