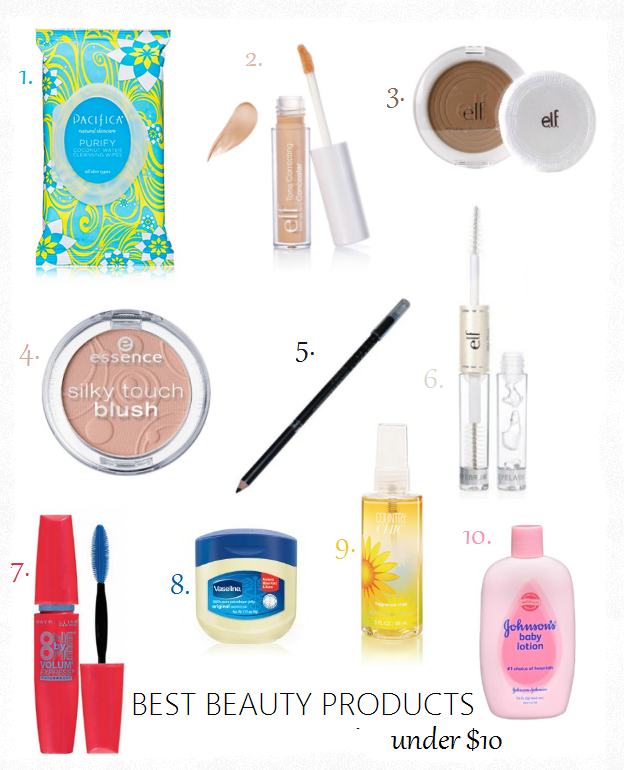 Hey guys! I wanted to pop in today and tell you about my favorite makeup and beauty products as of late. Two years ago I shared the contents of
my makeup bag
and it's still one of my most popular posts, but it's time for an update. While I still use a few of the same items, others have changed. As always, though, I'm being super cheap. I've been blessed with skin that doesn't react badly after using drugstore makeup, but if you're concerned and want to try these anyway, be sure to dab just a small amount on an unseen area of skin to see what happens. You ready? Here we go!
1.
Pacifica Purify Coconut Water Cleansing Wipes
($6). I always start my makeup routine by wiping down my face with one of these. I've tried all kinds of makeup removers (by Neutrogena, L'Oreal, etc) but this is my fave brand. These wipes smell absolutely delicious and leave my skin clean and soft, not dry.
2.
e.l.f. Essential Tone Correcting Concealer Makeup in Light Beige
($5). I used to apply all-over liquid makeup by Mary Kay or Cover Girl, but I found that it left my skin feeling cake-y and suffocated, especially on hot LA days. Now, I use a light concealer under my eyes and to hide small blemishes, before applying powder.
3.
e.l.f. Clarifying Pressed Powder in Light Beige
($2). I was skeptical of this one due to the minuscule price tag, but I was pleasantly surprised. It blends in perfectly and doesn't leave any lines or streaks.
4.
Essence Silky Touch Blush in Natural Beauty
($3). I used to think blush made me look like a clown, but then I realized that I wasn't applying it right nor using the best shade for my skin tone. This brand's colors are subtle and pretty with a small hint of shimmer that gives off a healthy, natural glow.
5.
N.Y.C. Eyeliner Pencil in Jet Black
($5). I've been using these eyeliners for years. They're cheap and easy to apply. I've honestly never tried liquid liner; I don't think my hand is steady enough. To keep the pencil from getting crumbly, try using hot water or a lighter on it before applying (a trick learned from
Althea
).
6.
e.l.f. Essential Wet Gloss Lash and Brow Clear Mascara
($4). I always apply a layer of clear mascara before going over it with black; this helps prep the lashes by separating and lengthening. I also use the same product to shape and define my brows, which can be incredibly unruly due to my European roots.
7.
Maybelline New York Volum' Express One By One Waterproof Mascara in Blackest Black
($6). I haven't yet found a better mascara. My lashes tend to stick straight out, but this product helps to curl while both thickening and lengthening, and as a result, my eyes definitely pop.
8.
Vaseline 100% Pure Petroleum Jelly Original Skin Protectant
($5). I carry a tiny jar of Vaseline with me wherever I go, and constantly apply it to my lips. It works so much better than any type of balm or gloss I've tried. If I opt to wear lipstick, I blend Vaseline in with it. My lips are always left feeling soft and moist.
9.
Bath & Body Works Travel Size Body Spray in Country Chic
($4). This is my absolute favorite scent of all time. It smells completely feminine and delicious, like a field full of daisies and cotton candy.
10.
Johnson's Original Baby Lotion
($3). If it's sensitive enough for babies, you can bet this stuff works on adults too. It's the best lotion for when skin is most brittle and it works like a charm.