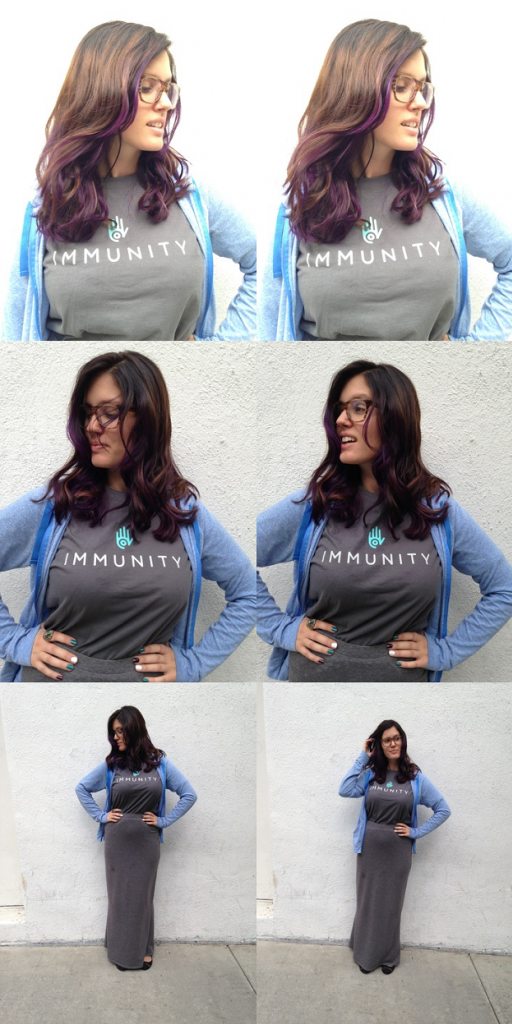 This week, I felt ________ because...
HAPPY
: I'm so happy with my new hair, c/o the always amazing
Angel Cosio
at
Salon Sessions
! The above photos are completely unedited, straight from his iPhone. I've never had an unconventional color before so I thought it was time to experiment, especially since I don't have to worry about a dress code anymore. I also like that the purple goes with my
Julep
mani. If you're wondering what else I'm wearing, that's an
#immunitee
c/o
Klout
in support of the HIV
vaccine
, the comfiest hoodie ever by
Under Armour
, a maxi skirt from
Ann Taylor
(one of the only bottoms that still fits me), glasses c/o Glasses Direct, and
Target
flats. This was the closest thing to pajamas and I didn't wear any makeup. Whatevs.
ANXIOUS:
I'm a little stressed about the boring but necessary details of starting my own business, like setting up health insurance, keeping track of tax materials, and all that jazz. I know once the logistics of it all is figured out, I'll be able to concentrate on the fun stuff, but for now I'm in limbo waiting to be approved for things, and I don't like that place. I don't like the feeling of not having control, and right now I'm depending on other people for certain parts of my future. I wish I could elaborate, but that's all I feel comfortable saying.
LOVED:
It was so nice going out last Saturday night to say goodbye to my former co-workers. Corey, Poirsha, Jason, Vahan, Andrew Y and Eric R all met up with me at
Barney's Beanery
and we had a great time exchanging hugs and stories. I obviously didn't drink but had my fill of mozzarella sticks and french toast. I was also proud of myself for arriving home past 2am, seeing as I've been getting tired around 8 every night; but, fortunately, I'd taken a nap earlier that day. Maybe I'm becoming a normal person again? It's possible!
SURPRISED:
I have gotten even more spam than I could have imagined on
this
post. Ha! It's yet another reason why I'm glad I normally disable comments (as explained
here
). Anyway, be sure to enter my new
giveaway
if you haven't yet. They only happen a couple times a year so snatch up those goodies while you can! Don't forget to pop by my new
store
, too, and decide which item is your fave in case you win.
APPRECIATIVE:
Catching up with a few close friends this past week on the phone and via Skype was wonderful and I'm thankful that I have that technology. My family and best friends are spread throughout the country and though I don't let it bother me too much, I do get lonely once in awhile. Now that I'm pregnant and don't have any friends out here that have kids I have felt even more compelled to call people back 'home' that understand what I'm experiencing. Of course, I am also grateful for the people I have met in LA over the past 4+ years but I don't want to bombard them with information that they can't relate to or don't care to know.
EXCITED:
I'm looking forward to so many things right now -- my weekend trip to see
Jessica
in April, moving into a beautiful new house with Brandon's
mom
this summer, establishing myself as a social media queen, updating my
Project Life
album, finishing a couple books I've been reading, coming up with a concrete daily schedule, celebrating my birthday with Brandon (I don't know what he has planned), and finding out the sex of our baby. I'm very blessed!