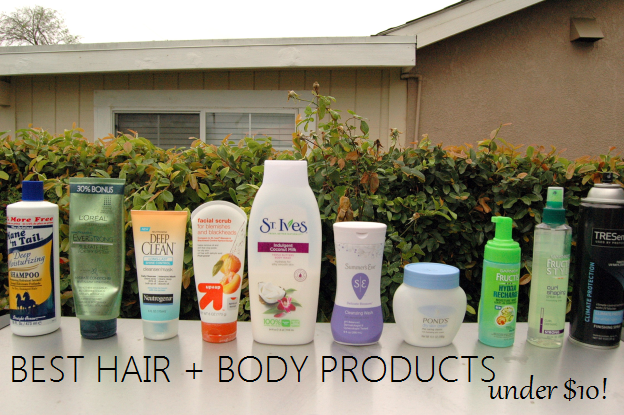 A couple weeks ago I shared my favorite
makeup and beauty products
, so now it's time to move on to the rest of the body. There's nothing I love more than a long, hot shower and some sweet-smelling suds to pamper myself with. Today I'm going to walk you through my pre-makeup bathroom routine (so I guess we're going backwards here, but whatevs). These items can all be found at your local
Target
or drugstore, but I've provided links as well in case you want to pick 'em up online. Alright, let's do this!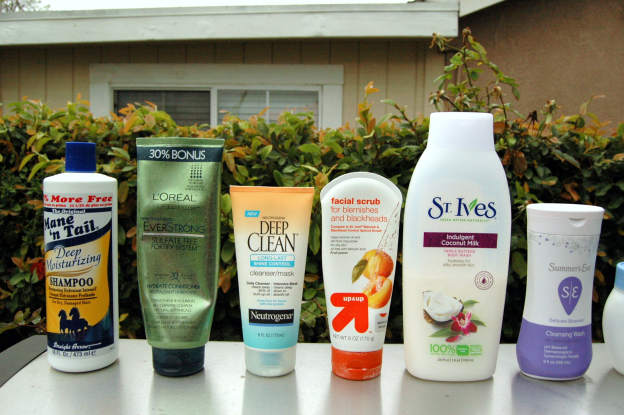 1.
Mane 'n Tail Deep Moisturizing Shampoo
($4). First off, a disclaimer -- I normally don't like to wash my hair with anything under $10. From my experience, the cheaper the product, the cheaper the ingredients are inside the product and the more damaging it can be to my locks. For example, Suave and Pantene Pro-V both make my hair feel like straw. On the other hand,
Redken All Soft
is my all-time favorite, but can be upwards of $20 per bottle. Fortunately, I was recently turned on to Mane 'n Tail by my co-worker
Zhana
who was always coming in with soft, shiny hair. I always thought it was a joke that this shampoo could work for both horses and people, but it really does.
2.
L'Oreal EverStrong Sulfate-Free Conditioner
($6). I once read a magazine article that stated your hair should be really wet before shampooing, but before conditioning, you should ring it out. You want to lock in moisture, but not too much, as it can make your hair frizzy. I bounce back and forth between this and
TRESemme Flawless Curls Curl Hydrating Conditioner
. My hair used to not be so dry, but after years of living in Los Angeles and dying it multiple times, it's pretty damaged. I always leave my conditioner on for a few minutes while I'm shaving my legs, and then rinse with cool water.
3.
Neutrogena Deep Clean Long-Last Shine Control Cleanser/Mask
($6). I absolutely love this mask. It cools my skin while it's on, leaving it smooth, soft and clean afterwards. If I don't have time to leave it on as a mask, I simply use it as a cleanser. Genius, right? The product is a crisp blue color and smells like I'm at a professional spa.
4.
St. Ives Blemish & Blackhead Control Apricot Scrub
($3). Right now I'm obviously using the off-brand version of this, but it's pretty much the same thing. So, there. Anyway, on days when my face is feeling extra yucky, I use this scrub to dig deep into my pores, either after the mask or without. I've been using apricot scrubs for years and they're great, but I try not to scrub too often as it can dry out my combination skin.
5.
St. Ives Body Wash Creamy Coconut Triple Butters
($4). Mmm, this wash is a dream. I love anything coconut flavored or scented (though I don't really like to eat it -- it's a texture thing). I also love that this stuff comes in a big bottle and lasts forever. I dump a big glob of it on a loofa and go to town.
6.
Summer's Eve Delicate Blossom Cleansing Wash
($5). I'm not ashamed to admit that I'm prone to infections down under, and I'm sure I'm not alone. Now that I'm pregnant, my body is producing weird new hormones and bacterias, so I've been even more concerned. Fortunately, I found Summer's Eve, and it works like a charm. I use this stuff between my legs and don't have to worry about any burning, itching or discomfort. Hooray!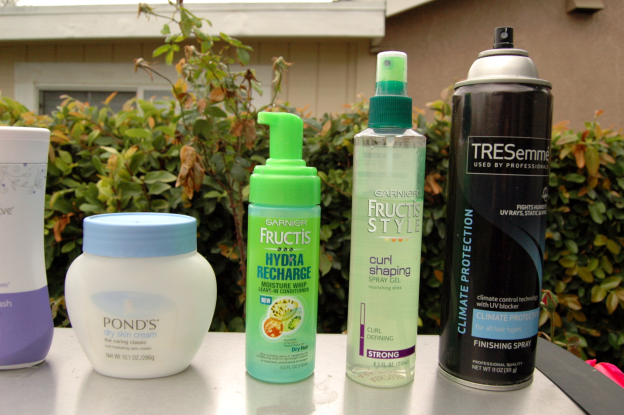 7.
Pond's Dry Skin Cream
($4). The boyf and I both live and die for this stuff. It's the best face cream I've come across, ever. It's so thick and lush but soaks in easily. My skin is left feeling super soft and hydrated with a light, powdery scent. I put it on after showers, before bed, before putting on makeup, after taking off makeup, etc etc. We're actually totally out because we use it so often. My favorite product on this list.
8.
Garnier Fructis Hydra Recharge Moisture Whip Leave-In Treatment for Dry Hair
($5). According to my hair guy,
Angel
, you should only wash your hair a couple times a week. I usually do so every 2-3 days. Therefore, I try not to use too many products. Dirty, greasy hair ain't cute. I normally pump a few dollops of leave-in conditioner and run it through my hair, then throw it up in a messy bun or a few braids and go to sleep. I always, always let my hair air-dry. I used to wish for straight hair, but I've embraced the natural look.
9.
Garnier Fructis Style Curl Shaping Spray Gel Strong
($3). If I want some extra curl as opposed to my natural messy wave, I use this gel. It smells good and goes on light. Even though the label says 'strong' it doesn't make my hair stiff or crunchy -- yuck. I'm so glad that trend's over.
10.
TRESemme Climate Control Finishing Spray
($5). If you click through the link, you'll see that the price says $17. I have no idea why, to be honest. I found it for $5 at the store. Anyway, this spray is great for a hot day in LA when I want to protect my strands from sun damage. It's also great as a general hair spray if I don't have
Tres Two Ultra Fine Mist
handy. I don't use it daily because, as aforementioned, I don't like my hair to be heavy with product. But it's great when needed!
Feel free to tweet me your favorite products -- I'm always interested in what others are using!
Mini Penny
,
Gala Darling
and
Keiko Lynn
also have some great posts about their beauty regimes. A couple other items I'll be investing in soon are a stretch mark prevention oil and cream. I'll let you know how that goes!