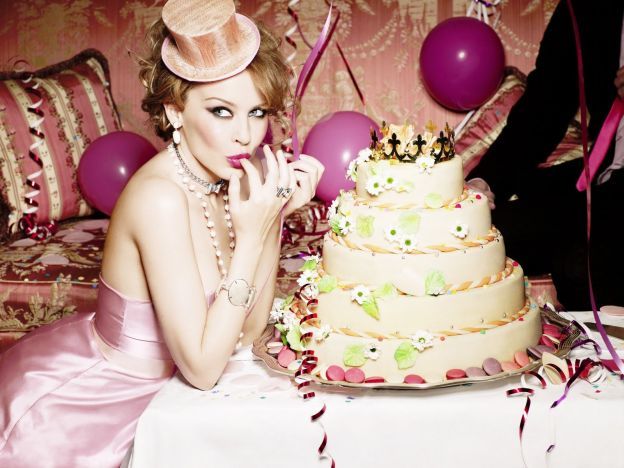 Hey hey, it's my birthday! Therefore, this post will be long and fun and full of goodies for both you and me. I hope you're ready to dive in and indulge in some bloggy partying. I'll be giving you a full review of my first
Julep
box (finally) and if you scroll to the bottom, you'll see the
giveaway
winner (along with a surprise for everyone). But you wouldn't do that and skip everything else now, would you?
Anyway, thanks for being here and celebrating with me. I'm an
Aries
, which
Gala
describes in this way: "they love to fight, they love to get freaky in the sheets, and they have energy like no one you've ever known. Your typical Aries is like the Energizer Bunny, except angry." I will neither confirm nor deny the freaky statement (my mom reads this), but as far as anger goes, I'm actually pretty tame (as long as I take my happy pills, of course). (That wasn't a joke, by the way. When my hormones are imbalanced, I get a little cray cray and the ram horns come out.) But, on a lighter note, I was called the Energizer Bunny at my old job because my tired-in-the-morning is like a normal person after four Red Bulls.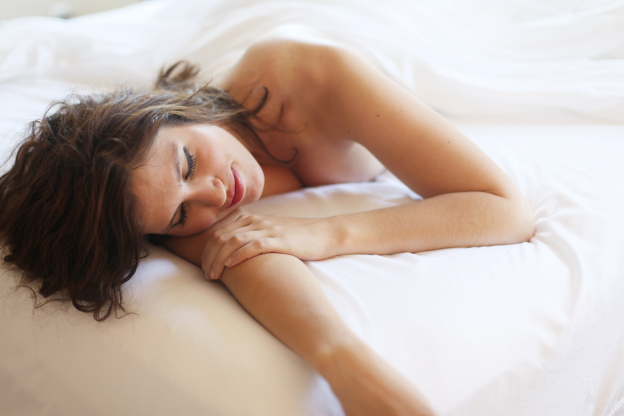 My life number is
one
, the definition of which I'm also stealing from
Gala
: "[they] believe that they are at the top of the heap. They know what they want, and they go after it with a single-minded vision and sense of purpose. Ones are extremely creative and individualistic. They often resent authority, and will very rarely seek out or follow advice. The One type believes that if you want something done properly, you should do it yourself, and they're often right. They are so determined and efficient that they can achieve what looks impossible to anyone else."
Lastly, I'm an
ENFJ
(which, by the way,
Oprah
also is): "they have tremendous charisma by which many are drawn into their nurturant tutelage and/or grand schemes. Many ENFJs have tremendous power to manipulate others with their phenomenal interpersonal skills and unique salesmanship. But it's usually not meant as manipulation -- ENFJs generally believe in their dreams, and see themselves as helpers and enablers, which they usually are. ENFJs are global learners. They see the big picture. Some can juggle an amazing number of responsibilities or projects simultaneously. Many ENFJs have tremendous entrepreneurial ability. [They] are organized in the arena of interpersonal affairs. ENFJs know and appreciate people. Like most NFs, (and Feelers in general), they are apt to neglect themselves and their own needs for the needs of others. They have thinner psychological boundaries than most, and are at risk for being hurt or even abused by less sensitive people. ENFJs often take on more of the burdens of others than they can bear. As extraverts, their contacts are wide ranging. Face-to-face relationships are intense, personable and warm, though they may be so infrequently achieved that intimate friendships are rare."
If you haven't gathered from all of the above, I'm officially, certifiably
loud
.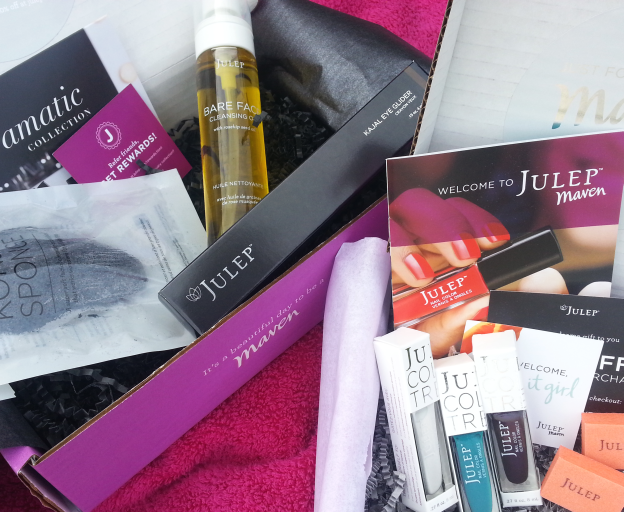 Now that you know everything about me besides my social security number, let's move on to polish. I've confessed in the past that I rarely paint my nails. This was for three reasons: 1) lack of time, 2) lack of patience, 3) lack of ability to keep them from getting completely ruined within a day at work. Due to all of this, I would spend at least $40/month getting a mani at my favorite nail parlor, because whenever someone else completed the task, it somehow came out better, faster, stronger (cue
Kanye
).
I learned about
Julep
from
Jessie
's blog. I had never done one of those monthly subscription box thingies before, mainly because I'm terrified of commitment (I'm surprised there's nothing about that in one of the aforementioned definitions). However, after becoming pregnant, leaving my job and working from home, I realized that I quite liked being a hermit, and not having to go to the store for beauty products seemed convenient. I also figured that Julep, at $20/month compared to my previous expense of $40, would motivate me to paint my own nails and save money.
The beauty struggle in LA is real.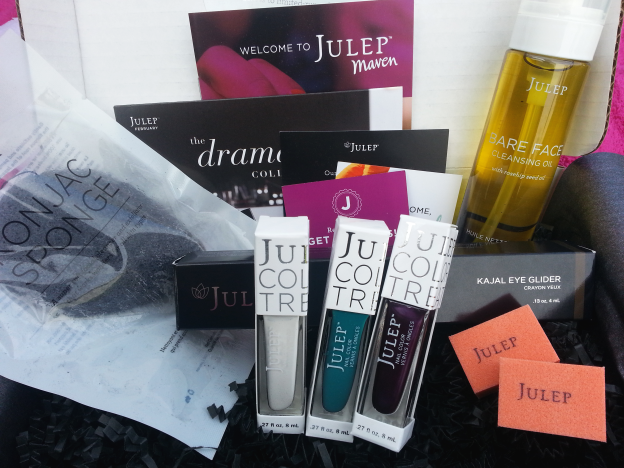 So, after spending an hour watching sub box review videos on YouTube (most of them annoying), I decided to sign up for
Julep
(duh) along with
Ipsy
(I'm on the waiting list) and
Beauty Box 5
(fellow blogging babe
Jenmarie
is a fan). So far, I have already received two packages from Julep (wee!) but I'm only going over the first today, because it's a doozy. I chose the
It Girl
theme for my welcome box because I liked the colors, and since it was free, I opted to pay for an add-on essentials kit as well.
Here's a full list of everything I got:
Julep Nail Lacquer in
Elle
Julep Nail Lacquer in
Libby
Julep Nail Lacquer in
Bunny
Bare Face Cleansing Oil (add-on)
Konjac Cleansing Sponge (add-on)
Kajal Eye Glider & Sharpener (add-on)
Two small buffing blocks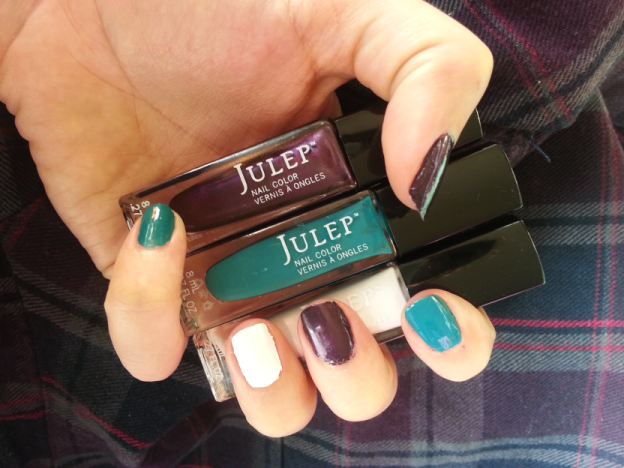 First off, I'm just guessing as to what those little orange blocks were. They really did nothing except turn my nails a chalky white, so unfortunately I'll probably just end up tossing 'em. The polishes, however, were gorgeously thick and lush. Libby (described as "rich teal crème") was my favorite; it's such a unique color and I'm excited to combine it with different blues and greens.
Elle ("plum frost") turned out to be too close of a shade to others that I have, unfortunately. Also, I must say that I was disappointed with Bunny ("crisp white linen with fine gold shimmer") because I truly could not see the shimmer. If it wasn't advertised in this way, I would probably like it more. From looking at the reviews, it seems as if I'm not the only one.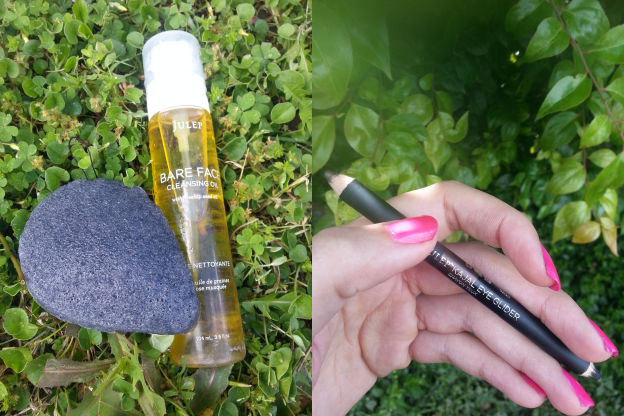 Now, onto the add-ons! I truly love the liner I received (you can see it on me in the photo below). It's double-sided with both black and brown, so it's pretty basic, but I'm not a huge makeup person anyway. Unlike other eye pencils I've used, it doesn't crumble and slides on easily. I was pleasantly surprised by this one, to say the least. I haven't tried the sharpener yet, so I can't comment on that.
As for the cleanser and sponge, they're meant to be used separately. However, I noticed that neither of them did much on their own. The cleanser isn't exfoliating enough for my combination skin, and I didn't feel clean when using just the sponge with water. Once I combined the two, though, they worked quite well and I've been using them every time I shower.
Overall, I was pretty pleased with my first Julep experience, which is why I've continued my subscription! I received over $100 worth of items for $19.99 (yes, I went through and added everything up). You really can't beat that.
To sign up and get your first box free with code FREEBOX
, click
here
!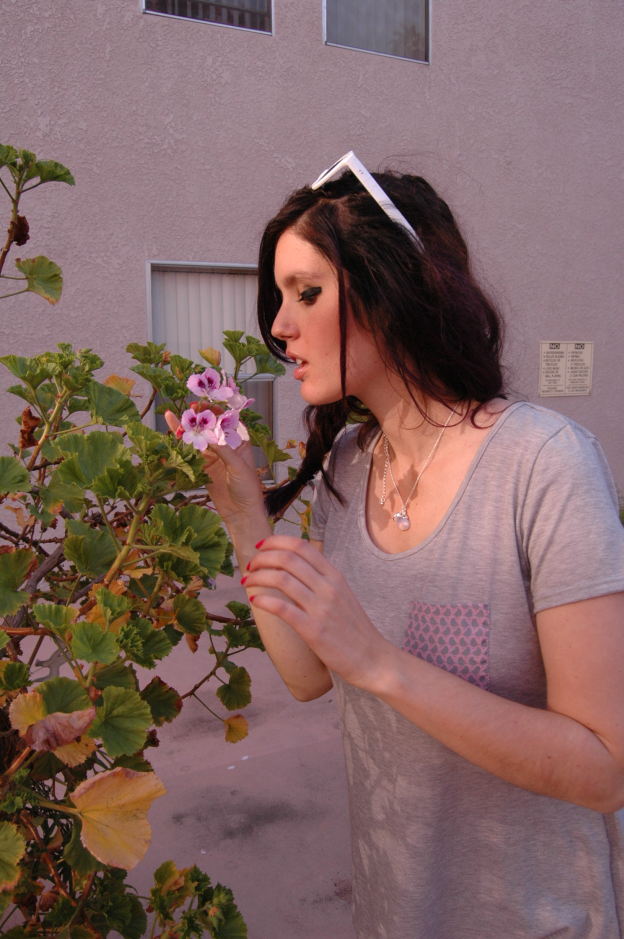 And now, the moment you've all been waiting for...
giveaway
time!! Okay, maybe you haven't been waiting for it, maybe you don't give a shit... but whatever. Humor me here, people. Without further ado, the winner is
LIZELLE
! I'll be emailing you soon for shipping info! Congrats!

I also have a little treat for everyone else. For the rest of the month,
you'll get 27% off everything in my shop with the code BIRTHDAY27
! I put a up a bunch of new stuff last night and half of it is already gone, so
hop on over
! Thank you so much for all your love and support. You guys are da best. XOXO
Oh yeah, one last thing...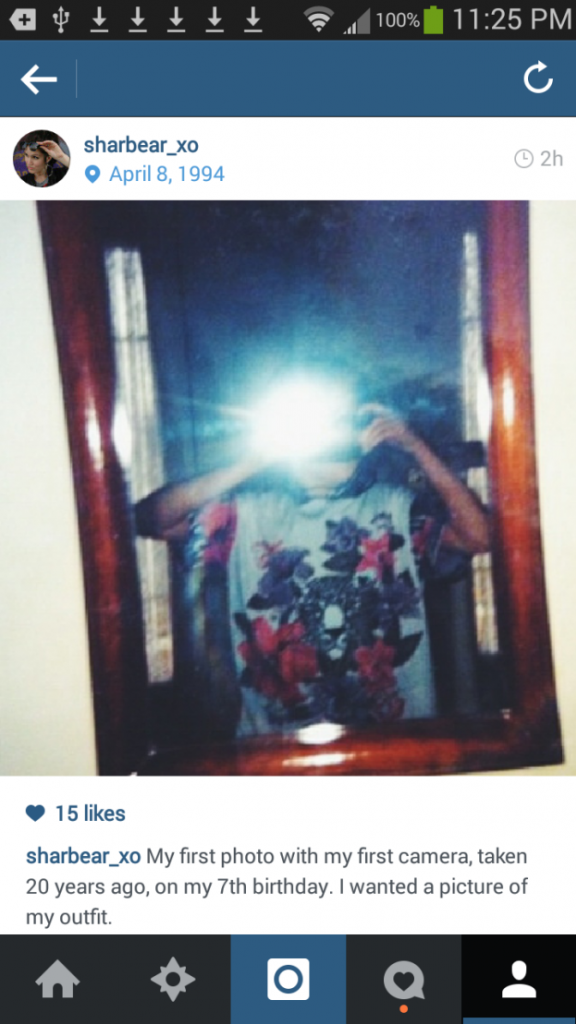 *First photo from
here
, second photo by
Charisma Moran
, photo of me with flowers by
Angela Felder
of
Make Moves Publicity
.