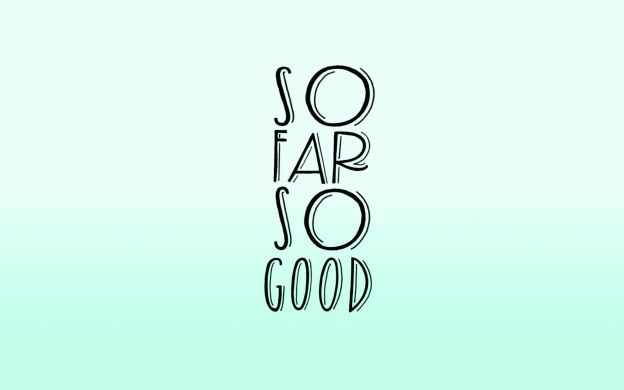 I had a different post planned for today, but for some reason I felt compelled to share my progress on past
goals
. It's something I haven't done in awhile and lately I've been feeling lost. Looking back at what I've accomplished (and how far I still need to go) always helps me get back on track.
Today I'm going to go through two past lists, my 26 before 27 goals (now that I'm 27, it seems appropriate) and my resolutions for 2014. I haven't yet made a 27 before 28 list and I haven't yet decided whether or not I'll share it here. We'll see.
26 before 27:
1.
Finish organizing + decorating my bedroom
+ bathroom. I completed my
bedroom
, but not the bathroom. Not that it matters, because I don't live in that apartment anymore!
2.
Donate to charity.
Yes, I donated to United Way again.
3.
Write a comedy sketch.
Done
!
4.
Be in a rap video.
I'm just gonna go ahead and count
this
.
5. Complete a mini scrapbook. Nope.
6. Pay off my car. Nope.
7. Get promoted at work. Nope, though I did get a raise (right before I quit, oops).
8. Teach an e-course. Nope.
9.
Visit San Diego (for the third time), Las Vegas (for the fourth time), Austin (for the first time), and Orlando (for the first time in 20+ years).
Yes! See San Diego
here
, Vegas
here
, Austin
here
and Orlando
here
.
10.
Practice manual photography.
Yes, and it looks way better than auto 90% of the time.
11. Make 10 vlogs. Nope.
12.
Record a song.
Kinda
?
13. Go to Coachella in 2014. No, and all the Instagrams the past two weekends made me sad. Sigh.
14.
Be in a film.
I was in lots of online sketches, so, yeah.
15.
Work out 5x per week.
I worked out like 3-7x per week, which means 5 was the average. Right? Cool.
16. Get my first tattoo. Still too scared, but after giving birth I'm sure I'll have the pain tolerance for anything.
17.
Start writing a book.
Totally. And by 'start' I mean 'made an outline'.
18.
Go grocery shopping every week.
Pretty sure I did this since I was obsessed with health and making my own meals for awhile.
19.
Try a new restaurant every other week.
This probably happened.
20.
See girlfriends outside of work.
This happened, sometimes.
21.
Purge my closet once per season.
I did this all the time.
22.
Pay off one credit card.
Yes!
23.
Be intentional about what I share on-line.
Yes.
24.
Host more parties (especially themed ones).
Yes, though nowadays I fall asleep before midnight so they're few and far between (see
here
for example).
25. Read at least one whole book per month. No, not even close.
26.
Go one month without dairy or gluten.
Yay for
Whole30
!
2014 resolutions:
1. Limit grains, dairy, alcohol and added sugar to vacations and days off work. Two words: pregnancy cravings.
2.
Transfer $330 per paycheck to my savings account.
I did this, and was able to save even more thanks to my tax return! Very proud of myself, considering the fact that I have shopaholic tendencies.
3.
Have a monthly date night with the boyf.
Yes, we are doing this. :)
4.
Complete a 2014 scrapbook, adding one page every two weeks.
I've been working on
Project Life
and it's so much fun!
Be sure to
tweet
me links to your lists if you're also an obsessive goal-setter!
*Photo found
here
.