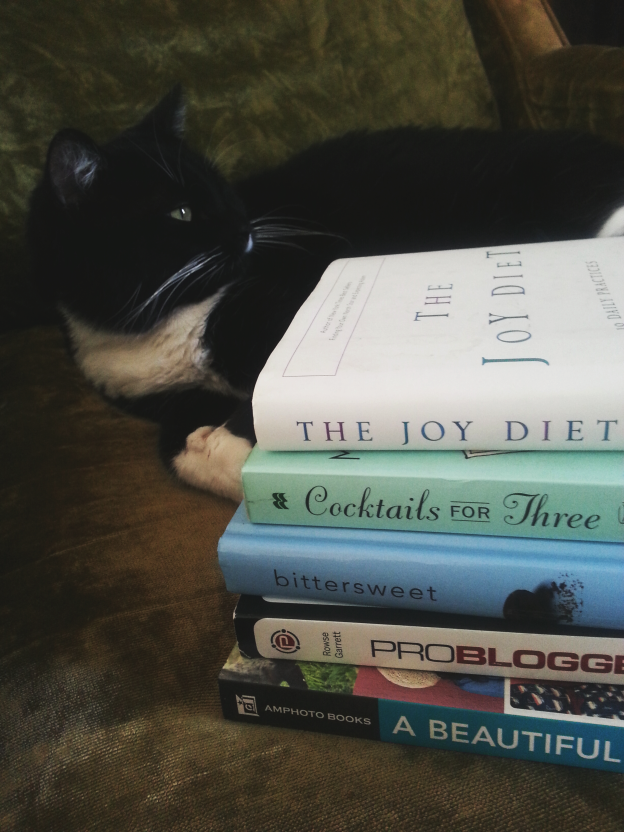 Happy Monday! Usually when a post accidentally goes up as an unfinished draft, it means I've been busy, which is exactly what happened this morning. People have asked if I'm bored now that I'm not working a 'real' job; the truth is, I think my boyfriend has seen me even less than usual. I'm typically on Loudmouth Lockdown in the bedroom, writing, while he's in the living room with friends doing normal after-work-guy-stuff like playing video games and drinking beer (although, when they put on
Castle Crashers
, I can't help but grab a controller).
One thing I've managed to squeeze into my schedule, however, is reading. I think I went a year or two without reading one book for fun -- I'm serious. Nowadays, I make it a priority. I think in order to be a good writer, you have to be a big reader. I find so much inspiration and motivation in others' words.
I've decided to regularly update you on the books I've recently finished, so this is the start of a monthly series. However, I'm a little disappointed by this first batch, which you'll soon see. I'm going to begin with the worst and end on a high note!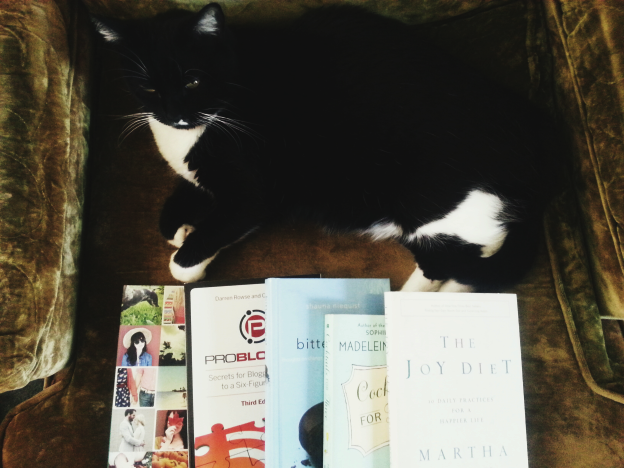 The biggest disappointment, for me, was
ProBlogger: Secrets for Blogging Your Way to a Six-Figure Income
. I know, I know -- you'd think that since it was about blogging, I'd love something like this. However, it was, quite honestly, boring. It read like a textbook. At the risk of sounding racist, sexist or ageist, it was written by two old white dudes and it was pretty obvious from the tone of voice. I'm not against Caucasian men over forty (hello, my dad is one) but I was expecting something... more. More personality, more friendliness, more jokes. Something to keep me interested.
It Starts With Food
is an excellent example of a non-fiction book that completely sucked me in because I felt like I was conversing with a friend, not a college professor. Anyway, it is probably for these same reasons that I don't normally visit the
ProBlogger site
either. Both the book and blog may have some valuable information, but it's hard to retain when it's not entertaining. That was probably the biggest lesson that I took away.
Cocktails for Three
took me about a year to finish, and not because it was a hard read; I simply didn't like the characters.
Spoilers ahead!
The story revolves around three girlfriends who I'm guessing are in their late 20s/early 30s: Roxanne (who is having an affair with a married man and is shocked when it ends), Maggie (who recently had a baby and can't cope with it but refuses to tell her friends or husband about what she's feeling), and Candice (who lets someone use her for a job, money and housing though her friends warned her about this person). I know that people make mistakes, but this book was pretty much just one long mistake for all three. Of course, everyone's happy in the end, but at that point I didn't even want them to be happy because they just did not seem like good people. Have you seen
American Hustle
? I felt the same way about that movie (though the wardrobe was incredible). Also, I really did not like that Maggie drank while she was pregnant. Ugh.
Anyway! Onto better things. I really liked
A Beautiful Mess Photo Idea Book: 95 Inspiring Ideas for Photographing Your Friends, Your World, and Yourself
by Elsie Larson and Emma Chapman of the
A Beautiful Mess
(ABM) blog. To be honest, I don't know why I keep going back to ABM. I have nothing in common with these girls and I'll never try to make any of their DIY projects, but the photos are pretty and they just seem so damn nice. The book is just as gorgeous as the blog, and it'll look perfect on my coffee table (you know, when I have one someday). I didn't find any new ideas until 45 pages in, but again, I liked flipping through it so much that I didn't care.
Confession: I actually thought I finished
The Joy Diet: 10 Daily Practices for a Happier Life
a long time ago, but when I found it in a box after my last move, I realized I still had a chapter left! I'm glad I got to revisit it, though; I'm officially in love with Martha Beck. She's funny, she's relatable, and I want her to be my best friend/therapist/cool aunt. Oh, and just FYI, this isn't actually a book about a food diet -- more like, a diet for your soul. It's awesome. Just read it!
I'm not sure if I'm cheating here, but this was actually the third time I've read through
Bittersweet: Thoughts on Change, Grace, and Learning the Hard Way
. If I were to name one author that had the biggest impact on my life and creativity, it would be
Shauna Niequist
. She's the only person I know (well, that I feel like I know) who is more honest than me in her writing. Her books, which I would consider memoirs over anything else, cover topics like miscarriage, marriage problems, weight issues, holding grudges, losing friends, losing jobs, being broke, moving to a new place, moving back to an old place, insecurities, feminism, sickness and death. I've underlined and highlighted and quoted her books to death. I would recommend starting with her first,
Cold Tangerines: Celebrating the Extraordinary Nature of Everyday Life
and then moving onto Bittersweet. I still have yet to read her third book,
Bread & Wine: A Love Letter to Life Around the Table with Recipes
, but I think I'll order it today. Miss Niequist will make you laugh and cry and want to be your real, true, honest self -- the person you were created to be.
For more about what I'm reading, feel free to follow me on
Goodreads
.
PS: This is your last chance to enter my birthday
giveaway
, so be sure to pop on over there today!