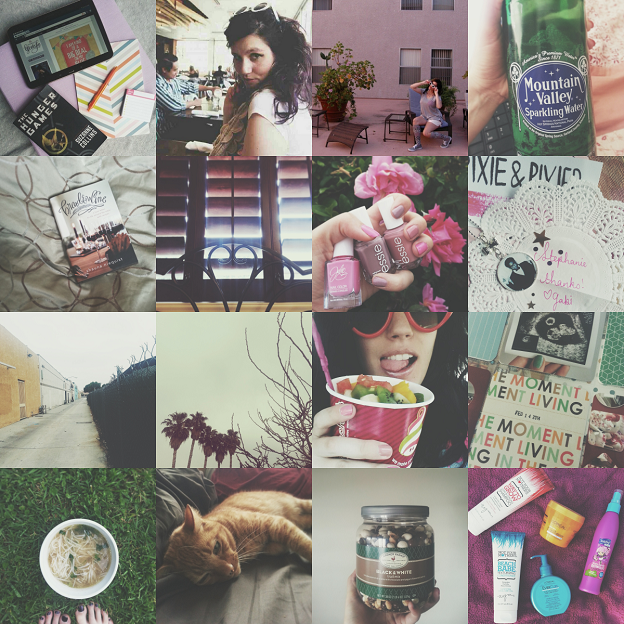 Happy 420, everyone! Welcome to the day of weed, Easter, and Hitler's birthday. Quite the combo, huh? As for the rest of the week... A few items I brought with me to SD:
journal
,
novel
, sticky notes and Project Life album along with my
Samsung Galaxy Tab 3
c/o
@Intel
,
@SocialChorus
and the
#TabletCrew
! / Photo of me stolen from Jessica's
blog
and 'grammed. / Somehow finding purple everywhere! Maybe it's the hair. Or the blog design. (See full outfit post
here
.) / Fancy sparkling
water
thanks to B's mama. This stuff saves my life when I'm feeling particularly nauseous or heartburn-y. / Read
Bread & Wine
within a few days. I always end up starting multiple books at once (usually at least one fiction and one non-fiction) so I can bounce back and forth depending on my mood. Clearly I needed the latter this week. / B and I finally have a bed! / This week's mani:
Ladylike
and
Eternal Optimist
by Essie and Shoe-a-Holic by Julie G (the three of those gifted to me by Jess) with Sally Hansen top
coat
. /
Childish Gambino
necklace by one of my new favorite
bloggers
. / An old alleyway in my neighborhood. / Palm trees and dead trees look good together. / Froyo is healthy if you add fruit to it, right? / Had so much fun playing with my new Project Life kit (
Jade
). It's gorgeous. / Pho for breakfast (I gave B the meaty bits). / Mojo is sad because Shenanigans is missing! / Yummy
Black & White
trail mix thanks to B. And now I have
Michael Jackson
in my head. / Some of the products I use on my color-treated hair: sulfate-free
shampoo
,
conditioner
, and deep-conditioning treatment along with leave-in conditioner and kiddie detangling spray. Yes, my hair needs a lot of conditioning. I also can't wash it more than twice a week now or it fries to a crisp!
Other items of note:
I recently wrote guest posts over at
The Style Selections
and
Equally Yolked
, and I'm now a writer for
Gotta Watch It
thanks to
Fenn
! I love new side projects; it definitely helps my brain to mix things up sometimes and I'm so grateful for these opportunities. Hop on over and say hello!
Check the
shop
tonight for new items! You can still use code BIRTHDAY27 for 27% off
everything
, plus, I've marked down many older products. See the sale section
here
and enjoy!
I'm still looking for
advice
questions, so feel free to send 'em over either through
email
, or
Twitter
with the hashtag #askloudly. Please let me know if you'd like to remain anonymous. I'm here to help!
My sister thinks I look like the white girl at the car wash in
this
video (about a minute in). Cute, right?
See last week's Instagram round-up
here
, and you can follow me
here
.