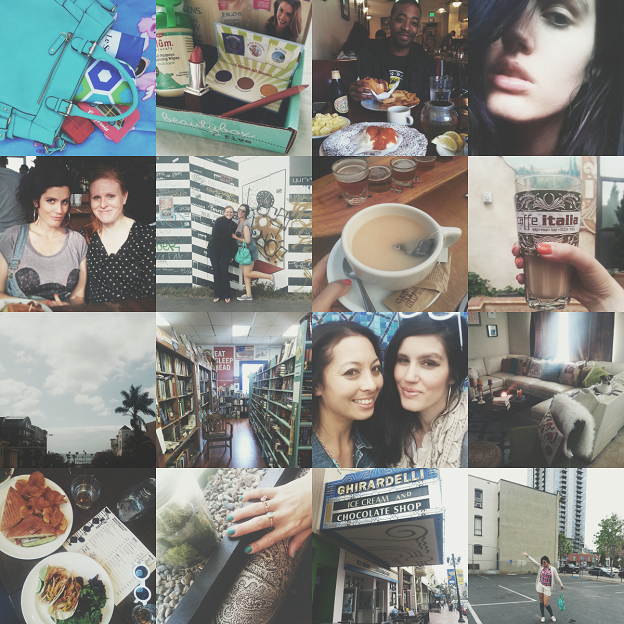 Can you guys believe we're almost halfway through April already? It's nuts. Time flies when you're having fun, they say. Anywho, here's that
bag
I got from
Target
in honor of my birthday and the organizing
challenge
. / Received my first shipment of
Beauty Box 5
goodies! So far I love the lipstick and eyeshadow palette, but the wipes are nothing to write home about (though they're in a conveniently small package for my purse). I haven't tried the lip liner or Jergens yet. / My sweet man took me to brunch at
Griddle
(my choice) and a couples' massage for my birthday. Love him. / Obligatory selfie. / Met up with
Kelly
, my wonderful BFF since 8th grade, in Venice Beach. / I thought it was funny that she was bundled up and wearing sandals, while I wasn't bundled and wearing sneakers. It's that weird in-between season (AKA spring). / My tea and everyone else's flight of beers that night. / More tea! But now we're in San Diego. This was the best chai latte I'd ever had. / Good ol' SD. / Perusing used bookstores between vintage shops. / Myself with
Jess
, a newer but just as valuable bestie. She certainly spoiled me this weekend. / I absolutely love her cozy living room setup. It was incredibly nice to stay the night in a clean house that didn't smell of dirty dishes, cat poop and hookah. Oy. / An amazing farm-to-table lunch. / Jessica's pretty polish + rings. / Ice cream break! / My outfit for day two, halfway borrowed from my hostess.
Other items of note:
I'm still looking for
advice
questions, so feel free to send 'em over either through
email
, or
Twitter
with the hashtag #askloudly. Please let me know if you'd like to remain anonymous and I'll happily accommodate.
No new stuff for the
shop
this week, as I was away over the weekend and couldn't plan accordingly. But I'll be sure to prep plenty of goodies for the 21st, and you can still use BIRTHDAY27 to get 27% off!
Received my mom's
package
of keepsakes (best mail week ever). My favorite part was watching the DVD my dad made and seeing everyone in their ugly 80s garb. Fabulous.
Currently reading
The Hunger Games
! I thought the first two movies were awesome, so I'm excited to get into the books (it's excellent so far and as usual, so much more detailed than the film).
This week's
mani
was Mariska by
Julep
with a Sally Hansen quick-dry top
coat
. Not my favorite polish color or texture thus far, but it's always fun to experiment.
See last week's Instagram round-up
here
, and you can follow me
here
.
Hello and welcome to anyone visiting from
Yes and Yes
! Let's be friends!