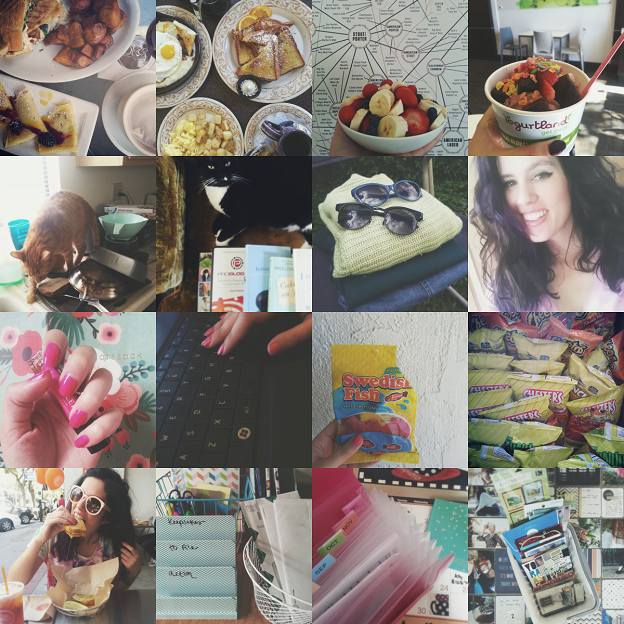 So, I've decided that I'm going to post a round-up of my 'grams weekly instead of
monthly
from now on. That way I'm not bombarding you with a million at once that you have to confusingly scroll through. I, for one, certainly like this method better. Anyway, onto the photos... first off, brunch! / More brunch! / Fruit! / Fruit + yogurt! / Caught this cat chillin' in a pile of dishes, staring out the window longingly. Weirdo. / And, this one wouldn't move while I was trying to take photos for tomorrow's post. Double weirdo. / New blues + greens in the
shop
for spring! / Officially obsessed with my purple hair. / Pretty, polished
Julep
nails! / Aformentioned nails + night blogging. / Nails + an unhealthy snack. / More unhealthy snacks! / Grilled cheese is my jam. Ooo, that makes me wonder if it'd be good with jam. Thoughts? / Day one of my organizing
challenge
: mail + paper clutter, now sorted nicely. / Day two: bills + budgeting stuff. / Day three:
Project Life
goodies. I adore my small but lovely collection. A wonderful week, indeed. I'm so very happy with life right now!
PS: Only two days left to enter my birthday
giveaway
! Hurry hurry!
PPS: Thanks for all the positive feedback on my new blog design.
Bobbi
and I are still working out some kinks, but it should be absolutely perfect shortly! I'm loving it so far!