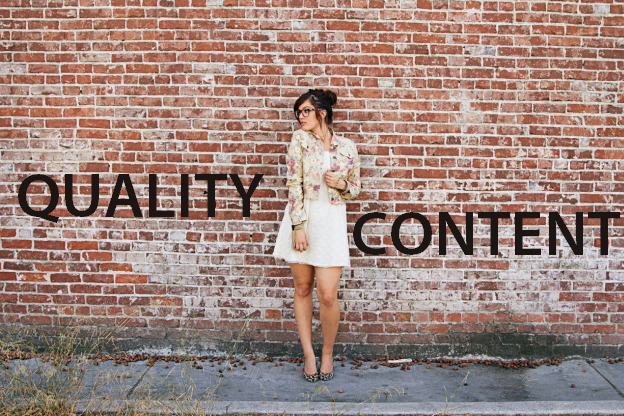 Quality content! Quality content! Is anyone else sick of that term? I know I am. It's the first thing I read in any blog post about blogging, but no one ever explains exactly WHAT quality content is. Yeah, we all know we should have cute pictures and a clean layout -- what else? Well, my friends, I'm here to break it down for you today. Finally!
1. Quality content is ORIGINAL.
Your posts should not be a regurgitation of other things you've found on the internet. I think these posts are okay once, maaaybe twice a week (like my
link
lists). They're fun and easy to write, and they can be interesting for readers. However, if your blog starts to look like a
Pinterest
board, there's no reason for your followers to stick around. Come up with original ideas. Create your own words and photos as much as possible. I would rather read a crappy-looking blog that's genuine and authentic than a really pretty blog that's all re-posted bullshit.
2. Quality content is SHAREABLE.
Speaking of Pinterest, the most popular posts usually have shareable content that people would want to pass along via social networks. This includes tutorials, tips, guides, advice, recipes, DIY -- anything that would be useful or helpful to someone. Everyone's good at something. Share your something with the world, and others will share it for you!
3. Quality content is UNIQUE.
Lastly, be sure to write in your own unique voice. Just because you're creating an original article doesn't mean that it sounds unique! Be yourself and you will stand out in the blogosphere. Also, don't feel pressured to write about something just because everyone else is. In fact, you should try to write about your own unique topics so that you don't get lost in the shuffle.
Happy blogging! Don't forget to check out
yesterday
's post about personal blogs, too.
*Photo by
Mary Tap
, November 2013, in Pasadena.