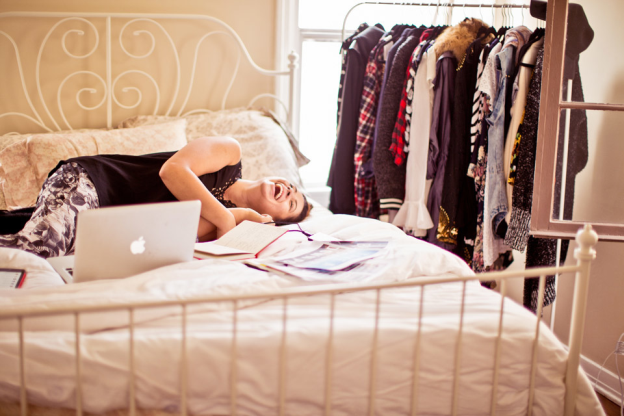 Like most work-from-home creatives, I get the question 'so what do you do all day?' pretty frequently from friends that work 'real' jobs and of course, former co-workers. I'm totally okay with answering this question because I'm still busy, but the cool thing is that I get to decide how to pack my schedule. Seeing as
Christina
and her bedroom are cuter than me and mine, I decided to snag a photo from her blog instead of attempting to take my own. But that's basically what I look like on a daily basis, with poor lighting, frazzled hair and a non-Apple computer. I'm also normally in sweatpants and/or my bathrobe.
Now that you've got that glamorous image in your head, let's get started!
7:00-9:00am
// I usually wake around 7 or 8 when B gets up for work, but I don't actually start anything serious until 9. During these early morning hours, I take my time making tea and eating breakfast while checking my phone, social media, email and my favorite blogs. I try to respond to everything ASAP so that I don't forget, because I tend to do that.
9:00-11:00am
// I start writing, but since I'm still waking up, I'll normally work on something easy like a
just-for-fun
post,
link roundup
or guest post. I save the deep stuff for later in the day when I'm 'in the zone' and can concentrate harder. Unless it's something that needs to be current like
Friday Feelings
or
Loudstagram
, I always schedule my posts at least a week in advance so I'm not in a rush. During this time I like to click around the web for material to prep future posts with.
11:00-1:00pm
// I really get down to business. My posts go live at 11:11am daily (if there's a second one it'll get published at 11:11pm). I have no explanation for the time except that I'm a little superstitious, ha! After the post is up, I schedule 5
tweets
. Three of them are to promote the post, and those are scheduled for 1pm, 8pm and 9am the next day (suggested by both
Sarah
and
Sarah
). The other two are for my
shop
and an archived post. This may sound excessive, but think about all of the people that follow you, their different time zones and how often they actually pay attention to your tweets. (I'm personally never on Twitter unless I feel the need to say something, so the odds of me seeing everything that one person posts are slim to none.) In addition, I'll put a link to the blog entry on
Facebook
and StumbleUpon, and I'll
pin
it too. After all of that is done (which really only takes about 15 minutes), I get back to writing, but I'll dive into something a little more challenging like an
advice
post or a chapter in one of the two e-books I'm working on. I personally have the most fun when I'm writing a longer segment, probably due to the fact that my main hobby in middle school was creating novels.
1:00-4:00pm
// Around this time I'll take a 3-hour break or else I get a little crazy (not as bad as The Shining, but pretty damn close). I usually still end up being mildly productive, but I'll try to do something that doesn't have to do with The Loudmouth Lifestyle. This can include dropping off packages to the post office, getting groceries, doing laundry, reading a book, reviewing a show for
Gotta Watch It
, taking a walk, calling my mom, creating a
Project Life
page, paying bills, commenting on other blogs, taking a nap, making lists for the future, pulling pieces from my closet for the shop, having a Skype meeting, hunting for freelance gigs, watching Photoshop tutorials, checking Model Mayhem, taking photos, or taking a shower (hard to remember when you don't have to go into an office). I've noticed that having one big break instead of a lot of little ones works better for me; otherwise, small breaks turn into big breaks! Fortunately, I have trained myself not to mindlessly click around on the internet, and I don't have to worry about watching trash TV because I don't even know how to turn it on (seriously, the boys have like 8 things hooked up to it and there are like 6 different remotes to try to figure out).
4:00-8:00pm
// I don't know why, but I tend to do my best writing during this time. Maybe it's because I've just recharged myself with a break, but I get totally zoned in during these later evening hours.
8:00-10:00pm
// B gets home around 7 or 8 and likes to hang out in the living room with the roommates. I try to join but now that I'm pregnant, I've become somewhat of a party pooper, and being surrounded by hookah and beer and loud video games isn't the most fun. I like to read and write in my journal before bed, and I usually hit the hay around 9 or 10. After getting 4-6 hours of sleep every night for two and a half years, I try to get 10-12 now and it's really not hard for my body to do.
So, there you have it! That's what my days look like. It probably doesn't sound very exciting, but it's absolutely wonderful. I've never been this happy and relaxed. I really do love my life. It's not perfect and there are definitely things I wish I could change, but everything seems to be moving in the right direction.
*Photo
source
.