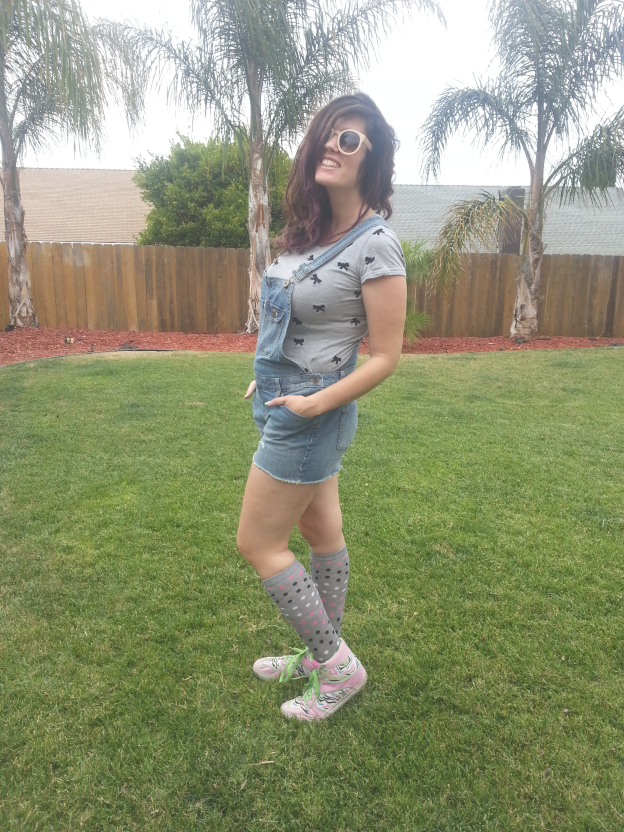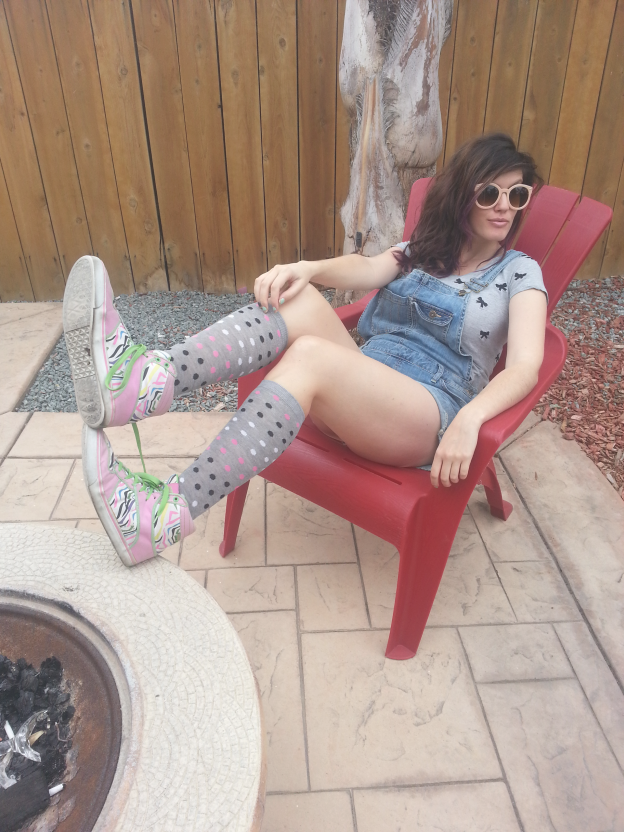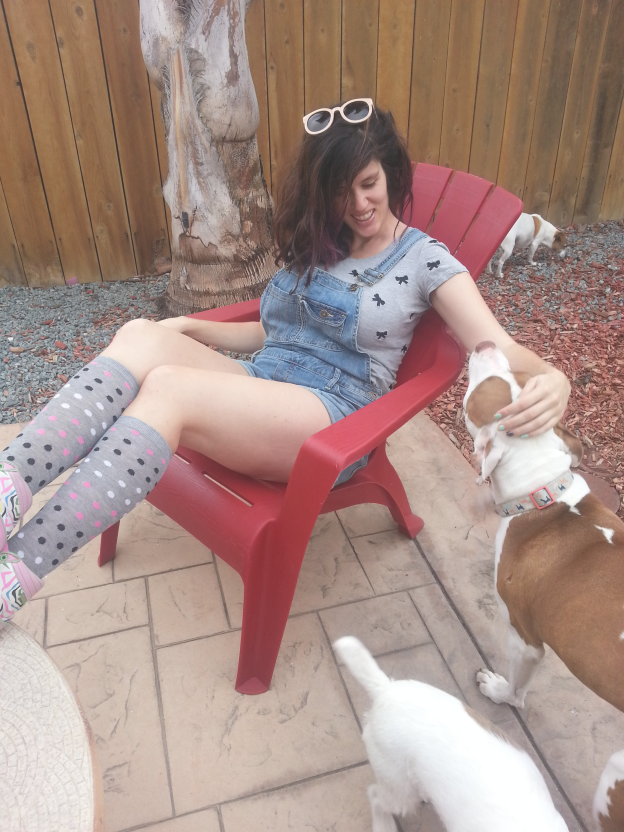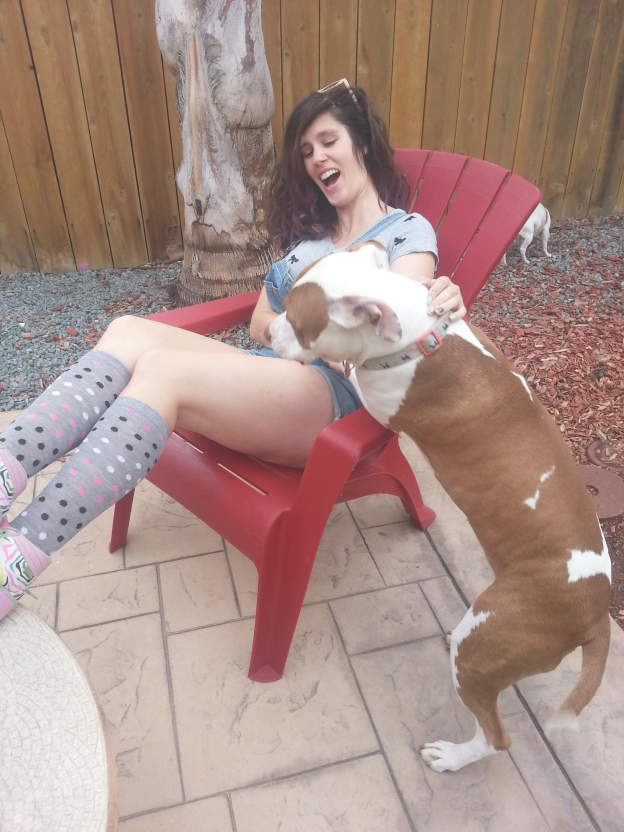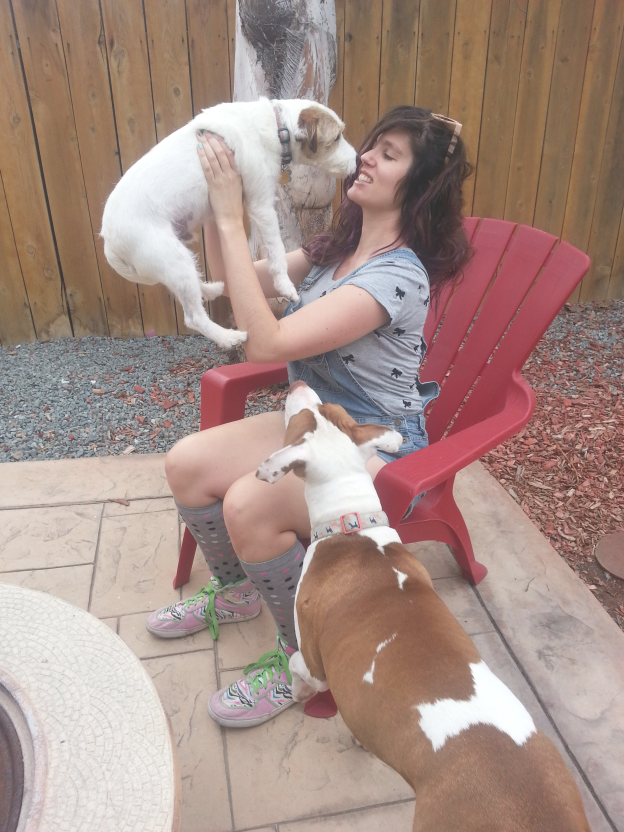 Outfit details:
Top - in my shop here (also worn here)
Overalls - in my shop here (also worn here)
Socks - Target (also worn here)
Sneakers - Ross (also worn here)
Sunnies - Meowdy (also worn here)

I've definitely enjoyed the company of playful pups this past week, especially during a stressful few days, and perhaps this will explain my slight absence from social media. As soon as I arrived in San Diego, I was hit with a massive virus (the computer kind, but I'm so used to throwing up at this point that I would've preferred that). To be specific, it was a form of adware, though it's all equally frustrating to deal with so I truly can't tell the difference. Between multiple scans, two system restores, stress-induced tears, countless emails to
Fenn
and plenty of phone calls to my dad, the laptop converted to a vegetable-like state in which no programs would open due to a massive amount of important files being deleted. Fortunately, I managed to back up 48,000 photos from the past three years along with my
e-book
and anything else I could think of, so those are safe.
All of this took an exhausting series of hours and when everything I did seemed to make the problem worse, my last resort was to call the Geek Squad at Best Buy. When they told me it'd cost $200 just to have a look (with no guarantee of fixing), I said screw it and decided to spend the extra $50 for a new laptop. I've been wanting to upgrade for awhile anyway. Me being a creature of habit, I basically bought the same damn Toshiba, but the latest version with twice the space. It's funny how much I remember
this
post from 2011, and I still can't believe that my first laptop lasted 6 years!
I never download anything (not even music anymore) so I really don't know how my computer (and tablet, and phone...) were infected, but I did learn something: pay the extra moolah and keep your anti-virus software up-to-date. Mine wasn't. Oops. It'll save you cash later, fo real. I've emailed Intel about my tablet, since that was c/o (and last time I had a problem they let me send it back for a free fix, so, fingers crossed) and as far as the phone goes... we'll see. It's not too bad yet, and I'm due for a free upgrade this summer.
I'm happy to get back to the grind. At first I felt guilty of spending money on a new toy, but it truly is a business expense, and plus -- I bought it on Mother's Day. It's my first, so at least I made it a good one, whether or not that was planned. I was speaking about the laptop, but the same could be said for the babe. I'm now 21 weeks along, and as I'm continuing to find out, God works in mysterious and surprising ways.
*Thanks
Jess
for snapping these for me in her lovely backyard!