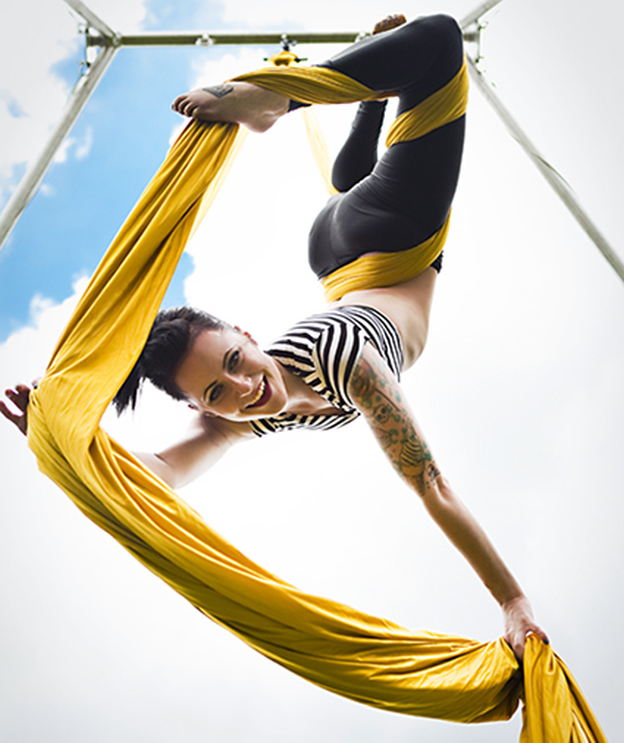 Today I'm excited to bring you something a little different! I recently discovered Sarah Morgan of the blog
XO Sarah
and I thought she was so cool that I had to share her with you. I sent her a few interview questions and here's what she had to say. Enjoy!
Please tell us a little bit about yourself. How did you get to this point in your career?
Hello! My name is Sarah and I'm a web designer/developer, blogger, and circus performer. I spend my days building websites and teaching people to grow their blogs and businesses online as well as performing and teaching aerial arts. Currently residing just outside of Detroit while planning a cross country move to San Diego!
How did I get here? I started as a 13-year-old nerd teaching myself to code, got my degree in journalism, landed at a TV station for 7 years and then decided I hated working for the man and jumped ship to freelance and work on more creative projects. Somewhere in the middle of that I went to circus school, joined a performance troupe, and was given the opportunity to teach at a local aerial studio.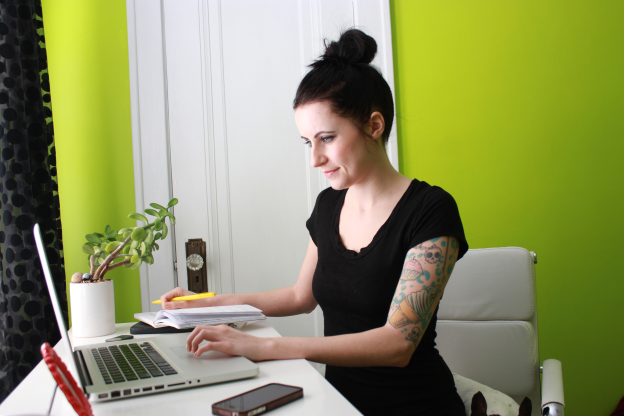 What made you decide to escape cubicle life, and how did you prepare for the departure?
A few years into working at the TV station I had a mid-twenties crisis thinking I didn't like designing websites anymore, which was a huge red flag for me. I did like designing websites, I just didn't like building boring corporate sites. My blog had a small following at the time and I used it as a marketing tool to offer freelance design services. I set a date, gained clients, saved a ton of money, and worked my ass off :) You can read the whole story
here
.
Like me, you are also leaving Michigan and moving to California. (Yay!) How do you think this change will impact your work?
One of the reasons I'm leaving Michigan is because of the lovely freezing cold five to six months of winter we're gifted every year. I want to be able to sit in the sun and walk my dog without being bundled up every single day, which I have a feeling will make me feel happier and more positive more often. And we all know feeling better equals more focus and better results at work! I'm also looking forward to a cross-country trip and being able to take a couple months off to re-work my e-course!
Walk us through a day in your shoes. What does your normal routine look like?
There is no normal day! Some days I teach, some days I rehearse or have shows, some days I stay in my PJs until 4pm and only do administrative tasks, some days I get up early and meet a friend for brunch and then park it on the couch coding client websites until late, some days I work with the
Badass Babes Blog Club + E-Course
, and some days I say fuck it all and watch movies all day or go to the beach.
What's the best part about being your own boss, and your least favorite?
See above :) I can take time off when I need it or work from wherever I like. I'm also able to steer my business in whatever direction I want - I can choose my clients, write ebooks, design courses and if I want to do something different next year, I can! But being the boss does have its downsides including an overflowing inbox and being the only one available to figure out and fix problems.
Besides bad-ass entrepreneurship, what else do you like to do?
Brunch, I really like brunch :) I can also be found meeting my girlfriends for burgers and beer, reading business books, biking to the bar, walking my rat terrier all over my little town.
Where do you see yourself (and your business) in 5 years?
In San Diego, of course! Business-wise I'm hoping to grow the Badass Babes into a larger resource and community. I really love teaching and talking about blogging/business, so I'm hoping to expand the e-course and spend more time teaching people to design their online presence and less time on custom design work.
What's one piece of advice you can offer us?
Here's what I live by:
If you think you can or you think you can't, you're right.
It's my rule for myself and all my aerial students - don't decide you can't do something before you've even given it a shot.