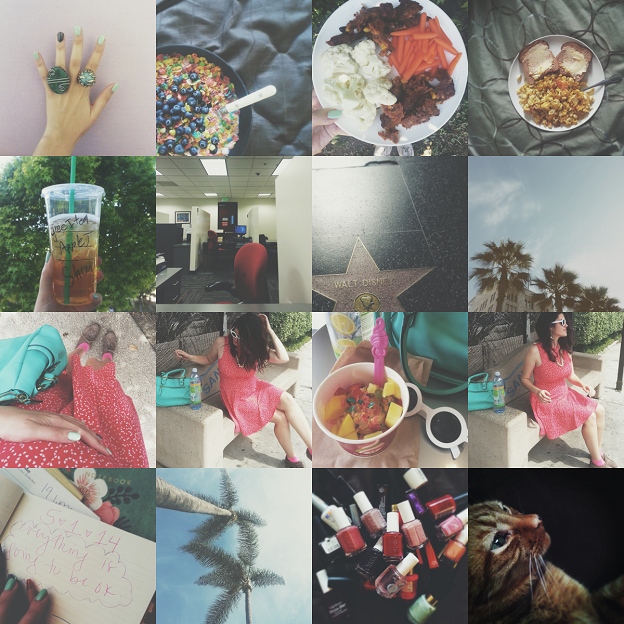 Another week has flown on by.
Cinco de Mayo
is tomorrow, and though it has nothing to do with my heritage, I normally celebrate with guacamole and beer. I'll probably participate in the former more than the latter, and whether or not you'll be doing anything special tomorrow, I hope you have a happy Monday. As for this past week, I finally got back into the nail painting game. This is Minted by Revlon and Voodoo by
Urban Outfitters
. / Fruity Pebbles with blueberries and soy milk is pretty much the tastiest thing ever. / Decided to be healthy one day with cauliflower, carrots and black bean burgers -- but couldn't resist dipping them in honey mustard. / Eggs scrambled with cheese, olive oil, oregano and garlic pepper. / I get green tea and apple juice when they're out of lemonade at Starbucks (it's good, I swear). / Hopefully by Monday I'll have proper health coverage (can't wait to tell you that story). / Took headshots for
Zhana
and had lunch in Hollywood like tourists. / I still love palm trees. / Walked to meet
Jacquelyn
for froyo with my baby bump and got hollered at more than I ever have in my life. / Wearing my new favorite
UO
dress,
Ann Taylor
necklace, Marshalls shoes, sunnies from
Mini Penny
and the
Target
bag you've seen a million times now. / Had to snap a pic of my colorful pile of yogurt. / Another one of moi because I love this outfit so much. / Everything is going to be okay. Journaling keeps me sane. / Twin palms. / Had fun telling you about my
favorites
. / Mojo is a brat but still so cute. (By the way, the cats you've seen belong to one of our roommates. B and I don't have any pets -- yet.)
Other items of note:
I've posted some new reviews for
Mixology
and
Believe
over at
Gotta Watch It
!
Since April is over, my big birthday promotion for the
shop
is too. All good things must come to an end, but if you follow me on Instagram you may see other codes crop up (hint, hint).
Brandon
and I finished our baby shower registry! Click to see our lists at
Babies R Us
and
Buy Buy Baby
if you'd like to take a peek. :) It says the gender is a 'surprise' but that's only because we're not sure yet (we'll reveal as soon as we know). I can't wait to see my
Michigan
family and friends next month.
Speaking of June, I'm moving in with B's mom to our new place on the 1st (he'll join us in July when the lease is up at his house). And as for May, I'm headed to San Diego for two weeks in a few days! I have a feeling time is going to fly these next couple months!
See last week's Instagram round-up
here
, and you can follow me
here
.