I've known from the start that clean, yet cute, pages would be my favorite. I use very little embellishments and I've almost completely stopped journaling. This is for a few reasons. One, because I don't like my handwriting; it's always been messy, and it's gotten worse due to suffering from
carpal tunnel
(a form of
tendonitis
) on and off. Secondly, I don't like the
Slick Writer
pens I purchased. I'm pretty disappointed by them because I read lots of good reviews and recommendations online, but the fine tip wears down much too easily and eventually they start to write more like a regular Sharpie than anything else. I'm hoping that I can bring my old typewriter back with me from Michigan when I go for my baby shower in June! Third, I believe in the cliche that a photo speaks a thousand words -- I've found that I really don't have much to say about them. Since I already document so much of my life on the internet (and in my personal, offline journal) I don't feel that many descriptions are needed. Plus, let's face it: I'm a lazy scrapbooker. Being able to simply use photos and cards is exactly why I love telling my story through
Project Life
.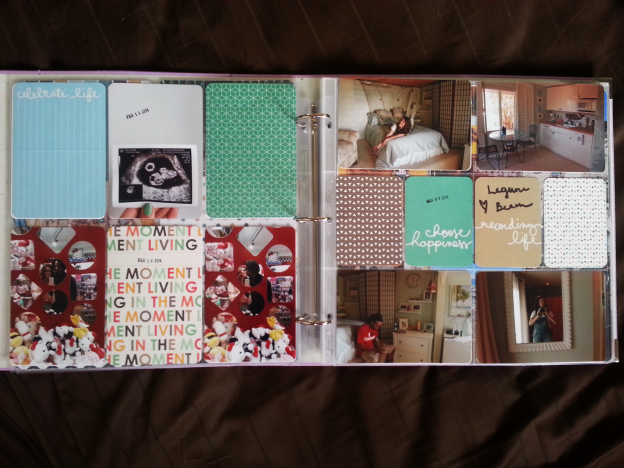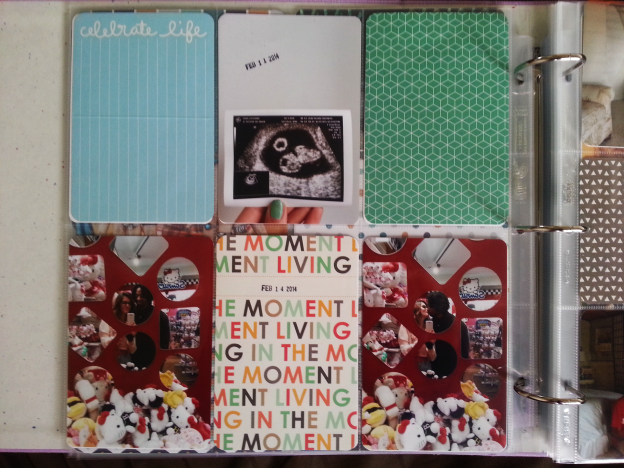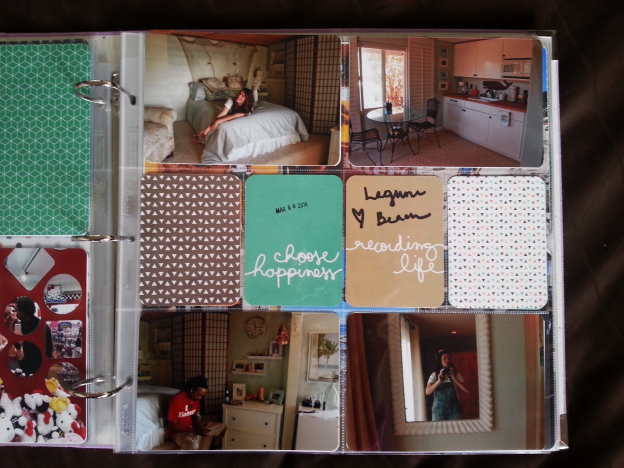 That's the beautiful thing about this process -- anyone can do it, and do it in their own way. These photos are a mix of February, March and April memories. I'm pretty bad at keeping things in order; I'd much rather have it look good, even if it doesn't make sense chronologically. I'm not concerned, especially since I've been using a stamp from Office Depot to mark the date. The few stickers that I've used are probably from Michaels. The album itself is a We R Memory Keepers Linen 12x12
3-Ring Binder Album in Grape Ice
and I use an
EK tools Mini Punch
to round the corners of all my photos.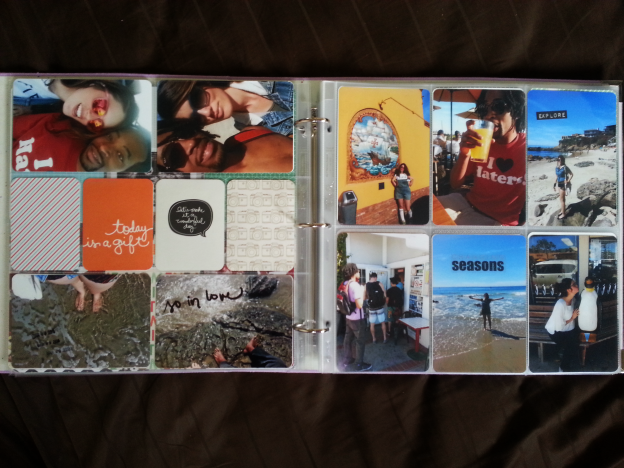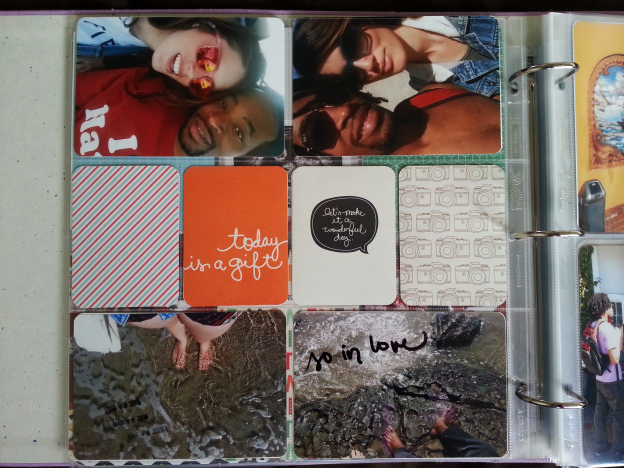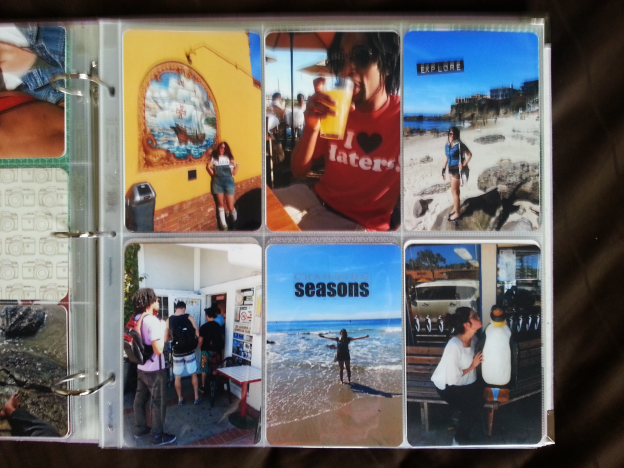 The Project Life
Core Kits
are huge. I recently purchased the
Jade Edition
. I also want
Honey
,
Seafoam
and
Sunshine
; they're all so cute, it's hard to choose just one! I think it's a little funny and cool that I started scrapbooking again the year that I got
pregnant
. I obviously didn't expect that, but now I have even more to document. I am really excited to take a million pictures of my little one, but I promise not to overload on
Instagram
because I hate when other people do that. Ha! Plus, I decided at the very beginning that I wanted to keep my baby's life as private as possible. I'm not even sure yet if I'll want to put his or her name on the internet. There are too many creeps out there!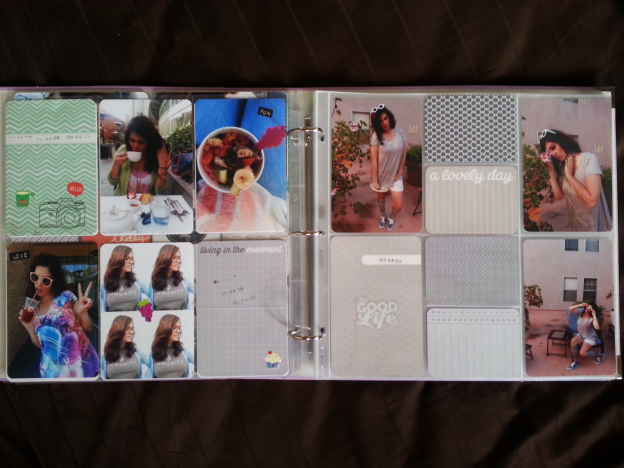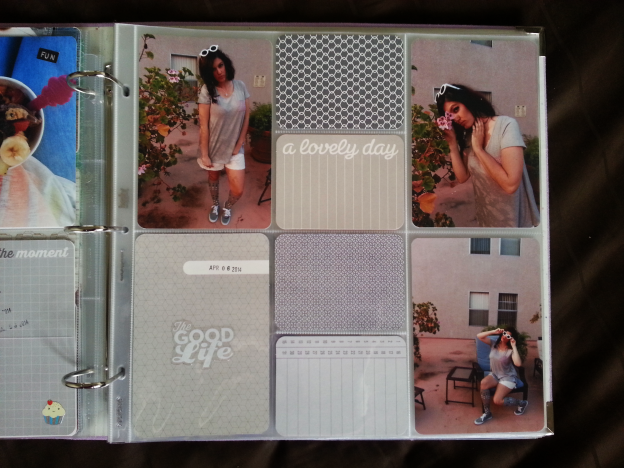 Some of the photos on these pages were taken with my DSLR, but most of them are from my phone (
Dropbox
has been so helpful with this). If you're looking for more inspiration, head on over to visit
Elise
,
Ali
and
Jess
. I also just discovered
Michelle
and
Stephanie
too (not me, duh); I love the fact that she uses little mementos and 'stuff' in a beautiful way, while most people wouldn't think to keep them. I still want to sign up for
Studio Calico
so I can have Project Life goodies sent to me every month, but seeing as I'm also getting
Beauty Box 5
and
Julep Maven
boxes, my subscription box budget is maxed out. We'll see. If you have your own scrapbook or Project Life album, I'd love if you shared it with me via
Facebook
or
Twitter
!