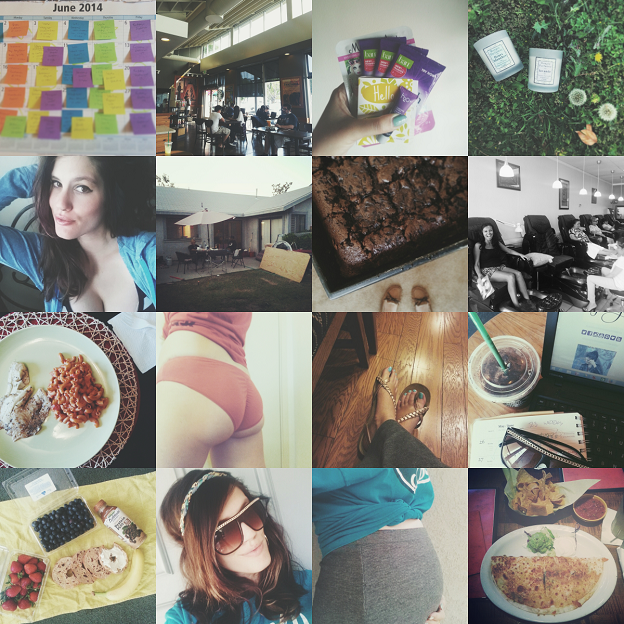 Friends, food, fun, sun, and maybe one too many #selfies. That sums up my week, in a nutshell, but here are the deets... The blog calendar is all set up for June! It's going to be an awesome month full of goodies for y'all. / Starbucks has been my oasis these days. / Loved the pretty things in my recent
Beauty Box 5
shipment that allowed me a day of pampering. / Two of my favorite candles. They're from World Market, one of the most fascinating stores ever. / Selfie after my at-home facial. / Our backyard is perfect for summer parties, but unfortunately, the boys use it to store random shit instead. / Homemade brownies thanks to
Mona
! / Getting a much-needed pedi with
Jacquelyn
. / Lunch thanks to Jax +
Sarah
. It's been so nice to catch up with everyone. / Posted a picture of my butt in honor of #projectfatass + #bootyrevolution. See
this
lady for more info. I'm all about self-love! Bonus: It's my first photo with over 100 likes. Ha! / Snapping Instas in waiting rooms always makes the time go faster. Here, I'm at the dentist. Joy! / Working away at my goals and dreams. / Breakfast is my fave, and one bagel is never enough. / Moi before meeting up with
Liza
for happy hour (sans alcohol on my end). / Belly selfie of the baby bump -- #bumpfie? / My scrumptious quesadilla + fizzy cucumber beverage that night!
Other items of note:
This is your last chance to enter my giveaway
here
! The winner gets one free item from
Dress Loudly
!
I've posted some new reviews for
Mixology
and
Believe
over at
Gotta Watch It
! Both of them got cancelled, so I'm going to start watching
The Bachelorette
soon for the site... I've never seen that show in my life (or The Bachelor) and I'm not really into "reality" stuff, but we'll see. It's always fun to switch it up and watch something mindless for once, ha!
Tomorrow is
THE BIG DAY
!!! It feels like Christmas Eve.
See last week's Instagram round-up
here
, and you can follow me
here
.