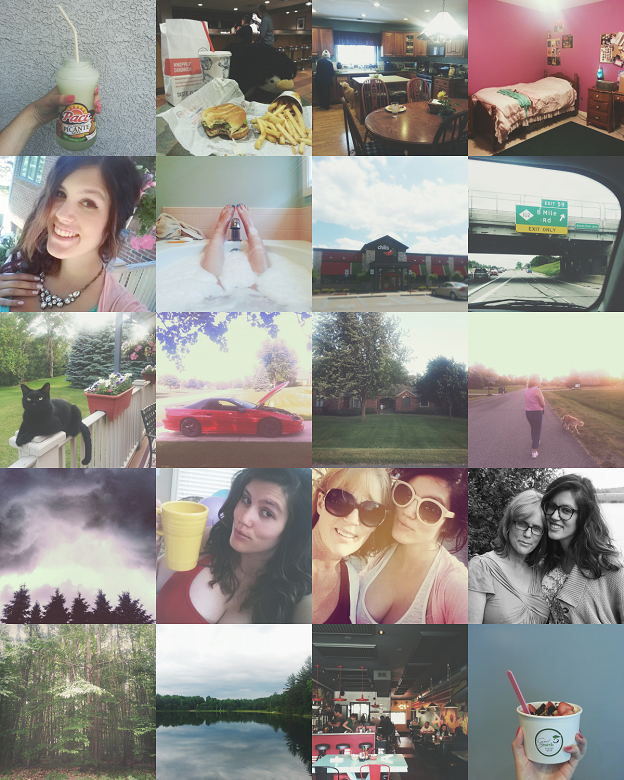 My time in Michigan was absolutely perfect. I was there for two weeks, but it felt like two days. It was nice to get out of the hustle and bustle of city life and enjoy little things like bubble baths and quiet mornings with coffee in the backyard. I thought it'd be a bit overwhelming to share the 40+ Instagrams I posted, so I've only included your favorites here. I'm always interested to see trends, too. This time around, you guys seemed to be into my boobs, my mom, and glorious greenery. You also like a photo more when it has a story attached. I'm not surprised, because all of these things are awesome. The first photo was from before I left, but what better way to say goodbye to LA than with a virgin margarita in a salsa jar?
As always, I didn't get to see everyone that I wanted to, but I loved catching up with
Malorie
,
Kelly
,
Katie
,
Megan
,
Heather
,
Kara
and
Jen
-- not to mention my parents, my siblings, my babcia, and the numerous relatives and family friends who attended my baby shower. I truly felt like a celebrity with everyone wanting to rub my belly, talk to the baby and dote on me. This is such a special time and I'm so grateful that I have people all over the country praying for B, me, and Baby Loudmouth.
I'm really excited to relive these precious memories as I share more photos with you over the next few weeks and get lots printed for scrapbooking purposes. I've spent this weekend relaxing, catching up on business stuff and spending some much-needed time with my man. Though returning to LA was tearful and bittersweet, I'm looking forward to getting back into a routine and organizing my life.