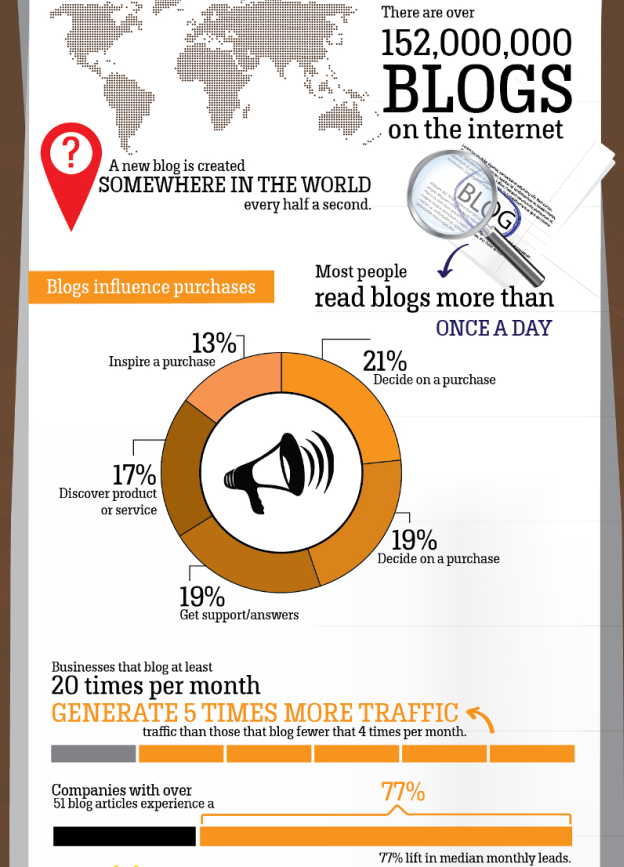 Y'all know I love blogging.
But, with the crazy amount of blogs these days, some people think it's silly to start their own. However, I think the fact that blogs are so popular is actually a sign that you SHOULD start one. The internet is the way of the future, and the future is now! Blogging is becoming a serious industry and I don't doubt that at some point you'll be able to take college courses on it. I've read so many articles on how "blogging is dead" but I believe this is just the beginning. If you're itching to start, it's never too late, especially if you have an idea in an untapped niche.
There may be 152,000,000 blogs out there, but the world's population is over 7 billion. That means almost 98% don't have a blog.
That's lots of room for you!
We also need to take into consideration the amount of blogs that are...
1.
Inactive:
How many times have you visited a site and you found nothing, or the last post published was from three years ago? Just because the blog exists, doesn't mean that it's actually up and running.
2.
Just-for-fun:
If you're looking to make money from your blog, you probably have less competition than you think. Not everyone wants to create a business out of blogging. Also, if YOU'RE just doing it for fun, you shouldn't feel competitive anyway. Why add stress to something that's a hobby for you?
3.
In each niche:
We'd have to look at a specific breakdown to really analyze, but if you're itching to start a blog in a category that's not already saturated, you're more likely to find success in terms of sponsors.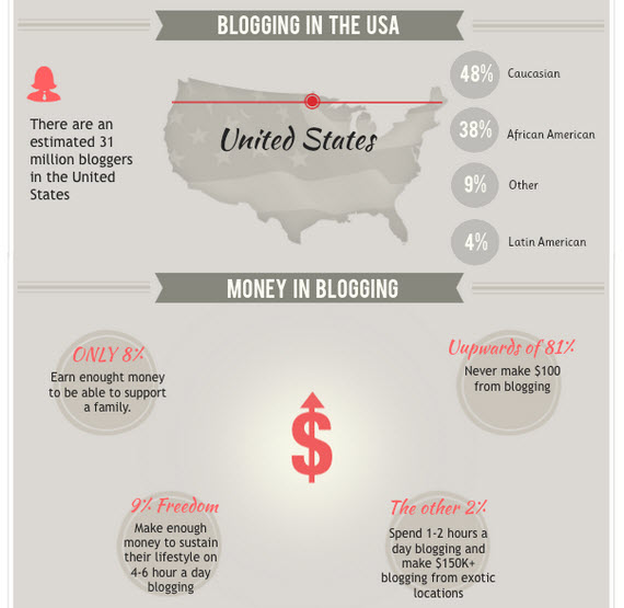 As you see above, there are 31 million bloggers in the United States, and 8% of them earn enough to support a family. However, this infographic does not detail how many blogs each of those bloggers has, whether or not they are even TRYING to earn money, or how they are earning. Simply blogging alone will not get you much; ads and affiliates pay pennies compared to things like opening a
shop
, writing a
book
, or starting a business based on your blog. Most professional bloggers have multiple streams of income that may include e-courses, phone apps, clothing lines and more. The possibilities are endless.
Let's look at the statistics again.
8% of 31 million is 2,480,000.
If they can do it, why can't you? The art of blogging is like any other form of creativity -- there are lot of people who want the same thing; you will have to work your ass off for free for a long time; at first, you will put more money into your business than what you're getting out. But, if it's your dream, isn't it worth it?
Living in LA, I see so many people striving to be successful actors, singers, models. The ones who fail are the ones who stop trying. And, my secret motto about competition: if you can't beat 'em, join 'em. Don't hesitate to help other bloggers, and ask for help as well. Karma, baby!
If you want to start a blog, I think that's enough reason to go for it. And if you have any questions, you can find me through
Facebook
,
Twitter
,
Instagram
and
email
!
*Photos found
here
and
here
.