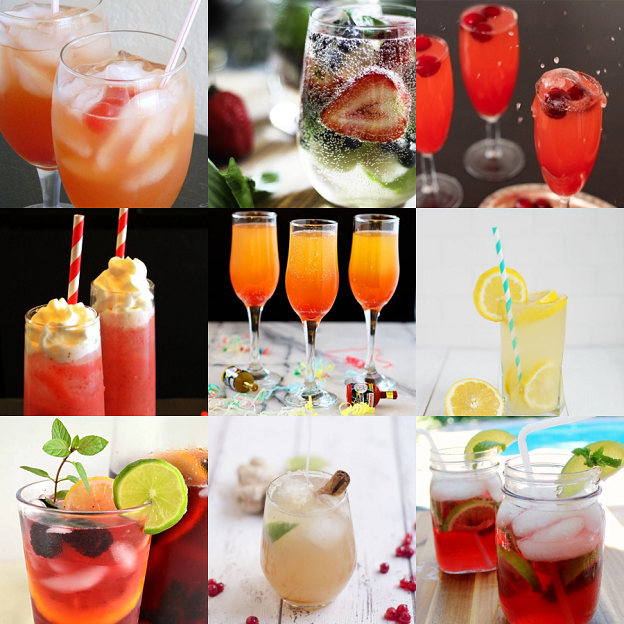 I've linked to mocktails in my weekly
roundups
before, but I wanted to dedicate a whole post to them. I'm not ashamed to admit that, as a pregnant woman, I miss my booze. Fortunately, there are tons of delicious-looking recipes around the web that could have (almost) the same effect. Also,
Mary Jo
got me totally hooked on cranberry juice mixed with club soda. Yum! Here's 9 more concoctions I'd like to try:
1.
Safe Sex on the Beach
(cranberry juice, grapefruit juice, peach nectar)
2.
Mixed Berry and Basil Sangria
(white grape juice, seltzer water, basil and berries)
3.
Cranberry Sparkler
(cranberries, orange juice, maple syrup, soda water)
4.
Pink Panther
(pineapple juice, strawberries, whipped cream)
5.
Baby Bellini
(peach nectar, sparkling apple cider, grenadine)
6.
Ginger Beer Lemonade
(simple syrup, ginger beer, lemon juice)
7.
Tea and Honey Sparkling Sangria
(tea packets, sparkling grape juice, and fruit)
8.
Ginger-Honey Mocktail
(ginger, coconut water, honey, cinnamon)
9.
Pomegranate Mojito
(simple syrup, pomegranate juice, sparkling water, lime)
Plus, there are tons more ideas at
The Kitchn
,
Lifestyle Mirror
and
Red Tricycle
! Cheers!