A bloggy bud recently asked me about
Bloglovin'
and though I can't find the email (oops) I wanted to talk about the site a little bit here. If you're not already familiar, Bloglovin' is a site specifically used for blog-reading that can keep all of your
favorites
in one spot! I used to use
GFC
sometimes and I'd also just go straight to the blogs when I kept them on my sidebar, but recently I've started using Bloglovin' exclusively. I love the layout and I love that I can click through straight to the blogs. Some readers force you to stay inside the site while reading blog posts, but I enjoy seeing them in their full glory. There's also a Bloglovin'
app
that I've found super helpful when on the go. Here are a few of my other favorite things about Bloglovin' and why you should get on board!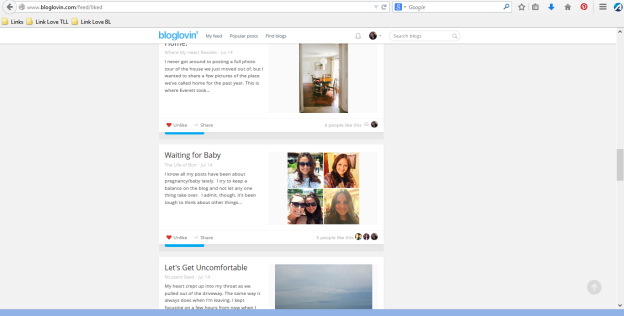 My feed + Liked posts
Scrolling down
my feed
and clicking posts I'm interested in makes blog reading super simple. Most bloggers are already signed up with Bloglovin' and have an icon you can click on their blog, but if not, you can also use the search bar and find your favorite bloggers to follow them that way. Normally, when clicking on a post, the page pops up with a Bloglovin' frame, but I found it annoying and you can disable it under "settings". While perusing your feed, if you really liked a post, you can click on the heart icon and mark it as "liked". You can click "liked posts" to see all of them. It's a great way to keep track and revisit your faves. I also use this feature if the blogger doesn't have a comments section or if I simply don't have much to say. Bloggers love to receive feedback and this is a quick, easy way to give it!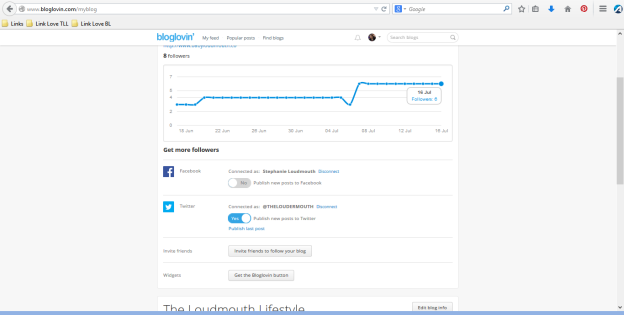 Blog stats + Social media connectivity
Both of my blogs are linked up with Bloglovin' and it's fun to be able to see their stats in one spot. The analytics aren't too in-depth but I love setting personal goals and watching my follower count grow -- yay for 8 at Baby Loudmouth! On this page, you're also able to connect Bloglovin' to your
Facebook
and
Twitter
accounts. That way, your new posts will be announced automatically and you won't have to worry about it if you're on vacation or just not around your computer when it goes up (most bloggers schedule their posts in advance).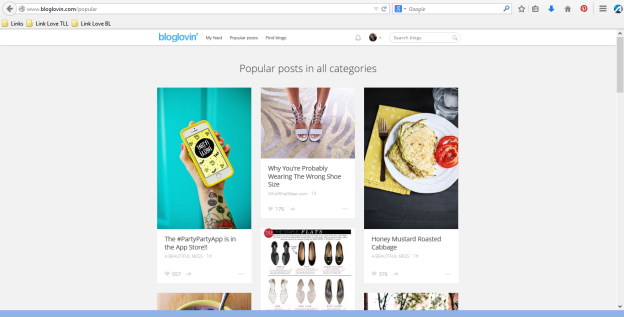 Popular posts + Recommended blogs
Finding new blogs to get hooked on is one of my favorite pastimes, and Bloglovin' makes it easy! You can view popular
posts
, either overall or by category, and also popular
blogs
overall or by category. Bloglovin' also offers
recommendations
(which are sometimes way off, sometimes on point). I love being able to discover new bloggy treasures with a few simple clicks. Fun stuff!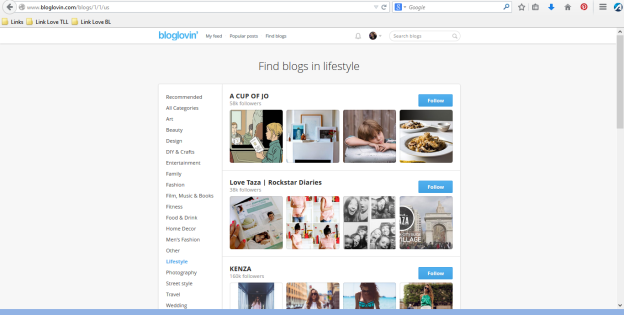 The only thing I don't like is that sometimes my photos don't show up and there's just a plain gray spot where it should be. I should probably email the admins about this. Otherwise, it's a pretty perfect way to catch up on my blog reading! It's one of the first things I check in the morning. Feel free to follow The Loudmouth Lifestyle
here
and Baby Loudmouth
here
. You can also follow my personal profile to see what posts I've liked
here
. Happy reading!