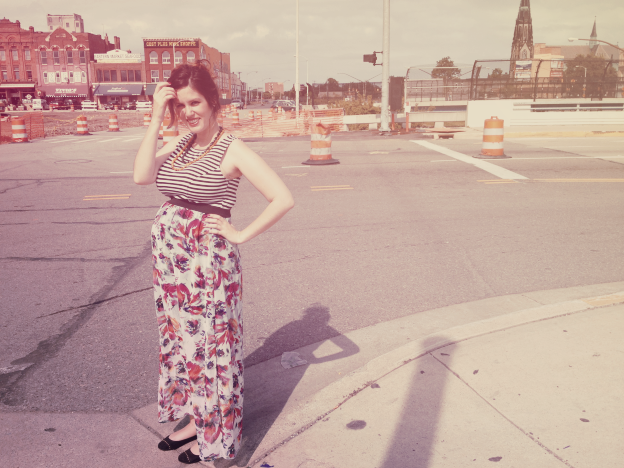 Hey gang! Last week I saw
this
post by Miki, in which she shared 20 things about herself, and I thought it would be fun to steal her idea. I did something similar back in
2011
but my life has completely changed. If you've been reading for awhile then you'll probably know most of the following items, but if you're new, I hope you'll get a good idea of who I am and what I do by the end of the post. Enjoy!
1. My first name is Stephanie, but most of my LA friends (including my boyfriend) call me Shar (it's my last name).
2. I'm 5'8" and I never knew this was tall growing up because my family and best friends were all around my height.
3. Brandon and I have only been together for a year and four months. We moved in together after 8 months and got pregnant after 9. You can read about our fast and furious love story
here
.
4. I have two younger siblings. I'm 27, my sister Liz is 24 and my brother Aaron is 18. Even though I was the "guinea pig" and my parents were the most strict with me, I love being the oldest!
5. I made the decision to leave my job in November, found out I was pregnant at the beginning of February, and officially quit at the end of March. Financially, things haven't been easy, but definitely worth it. I post pregnancy updates over
here
, and you can read about my first two months of self-employment
here
and the services I offer
here
.
6. I've been blogging for 15 years, but didn't start The Loudmouth Lifestyle (TLL) until 2010. You can read my first post
here
(it's not very exciting). TLL's themes have evolved dramatically through the years, going from fashion, to lifestyle, to self-help and inspiration. I first wrote about why I blog
here
.
7. I hail from a small town in Michigan. I moved to California after graduating from Grand Valley State University in 2009 with a bachelor's degree in Communications. I originally wanted to major in Musical Theatre and become a Broadway star in New York.
8. B and I and his mother Juillet (GG) have been looking at and applying for houses for the past three months to no avail. I don't know where we'll be living come August 1st, which I guess isn't a very "fun" fact, but... exciting maybe? As long as it's not a hotel, I'm happy. Cross your fingers for us!
9. I love
Disney
stuff -- probably not as much as an adult woman should, but also not as much as some of the fanatics I know. When I had a Disneyland pass I only went every other month; therefore, I feel sane.
10. Just in case you missed the big ol' badge on my left sidebar, I released my first
e-book
last month. It's in my
shop
along with secondhand items from my closet (if you don't understand that, you're probably not a blogger). Thanks to all who have purchased something. You are helping me feed my future child.
11. I'm an
ENFJ
and B is an
ENTP
. I'm an Aries and he's an Aquarius. Basically, we're both loud, but he's more laid-back and logical. It's an awesome balance.
12. In high school I was your typical band/choir/theatre geek and either invisible or repulsive to the male gender. I had guy friends, but most of them were gay. I didn't have my first kiss until after graduation, and I met my first boyfriend on MySpace. (On the other hand, B was a rebellious, popular football player who probably saw boobs before I even had any.)
13. This is actually really hard. I'm kinda boring. If you're still reading this, thank you.
14. I don't allow
comments
on my blogs but you can follow me in like 10 other ways, listed
here
.
15. I've been a vegetarian/pescetarian/selective omnivore for four years.
16. My favorite Judd Apatow movie is
Knocked Up
and somehow my life turned out just like it (including the stoner roommates).
17. B and I are going to have pie at our wedding someday instead of cake.
18. I totaled my first car by driving into a parked one.
19. I've had a smartphone for
less than two years
. In college I didn't even have texting.
20. I suffer from
RBF
, but I promise I'm a really nice person :)