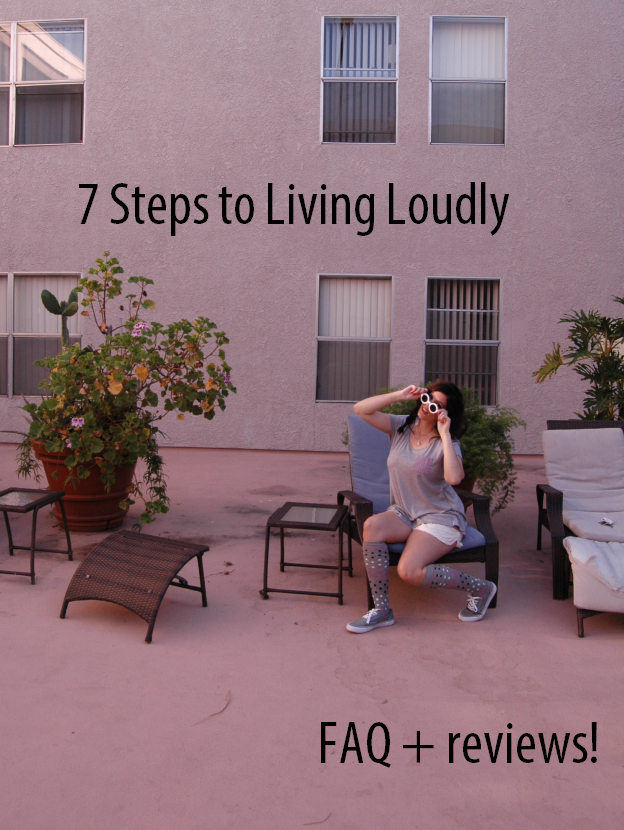 Hey, Loudmouths! I'm so excited to talk about my
e-book
today! It was released a little over a month ago, and since then, the feedback has been wonderful. I'm going to answer some common questions today and also share some testimonials. If you have any of your own by the end of this post, feel free to
email
,
Facebook
or
tweet
me! I love and appreciate you all!
Q: What's the book about?
In 7 Steps to Living Loudly: Discover Who You Are, Decide What You Need and Create the Life You Want you'll learn the changes to make and moves to take in order to get to where you want to be. If you have dreams of a better, brighter future but you've been hesitant to make the leap, this book is for you! If you've already started on your goals but have felt unmotivated and unsure, you'll find the steps encouraging and inspirational as well. This book is meant to push you into an excited, passionate, genuine, confident mindset. For more background on my Loudmouth philosophy, feel free to read my posts on
why I blog
and
what it means to live loudly
, all the way from 2011! Yes, this vision has been years in the making!
Q: How long is it?
The book is 7 chapters and 25 pages and approximately 10,000 words. It's a quick read but I'd suggest spreading it out and focusing on one chapter a night, or even one per week. At the end of each step there's a writing prompt for you to reflect and meditate on, which will be thoroughly helpful on your journey to self-discovery and self-love!
Q: What if I don't have a Nook or Kindle?
That's A-OK! The book will be sent to your email in the form of a PDF within 24-48 hours of purchase. You can download it and read on any device including your phone, tablet or laptop! You don't need a Wi-Fi connection either, so it's perfect for traveling. (Don't forget to pack a journal!)
Q: What if I'm not a blogger?
You don't have to be! This book is for anyone with goals and aspirations, on-line or off-line, creative or otherwise. Even though I reference my journey to becoming a full-time writer, that does not have to be your dream. The prompts and advice are broad enough for anyone to find useful, but specific enough that they'll help you hone your craft. 47% of my blog audience is made up of females aged 25-34, but anyone of any age or gender is welcome to read and enjoy.
Q: Where can I buy it?
You can purchase it in my shop
here
. You do need to make an
account
, but it takes less than two minutes, especially if you use Facebook to log in! If you don't feel like doing that for some reason or you're having trouble with the site, just shoot me the moolah through
Paypal
. No biggie.
Q: How much does it cost?
7 Steps to Living Loudly costs $20, which is pretty standard for an e-book and less than a hardcover from the bookstore! If it's not in your budget right now, don't worry -- I do announce promo codes once in awhile, so look out for those on
Twitter
and
Instagram
. Also, if you donate $25 or more to my current
Indiegogo campaign
, you'll receive a free copy of the e-book, along with a handwritten thank-you card in the mail and a link to your website or shop in a future post! Basically, for an extra $5, you're getting exposure for your blog or business! Of course, I only want you to contribute if you truly believe in my mission. And if you're thinking of donating but already own the e-book, you'll receive my second one (out next year) instead. It would be pretty pointless for you to get the same PDF twice. ;)
Reviews + testimonials:
"Though I didn't buy Steph's e-book because I want to blog full-time or start my own business, I found it to be moving and influential. She tells her own personal story of trial and error in a way that is raw and relatable. It was a quick, easy read, and the exercises are not only fun to do, but have provided inspiration for future projects. She continues to impress and inspire me with everything she produces, and I'm excited to read her second e-book!" -Jessica of
The Jessica L Blog
"I loved Stephanie's e-book! Being a 'loudmouth' myself, I wasn't sure what more I could really gain from reading it, but honestly, I'm glad I did. I like that Stephanie is encouraging fellow young women to be loud and bold in their lives and through their words and actions. It's a point of view that, I think, is lacking in our culture and is refreshing to see come alive through Stephanie's words and lifestyle." -Chelsea of
Chels & the City
"Stephanie writes with compassion, wit, and honesty; she becomes an instant friend to the reader, sitting down for drinks or coffee and some deep, motivating conversation. Though her narrative is breezy and lighthearted, she's not afraid to dig deep and deliver some powerful truths. One of the most memorable moments for me came when she wrote, 'You won't know what love is supposed to look like until you love yourself, unconditionally.' Through this and many other messages, Stephanie's wisdom and heartfelt support helped me to uncover some of the blocks in my own life and encouraged me to work hard at busting through them." -Casee Marie, from her review
here
"I was up reading it last night feeling motivated and stuff so thanks for motivating me at like 1:30 in the morning." -Chelsea of
East Willow Grove
via YouTube
"Write another book, damnit." -Andy
"Inspiring, helpful, heartfelt, honest, insightful... it is tremendous." -my mom
You can learn more about the book here. Thank you so much for your support and kindness!