The other day, I explained the importance of
keeping a planner or calendar
specifically for your blog. But you guys know how much I love blogging and I'm sure some of you guessed that I'd have more to say! Well, you were right and today I'm popping in to tell you what I believe are a few more essentials for any blogger -- whether you see it as a full-time job, a hobby, or a tool to promote your business.
1. Pretty things to write on and with.
Some girls have an addiction to buying bags or shoes. My second biggest collection (the first being books) is journaling supplies. Pens, highlighters, notebooks, diaries, I love them all! My mom doesn't understand this and thinks that shopping for writing utensils is about as exciting as watching water boil, whereas my best friend
Malorie
and I could spend hours in Office Depot or Staples. I can't do my grocery shopping at Target anymore because I'll end up leaving with something from the paper section. Whether you agree with my mother or Mal, I urge you to select nice-looking supplies for your desk or home office. The more colorful and fun they are, the more likely you are to use them. Any blogger knows how it feels to come up with an idea when you're out and about and you have no way to keep track of it. Once you get a cute journal to tote around, it will feel like an accessory and you'll want to use it all the time. Simply creating a space to record inspiration will spark more inspiration!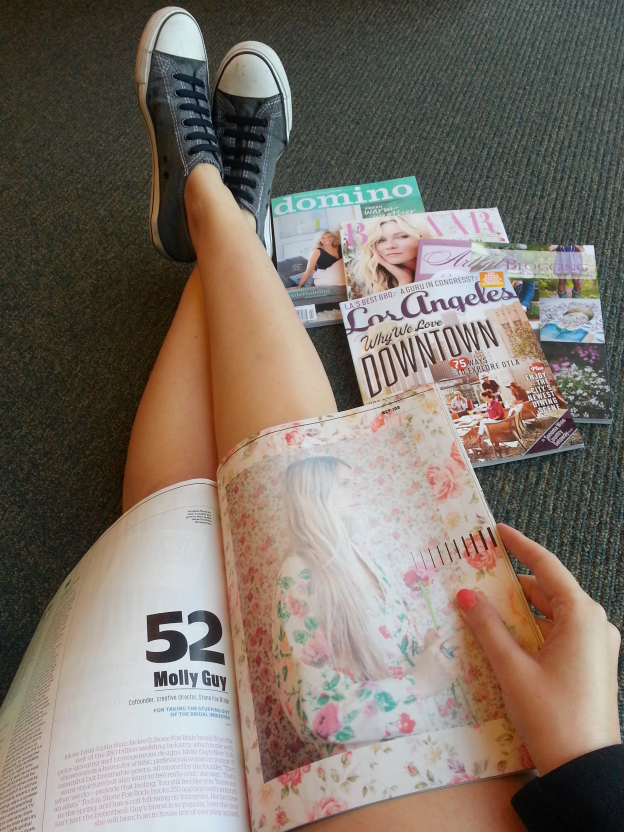 2. Good lighting and an organized area.
This one is a challenge for me. Currently, Brandon and I share a 9 x 11' room that barely fits our bed. I think it was meant to be an office because it has a small, strange little window and a tiny closet with a curtain in lieu of a door. We live in a house with two other people (three if you count the girlfriend of one of our roommates, four if you include the guy who has been sleeping in our living room for the past month). There are also two cats, two snakes, and of course, lots of personal belongings. Basically, it's crowded. Unless I feel like splurging on Starbucks, I really have nowhere to blog except in bed. This may sound luxurious, but it can be claustrophobic and distracting. I'm much more productive when my work, sleep, and play areas are separated. To improve the situation, I've gotten into the habit of throwing open my window as soon as the sun's up and turning my artificial lights on too. I also keep the small space around me as tidy as possible; even if I only have time to clean one corner per day, it really helps me feel refreshed and ready to work!
3. Sources of inspiration and motivation.
Whether it's a stack of magazines, a gallery wall of encouraging quotes, or a special playlist filled with magical music, you need to surround yourself with stuff that keeps you going. Though the blogosphere is a great community brimming with wonderful people, running a blog is very much an independent effort (unless you can afford to hire a team of writers). Let's face it, blogging can get lonely, and if you don't keep your creative brain buzzing it can even become boring. Whenever I'm working on a post and feel myself getting lost, stuck or burnt out, I save it as a draft and put it aside. I'll pick up a book, flip on a movie or call a friend. I might even check my
Bloglovin'
feed or (gasp!) click around on
Pinterest
. I always keep my
Project Life
album nearby, too! I don't see these things as distractions because they help me relax and then return to my blog with renewed energy.
4. Comfy pants and a cozy drink.
Unlike
Emily
, I don't dress like I'm going to a normal office unless I'm actually leaving the house. Though she looks lovely, I'd much rather be in sweats. Of course, it's a different story if I know I'm going to have my picture taken (well,
sometimes
). At any rate, it's crucial to be comfortable. I'm also the type of person who always has to be sipping something while writing. In addition to water I'll usually make myself hot tea or indulge in a sparkling soda. I've recently started drinking coffee again too (but only one cup, in the morning). So without further ado, grab your favorite beverage, light a few soothing candles and settle in for some productive blogging! (Nasty carpet optional.)
You might also enjoy my
work-from-home wishlist
,
why you should start a blog
, and
how to have a successful personal blog
. Got any of your own blogging tips? Shoot me a
tweet
!