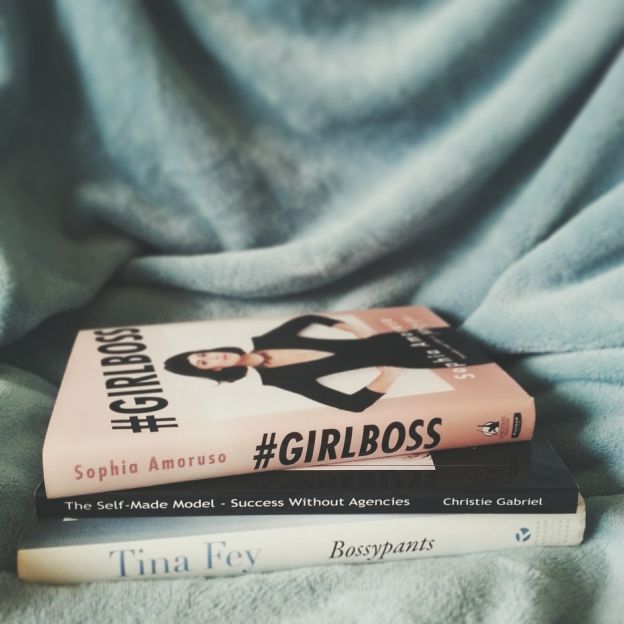 This past month I read
The Self-Made Model: Success Without Agencies
by Christie Gabriel;
#GIRLBOSS
by Sophia Amoruso;
Bossypants
by Tina Fey; and
Radical Sincerity
by Esmé Wang (which is only 15 pages and free, by the way). None of these books were necessarily bad, so they're going to be hard to rank, but as usual we'll start with the worst first.
The Self-Made Model
was chock-full of information and, as it states, is for models who don't want to be signed with an agency (or are just starting out and haven't gotten to that point yet). Now that so much information is available to us on the internet, it is a lot easier to find gigs on your own as opposed to relying on an agent. Whether or not you decide to go the agency route depends on the type of work you want and the type of model you are. My sister recently got signed and is moving to New York (!!!) but I can also see her being able to find work on her own after she builds up a good amount of experience.
The problem was the style and tone in which the book was written. I always appreciate when someone successful tells the story of how they became an expert in their field and what brought them to where they are. It makes the author seem easier to relate to. However, Christie Gabriel was signed right out of high school and really doesn't have a story about the "struggle" of her starting out. Also, a lot of what I read sounded condescending and intimidating, instead of being encouraging and motivating. Though I've
mentioned
that modeling is more of a hobby than a career for me, I still finished the book feeling as if I was doing everything wrong. Perhaps this is just an example of how cut-throat the industry is.
Esmé Wang is a blogger after my own heart. Her e-book
Radical Sincerity
is small, but mighty. I love how open she is about mental illness. The vulnerability that she writes with and about is something I hope to achieve every day. I'm looking forward to reading her collection of essays,
Light Gets In
, as well.
#GIRLBOSS
had everything that The Self-Made Model was missing. If you haven't heard about it from every other blog and Instagram feed out there, this book was written by Sophia Amoruso, 29-year-old founder and CEO of Nasty Gal. I was skeptical of the hype, but it turned out to be even better than I could have imagined. Sophia really did start from the bottom (the business began with $50 and an eBay store) but due to her hard work, dedication, motivation and passion, she now owns a multi-million dollar company. She truly believes that any woman can achieve her dreams, and the more I read about her definition of a #GIRLBOSS, the more I thought about my own Loudmouth philosophy. I would recommend this one to anyone who wants to be successful in anything, so basically, everyone. She writes in a no-nonsense tone that's still fresh and fun -- like a best friend, a teacher, a boss and a cheerleader all rolled into one. Just buy it. It'll change your life.
Bossypants
is a tie with #GIRLBOSS, and not just because they're both about smart, witty, successful women. This isn't quite an autobiography of Tina Fey, nor is it a how-to guide or self-help book, which she clearly states in the introduction. I found Tina's book just as awesome as Sophia's, but in different ways. Bossypants starts off with sad-but-true stories of her childhood. Even though she wrote them in a darkly humorous tone, I felt uncomfortable for a bit until I realized why: she was just like me. The experiences that we have in common are uncanny -- you know, up until the point where she becomes a successful SNL writer, then goes on to create 30 Rock and win tons of Emmys. Behind all the glitz and glamour, fame and fortune, Tina is my older twin, except that her mom is Greek instead of Polish, and her dad is completely German instead of German and Italian. Okay, so it's starting to sound like we don't have that much in common, but I swear I'm not making it up.
Anyway, the book got better and better as it went along, and about halfway through I busted out laughing, and I didn't stop laughing until I got to the end (which actually turned out to be wonderfully heartfelt and totally relevant to this time in my life). Tina is so honest and real, and I'm really glad that I went against my hipster attitude of "if it's popular, it's probably not good".
See my last book post
here
and you can follow me on Goodreads
here
.