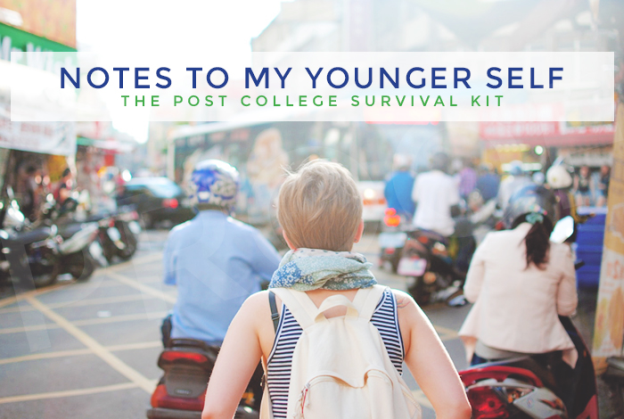 I was super honored when the talented
Sarah Von Bargen
of
Yes and Yes
asked me to participate in a blog crawl to help spread the word about
The Post College Survival Kit
. She asked me to share some advice that I would give my younger self, and to be honest, I thought I'd have a lot more to say. My 20s have been pretty rocky, but I don't think I would change anything. I wouldn't take back any of the mistakes I've made, because they've made me who I am, and I like me. I'm the type of person who needs to learn things the hard way, and even if I'd been given the following two pieces of advice, I probably wouldn't have listened.
But I hope you do, because they could save you money, time, and trouble. Unless you like getting into trouble, in which case, go do your thang. Here's me at 22 -- with family on my graduation day, and a few weeks later after getting my hair done. Blonde makes my nose look bigger, apparently. (No, that is not one my grand epiphanies, but I just noticed it and my mouth doesn't have much of a filter.) Moving on!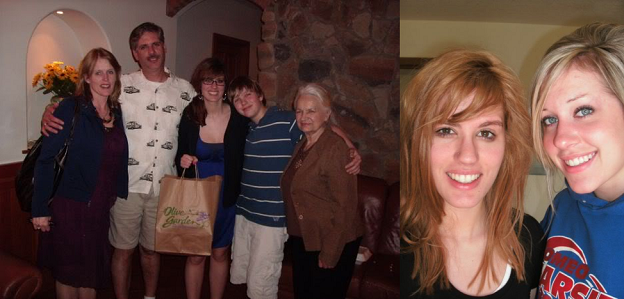 1. It's okay if you don't know everything, but you should act on the things you do.
There's so much pressure on young adults to graduate college, have it all figured out, and jump into a perfect life. No wonder we have such high expectations! Dream big, but go easy on yourself. It's good to plan for life, but life doesn't always go the way we plan. Therefore, it's totally fine if you're not sure about something. Sometimes it's good to just sit back and enjoy the ride. On the other hand, if something doesn't feel right, you totally have the power to change it. Don't let yourself get stuck with a job or boyfriend or city that isn't satisfying. This may all sound contradicting, but it's about balance. Do what you can with what you have, and go from there. Good things take time. Don't stress.
2. Stop feeling obligated, learn to say no, and live your own life.
Growing up, I was always a people pleaser. I aimed to please my parents and teachers. When I got older, I switched my focus to making my friends and boyfriends happy. I hated the thought of hurting anyone's feelings and was constantly taking everyone (but me) into consideration. I totally forgot about my own needs while constantly striving to meet the needs of others. This caused me to be easily let down and taken advantage of. I wish I would've done more for myself but instead I allowed the fear of not being "nice" enough control me. But in 2011 I left my first full-time job, broke up with my long-term boyfriend and lost a bunch of friends. I was forced to become independent and take care of myself. I realized that I'd been missing out on so much self-love. The thing is, your friends, family, and significant other should want you to be happy, and therefore they should want you to think about yourself and do what's best for you. You don't need anyone's approval for anything. You're an adult now and it's about time you used that power!
Thanks for letting me share! You might also be interested in
my pregnancy story
,
my business journey
, or my e-book:
7 Steps to Living Loudly
. Feel free to
contact
me about anything, anytime.
*Top photo provided by Sarah.