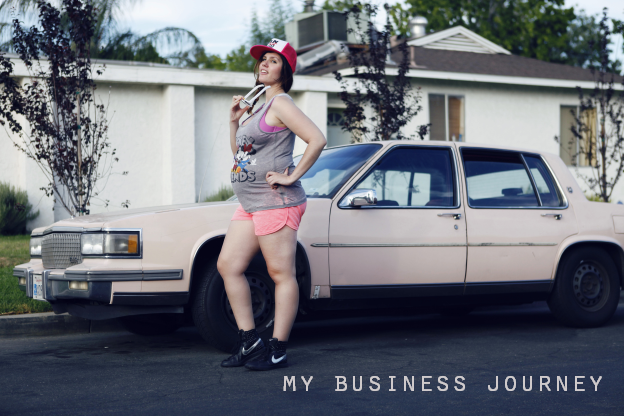 About once a year, I sit and think about what I want to get out of my blog and what I want to put into it (see
2011
,
2012
,
2013
). This isn't an intentional analysis, it's just something that happens, and I think it's important. My
main
purpose for TLL has stayed the same, but other reasons as to why I blog, and other questions including
how
I want to blog and
what
I want to blog about, have emerged over time.
As I'm about to become a mother, I've found myself re-evaluating my blog (now
blogs
, and
brand
) once again. Now that it's become a
business
, I believe it would be beneficial for me (and, hopefully, fun for you) if I wrote a little about my work history (without it looking like a resume, of course). Not to worry, though; I don't anticipate any huge changes happening around here, at least not until after I get back from maternity leave in 2015 (I'll be taking September thru December off, save for updates once a week or so).
My first job was at a photography studio when I was 14. We were friends with the family that owned it and they needed help with dance pictures on the weekends. I didn't actually take any photos -- I was moreso in charge of the customer service and selling aspect, along with organizational and clerical work, creating spreadsheets, etc. But I did get to observe and learned a lot about what it takes to run a creative business. It was really fun and I did that seasonally for a few years in high school.
I stayed home my first year of college and commuted to Oakland University before transferring to Grand Valley State. During this time I worked at Victoria's Secret. It was absolutely awful, and looking back, I'm not even sure why they hired me because I wore corduroy pants to the interview. The girls were all snobby and I was expected to sell an impossible amount of bras every hour. Even though I was part-time, the managers wanted me to have a completely open schedule, which was impossible while attending school full-time and participating in the theatre program. I really only stayed there because I needed the extra money, which I promptly spent while visiting friends who had gone away to school.
While at Grand Valley, I got another retail job, at Ann Taylor. I loved it. The women I worked with were all strong, funny, independent and stylish. I was the youngest employee and treated as such, which I didn't mind -- I'd never been the baby before. It was there that I learned about fashion, and even more than that, I learned that happy employees work harder. Even if you treat your customers respectfully, a company can fall through if you don't respect your employees. Over the years I also added a few internships to my plate -- at an art gallery, a radio station, and a publishing company. They were all mostly made up of bitch work, but came with a bunch of perks including free food, free concerts and free books. On top of all this, I was really active in our school's student-run theatre organization, eventually becoming the president. I graduated in 2009 and moved to LA shortly after, transferring with Ann Taylor.
Though I was grateful to be able to keep my job at AT, it was still only part-time and wasn't able to pay the bills. I'd applied to a few marketing companies and had interviews lined up before I moved over, but they all ended up being scammy pyramid schemes. I landed a job working the front desk at a private airport terminal about two months later. It was full-time and fun (tons of celebrity sightings) but there was no room for growth. It wasn't a place to start a career and it certainly didn't require a degree. Plus, my boss hated me. He was sexist and racist, and he somehow targeted me specifically, threatening to fire me after he caught me eating an apple behind the desk (we weren't given breaks). I
quit
after 15 months.
Over the next 6 months I sent out over 100 resumes (I kept track in an email folder). During this time, I continued working at AT (I had kept my job there on the side while at the airport). It was less than 30 hours per week though and I could barely make rent. Needless to say, I racked up a lot of debt (which I'm still paying off). I was applying for anything having to do with marketing, advertising, public relations, social media, etc. I had a few interviews, but nothing worked out. It was 2011 and the market still sucked.
Though that summer was a stressful and disappointing season, it was also a lot of fun. Even though I was broke, I had plenty of time to explore LA that I didn't have while working 60-hour weeks. I was also newly single and enjoying my independence. I blogged a lot and made new friends. A friend of my ex,
Chris
, kept urging me to apply for the rental car company that he worked for. He knew I desperately needed a job and pretty much guaranteed that I would be hired there. I kept putting it off because I was
worried
that I'd get stuck working somewhere that wasn't creative and had nothing to do with my passions, but I finally gave in and after three interviews and a week of training, my first official day was on Halloween. I was placed in the same office as Chris and we became the best of friends. Even though he lives in
Austin
now, we still keep in touch. I said goodbye to AT and stayed with the rental company for two and a half years.
About two years in, I found myself torn. I started getting back into acting, I was still blogging, and I began modeling as well. I really loved these creative endeavors, but I didn't have the time to give them my all while working 11 to 13 hour days at my "real" job. After being promoted from manager-in-training to management assistant to assistant manager to station manager, I knew that I could become a branch manager. I also knew that I could be good at it, and make a lot more money. I just had to decide if it was worth it. It didn't take me long to figure it out.
This time around, though, I wanted to be smart. I wanted to make a plan, and have it all organized before I left. I didn't tell many people, besides Brandon, what I was doing. I didn't even tell my parents. I didn't want outside opinions and I didn't want rumors to fly around the workplace. However, I did look at different positions within the company. I could handle something that was 40 hours per week as opposed to 55+ and it'd be good to still have regular income while pursuing my writing and modeling dreams.
Nothing worked out, though. The available positions within the company that met my criteria were all too far away. Even though they were less hours, the commute time would make it a wash. I decided to look elsewhere and applied to places like Starbucks and Anthropologie. I really wanted to work from home and be my own boss, but I also wanted to be realistic. Then I found out I was
pregnant
, and working from home started to make more sense. I could barely function between puking sessions at my current job and I couldn't imagine anyone wanting to hire me when I would need to take maternity leave in a few months. Plus, would I really want to go back to work after my little one arrived? Add the fact that I had increasing carpal tunnel symptoms and spent my lunch hours sleeping in my car due to exhaustion, and I was ready.
I realized that anything can be "realistic" if you make it so. I also realized that a "real" job can be created and not just found. I probably wouldn't have believed these things if it weren't for my life coach,
Kerry
. Together, we set goals. I planned and saved like crazy. Before I knew it, I was putting in my two weeks. And in the blink of an eye, two
months
passed. I've put modeling on hold and have completely shifted my focus to
TLL
and
BL
, along with taking care of my body and the small one inside me, of course.
I still apply to part-time gigs and writing jobs regularly, though I don't get 99% of them. Going freelance isn't easy. There's a lot of rejection and not a lot of money, but there is also a lot of freedom, and all of the sacrifices I've -- or, rather,
we've
-- made have been worth it. I'm almost exclusively working on my own projects; projects that I've created, projects that I'm proud of. Slowly but surely, my business is growing.
Besides writing
e-books
and running a secondhand shop, I've begun offering
services
for consulting, styling, and more. In 2015, I plan to create a clothing line and an interactive e-course. By this time next year, I hope to have a team in place so that it's no longer a one-woman show. You can be a part of it all by donating
here
. But if I've learned anything this year, it's that you can't always count on your own plans. I don't know what the future holds, exactly, but I hope that it's full of life and love and laughter.
And above all, I hope that it stays loud.
*Photo by
Megan Burke
on July 25, 2014 in San Fernando, CA. More from this shoot coming soon!