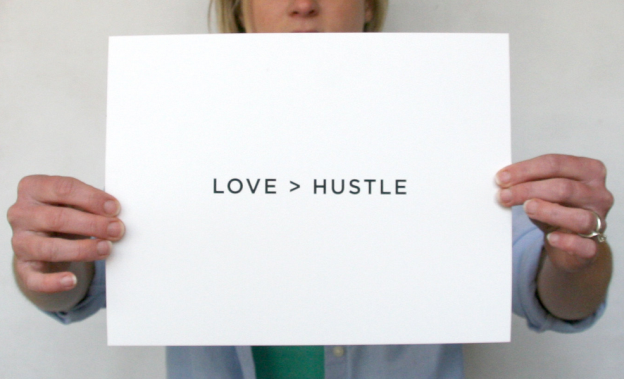 While I was in the hospital recovering from my
c-section
, confined to a bed by an IV and a catheter and a compression device strapped to my legs, I felt helpless. I was excited to have my baby boy in my arms, I was happy to be done with pregnancy, and I was grateful for the nurses taking care of me, but I was also anxious to get home and start my new life.
As soon as I was told to try walking, I did. First, I walked to the bathroom. Then I tried walking down the hall. And by the time we'd reached day four and were discharged, I was running around the room and cleaning up and re-packing our bags as if my body hadn't been cut in half that week. Even though I was popping Percocet like Pringles and still wearing pads the size of diapers, I felt more energetic than I had in months. And after less than two weeks,
I no longer needed pain medication.
When people comment on how well I'm recovering, I say thank you, because I really am flattered. And when they ask why I'm recovering so fast, I tell them the truth.
Because I want to.
I could play a victim, I could be depressed, I could lay in bed all day complaining about my incision, but I don't. I complained enough during my third trimester, and it doesn't make the time go by faster or make you feel better. I nurse and play with my baby, I cuddle and laugh with Brandon, I eat just enough so that I'm not hungry anymore, and I stay active by doing chores around the house since I'm not allowed to exercise yet. I believe that
life is what you make it, and attitude is everything
. Your mental health can literally change your physical health, and vice versa.
If my mind had waited around for my body to recover, I don't know how long it would have taken for me to get to this point. And if you're waiting for something to change in your life, I have news for you.
It's not going to happen on its own.
I do believe in faith and fate and God. But it's up to you to make that first move, to take that initial step, no matter how painful it is. You need to put the work in. You need to push forward. And
when you let go of the things that are holding you back, new and beautiful opportunities arise.
Your life will change in amazing ways. What you want will slowly come to pass, but not unless you go for it.
I know because I'm seeing it happen.
I wanted to get home. I wanted to be well. I wanted to have my energetic, motivated, authentic, happy self back. And I did it, and I'm still doing it, day by day. Though I now have less time and money and sleep, and more dishes and laundry and trash to take out -- I also have less stress and anxiety and to-do lists, and more grace and joy and love. Lots more love, actually, and
less hustle
. I want you to feel that, too.
I used to want more money for frivolous things, more success in my career, more traffic to my blogs. But now I'm okay with less. In fact, I'm more than okay. My life is sweeter when it's filled with more hugs and kisses, less clothing in my closet and nights out on the town. I never wanted a simple life, but maybe I do now. And if that changes again, that's okay. I can still have goals and dreams and plans, but it's not a bad thing to chip away at them slowly, gently, patiently. There's something else that's my top priority now, and that's family. I'm a mother first, a writer second.
Autumn is a season for changing and falling leaves, a season of evolution and moving on. We need to make sacrifices and let go of the things that are keeping us from
living our best lives
, and take steps through the uncomfortable, messy, ugly part of starting something new. Only then can we receive and achieve what we're meant to. It always gets harder before it gets better.
I'm finally on the upswing. You're next. You just need to decide that you are.
I am currently on maternity leave and won't be around as often for the next couple months. Fortunately, I have lots of guest posters holding down the fort for me! If you'd like to contribute, feel free to shoot me an email. Be sure to follow Baby Loudmouth as well for weekly updates about my growing family.
*Photo found
here
.