Happy hump day! Today I'm talking about my newest obsession,
Stitch Fix
. I'm tempted to call it a sub box, but it's different in many ways. I'll tell you how it works, and then we'll get into the contents of the shipment. I'm really excited to tell you about my experience!
I'd heard mixed reviews about the service, but overall it sounded like something I'd be into so I decided to give it a shot. First, you fill out a personal profile about your wants/needs. It covers everything from colors and styles to sizes and pricing. You do have to pay $20 up front for your personal stylist, but it works as a deposit toward what you decide to keep.
That's the coolest thing about Stitch Fix -- you only have to pay for what you like!
So once you get the box, you have the opportunity to try everything on and send back what you don't want. You're also not committed to monthly shipments. I'll probably schedule my next one for December as a Christmas gift to myself.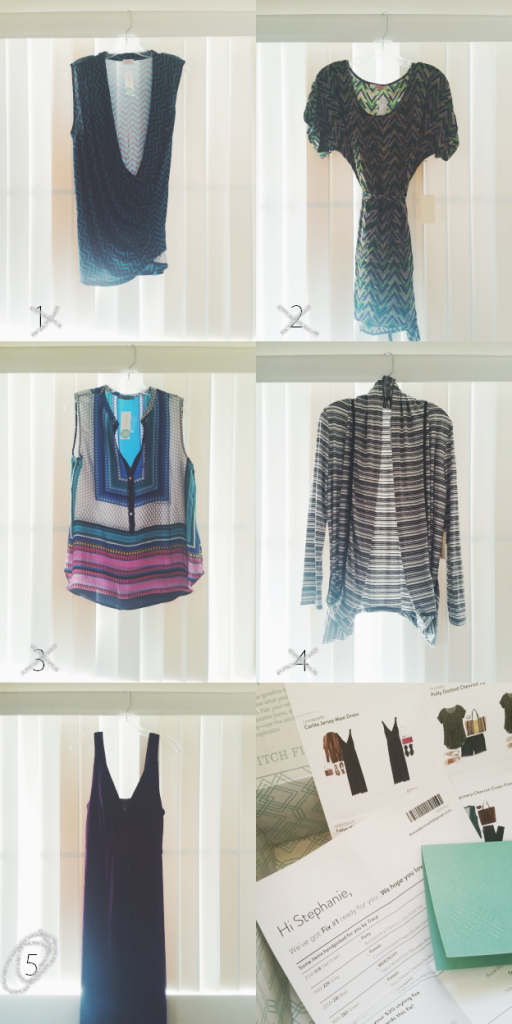 Here's my thoughts on what I got in the box:
1) Montgomery Chevron Cross-Front Top //
I wasn't into this pattern or color or style... at all. I didn't even try it on. I also thought it was a little pricey ($48) for something that could be found at
Forever 21
. Don't worry, though -- the items get better! I'm going from worst to best so we can end on a high note.
2) Polly Dotted Chevron Tie Waist Tunic //
I actually liked this style. It'd be perfect for skinny jeans or leggings. If it was in a different color or pattern I may have kept it. It just wasn't one of my favorites.
3) Fallon Mixed Print Sleeveless Blouse //
Yes, yes, YES! Loved the color, pattern, price, texture, everything... but, oh no, it didn't button over my chest. Unfortunately, this is a common dilemma.
4) Concord Striped Draped Pocket Cardigan //
I adore everything about this cardigan. However, I'm only allowing myself to keep one item, and I can probably find something similar at
Target
.
5) Carlita Jersey Maxi Dress //
We have a winner! This dress is perfect. You can't quite see the details in the photo, but it cuts right below the boobs and will help hide the postpartum baby belly. Since it's a stretchy maxi, it also looks great now! It'll be convenient for nursing too and it's super comfortable. Of course, it happens to be the most expensive item I received (go figure) but that $20 made a little dent.
I only have a few complaints (or rather, suggestions):
1) I do wish they carried more sizes.
To put it in perspective, I wore a 6/8 before I got pregnant and now I'm probably double that. All of the clothes that came in this shipment were a size L, which I'm assuming is the largest they carry. Most of the items didn't fit and the ones that did were juuust right. It'd be cool if they had plus or maternity, but it's a relatively new website so hopefully they're already working on this.
2) I would love to see gently used or vintage pieces.
I'm a big fan of
Twice
, which is a secondhand website where you can buy and sell thrifted clothes. How cool would it be if that and
Stitch Fix
joined forces? It'd be environmentally friendly and lower costs for both the business and customers.
3) More time would be nice.
Once the box is delivered, you only have 3 days to try everything on, decide what you want to keep, ship the rest back, and checkout on the website. Maybe I'm paranoid, but what if there's an emergency and you're not home for a few days (like, say, you go into labor or something like that)? I've purchased glasses from
Warby Parker
before and their try-on service gives you 5 days, which I think would be better. Doesn't seem like much more, but it'd make a difference to me.
Besides those things, I'm happy with my fix and looking forward to the next one! You can read more info at their website
here
. If you sign up, I'd love to see what you get so
let me know
!
*All photos taken with my phone and edited in VSCO and Photoshop. This is not a sponsored post, but if you sign up for Stitch Fix using my referral
link
, I'll get a $25 credit (and you'll get the same when you share your own link with friends)!