Hey gang! Today I want to compare two separate secondhand sites,
thredUP
and
Twice
.
For someone who is seemingly messy and disorganized, I actually love to sort through things, get rid of stuff and put together cute displays around the house. Our bedroom and closet are about double the size of our last, which makes it a bit easier to keep our belongings in order. However, as a recovering hoarder, there's nothing I like better than creating empty space. Can I get an amen?
Dragging bags and boxes of clothes to places like Buffalo Exchange, Crossroads Trading Company and Plato's Closet gets tiring after awhile. Companies like
thredUP
and
Twice
make selling easy by shipping you a bag that you can fill and send right back from the comfort of your home! (And despite me sounding like a spokesperson, this is not a sponsored post -- just something I want to share with you.)
I've bought and sold with
Twice
before, but this is my first
thredUP
experience. Though they're very similar, they do have a few differences as well. I'm going to tell you about my experiences with each thus far and how they compare so you can decide which would be best for you!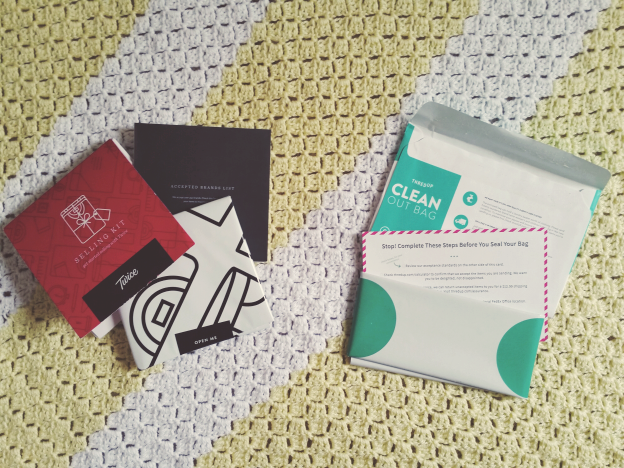 1) Shipping process (selling):
With both companies, you can request a bag (with a pre-paid shipping label attached), and it gets sent to you (all folded neatly) within a few days. With
Twice
, you also have the option of printing out the label instead and sticking it to a box you already have, but I don't have a printer and I'd be too lazy to try to find a box. The bag thing is idiot-proof. And it's free. It costs $4.95 to get your stuff back from
Twice
and $12.99 to get your stuff back from
thredUP
. I'm not sure why you would send them anything that you're not ready to get rid of anyway, but if you have separation anxiety, there you go!
2) Shipping process (buying):
Shipping is free when you spend $49 or more with
Twice
; for smaller orders, they charge a $4.95 flat delivery rate. Packages are received within 2-3 business days. As for
thredUP
, shipping is also free for orders $50 or more. Otherwise, it's $2.99 for the first item and $0.99 for each additional item. Packages are received within 3-8 business days. (So basically, you could buy four $10 items from Twice and it'd be $44.95; if you bought four $10 pieces from thredUP it'd cost $45.96.)
3) Sizes you can buy/sell:
Twice
carries sizes 00-22.
thredUP
carries 00-32, along with maternity and kids' clothes too! Pretty exciting stuff for this point in my life.
4) Brands and pricing:
Both companies boast a wide price range, from $8 shirts to $800 handbags. There's really something for everyone, either way. When it comes to selling,
Twice
accepts mostly designer brands (cheapest stores listed would be Express, Ann Taylor, Urban Outfitters, ASOS) whereas
thredUP
has a wider range of both high and fast fashion (Forever 21, H&M, Target, even TJ Maxx).
5) How much you get back:
To give you an idea, I just looked up my records with
Twice
. I've had 33 items accepted and 38 declined and made $123.25. The amount you receive for your clothes is really dependent on the condition of what you send in, what the original prices were, how new and on-trend the items are, what the brand is, etc. Make sure the clothing is freshly laundered (it's totally worth it to take something nice to the dry cleaner first) and fold everything up in the bag as neatly as you can. If there's anything wrong with the item at all (a stain, tear, missing button, missing tag, etc) it won't be accepted. However, both companies donate what they don't sell, so you can feel good about whatever you're sending in. I never include anything I wouldn't take to Goodwill anyway. You can choose to use your earnings as store credit or cash out via Paypal.
thredUP
also has the option of donating the money to charity. How sweet!
6) Rewards program:
As most companies do, both
thredUP
and
Twice
have a rewards program. They're pretty much the same: if you invite a friend and she buys or sells, she gets $10 and so do you. Not too shabby.
I'll be writing a follow-up after I get paid from these new bags, but until then, let me know if you've used either of these websites! Or, which do you think would benefit you more? Feel free to
tweet
or
Facebook
me!