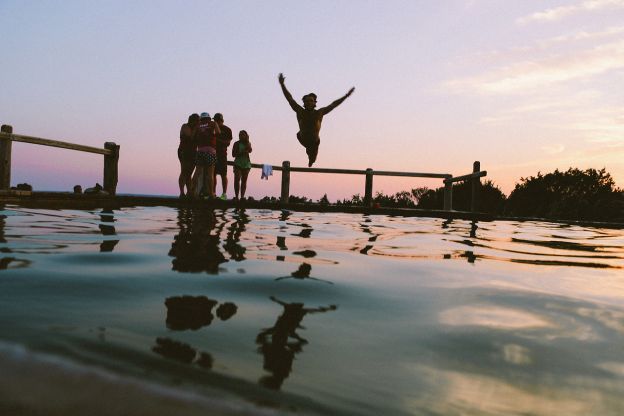 This time last year, I was in the midst of the biggest adventure of my life.
I'd just moved 2,600 miles across the country with my boyfriend, and we had an epic road trip and a lot of great stories to show for it. Los Angeles, once a dream destination of mine, was now our home.
But even one of the largest and most vibrant cities in the world can lose its luster if you take it for granted, and there was a period when school and work completely took over my life. The result? An endless cycle of traffic, school, work, computer, bed, repeat. I hardly even noticed the view of the Hollywood sign from my street in the mornings.
Work-life balance is still a delicate one, but I've learned to make more of an effort to break up the monotony every once in a while. After all, the Hollywood sign (and everything else L.A. has to offer), is not something that's meant to be taken for granted.
Here's how to deal when you sense a rut coming on:
Change up your location.
So much of my work is done on the computer that some days, I don't emerge from my apartment until the sun's already halfway down. If you can relate, take your work somewhere else, like the library or a coffee shop. Removing yourself from household distractions will redirect your focus and make you feel more actively engaged. Likewise, if you spend all day in an office, take your lunch break away from your desk. Do your coworkers work through lunch? That's too bad for them. You'll be much more productive (and happy) after getting some fresh air.
Make plans ahead of time... and stick to them.
You could literally be within walking distance to dozens of restaurants, museums, bookstores and parks and never visit any of them if you let work or chores get in the way. Plan out the work you have to get done, then allot time for exploration. Even better if you rope in a friend who will make sure you follow through. Saying you should check out the new such-and-such exhibit is one thing—buying tickets in advance is another. And if you've found yourself saying "no" a lot more than you'd like, start saying yes... before people stop asking.
But also embrace spontaneity.
Do you have that one friend who will randomly text you asking if you want to go somewhere that's an hour away, like, right now? Do you think she's a little nuts but also kind of admire that quality? You could learn something from her—adopt a similar mindset every now and then. You don't have to go jumping out of a plane on a whim to be spontaneous. For me, spontaneity often looks like popping into a shop I've been meaning to check out on my way home or driving up to the Griffith Observatory at sunset just because it's been a while. My spontaneity has always been rewarded with a good time and a sense of adventure.
Try something new.
Keep your brain active and engaged. Pick up a new skill by going to a class or signing up for an ecourse online. Buy a Groupon for a wine tasting. Hell, buy a pre-planted herb garden and try to keep it alive. I'm determined that even when I'm done with traditional school forever, I'll always be trying new stuff out. It's good for the soul and the mind, and it keeps you interesting.
Meet new people.
As a journalism student, I'm lucky this piece of advice is built into my life. I've met so many interesting people, plenty of whom on the surface I don't have much in common with, who are friendly, interesting and have something to teach others. But you don't have to be a journalist to meet people. You just have to go a little out of your way to start conversations with strangers—whether it's at that coffee shop or new class you've been trying out. Scared to strike up a conversation? Ask people about themselves. It's a fail-proof way to make a friend or at the very least a connection.
Life will follow you wherever you go, and there will always be responsibilities and everyday annoyances that will bog you down if you let them. As much as I'm trying to hustle to land that dream gig after grad school, I also know that these years will fly by, and I don't want that to happen without a handful of amazing experiences under my belt.
And I've realized no matter how magical it is, Los Angeles (or any city) won't do the magic for you—you have to seek it out.

How do you deal when you're stuck in a routine?
As the blogger behind Witty Title Here, Cassie loves anything related to travel, books, beer, photography, puppies and feminism. Last year, she moved to Los Angeles by way of Baltimore to become a journalist. Follow along on her adventures on Twitter and Instagram.