It's a gift and a curse that I seriously like a LOT of things. So when it comes to blogging, I can get all over the place if I lose focus on my main goal. For example -- I acted, danced and sang growing up. I learned the piano and then the flute. I played basketball in middle school and tennis in high school. I got to college and enjoyed meeting people at parties, but had just as much fun writing in my apartment.
At least I'm never bored, but good luck getting me to answer the phone. Or watch TV.
Fortunately, my interests have naturally narrowed over the years, because one can only do so much with her time. The categories I've featured on this blog have also evolved. I still enjoy music and food and fashion and art, and I'm still busy allthefreakingtime, but...
my main passion can be summed up in three little words, and I pray each day that the stories I share reflect that desire.
Besides my family, this is THE MOST IMPORTANT thing to me.
em·pow·er
əmˈpou(ə)r/
1. give [someone] the authority or power to do something. (synonyms: authorize, entitle, permit, allow, license, sanction, warrant, commission, delegate, qualify, enable, equip)
2. make [someone] stronger and more confident, especially in controlling their life and claiming their rights. (synonyms: emancipate, unshackle, set free, liberate)
eve·ry·day
evrēˌdā/
1. happening or used every day; daily. (synonyms: daily, day-to-day, quotidian)
2. commonplace. (synonyms: commonplace, ordinary, common, usual, regular, familiar, conventional, run-of-the-mill, standard, stock)
wom·an
wo͝omən/
1. an adult human female. (synonyms: lady, girl, female)
I want to empower and encourage and inspire you, to be bold and brave and beautiful -- from the inside out. I want you to give and receive love, from others and yourself. I want you to live life excitedly, fully, loudly. I want each of your days to be so special and magical that you radiate light everywhere you go.
After all, life is supposed to be FUN. If you're not having fun, something needs to change.
I don't want you to be everyday or commonplace or ordinary.
I want you to be extraordinary.
Because that's what I believe you are, ladies. Each one of us is remarkable and incredible and unique. My desire is that you finally begin to see it, believe it, love it, live it. That's why I reminded you to
be your amazing self
the other day. Only then can you begin to live the loud life you're meant to.
Unfortunately, while writing
my e-book
, I missed something. I mean, I really fucked up. I skipped the most important part of any spiritual journey. Step Zero. I'm embarrassed about it, honestly.
Because if you desire more out of life, you need to look at
where you are now and what you already have.
And you need to give thanks for that.
I always want more. I always want better. And I'm not talking about material things, but I'm the type of person who always feels that she could BE more, that her life could BE better. I always wanted straight A's in school, and now I want to be further in my career. I want more time with my son, more attention from my partner, more plans with friends. No matter how much effort I give, it's not enough for me. No matter how much I'm given, it still could've been better. And that's not fair to anyone.
Especially me.
I love to-do lists and goals and dreams. And those are GREAT. And I've gotten more grateful over the years. I've learned to become
more satisfied with less
. But once in awhile, I need to refocus on the present and what I have right now, because I can easily get derailed and carried away with where I want to be.
I'm still human, I still struggle, I still falter and I fail.
I still have a lot of growing to do, and I hope you'll do it with me.
I've been wanting to create a #photoaday challenge for
Instagram
, and the time to begin is now. What better month than the one of Thanksgiving to capture something we're thankful for each day? Though I don't agree with the events that started the holiday, I appreciate what it's become -- a time of friendship and family and food and faith, a time to pause and give thanks for all we have, before entering into a new year of goals and lists and striving.
We're starting and ending with a selfie, because above all, you should be thankful for the wonderful you that you are!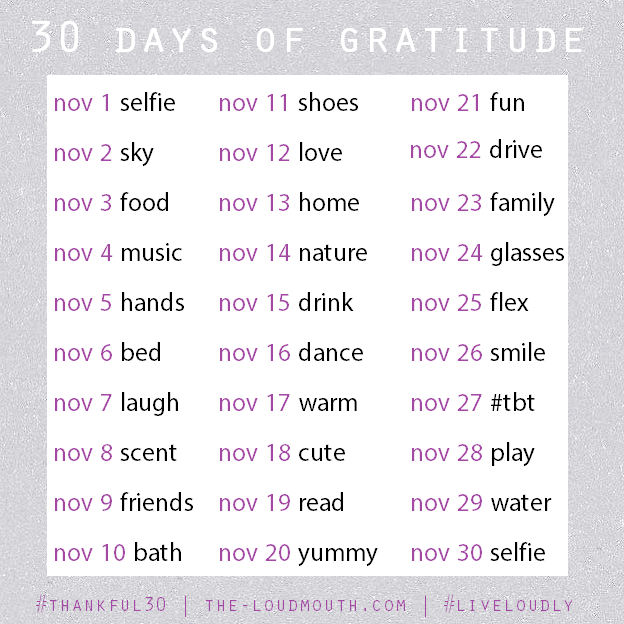 Those are your prompts. Spread 'em like wildfire!
After these 30 days, we can start to aim for bigger and better things. But for now, let's stop and concentrate on all that we've received thus far, and all that we've become.
Feel free to let me know
here
if you'll be joining, and be sure to use the hashtags
#thankful30
and
#liveloudly
! I can't wait to see what you come up with.
*Thanks to my friend Angela of Make Moves Publicity for inspiring this post. You can find them on
Facebook
,
Twitter
,
LinkedIn
and
Instagram
. First two photos found
here
and
here
.