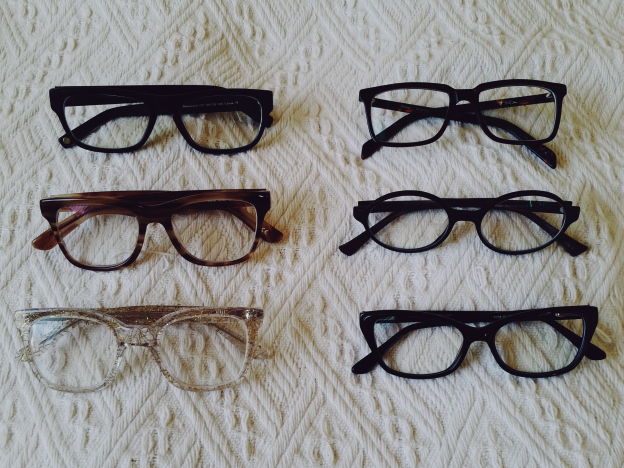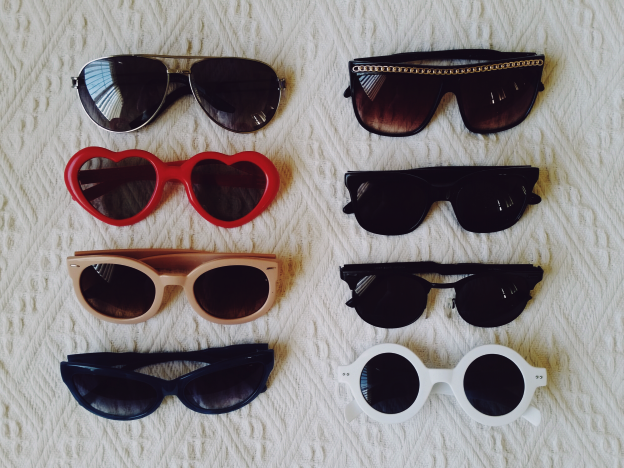 I've been wearing prescription glasses since the fourth grade. Yeah, it's been a few years.
Back then, they weren't known as sexy, stylish, "hipster" or cool -- but rather, a nerdy nuisance. Add my spectacles to the metal braces and frizzy
hair
I sported daily, and I looked like your typical dork (think pre-makeover Anne Hathaway in
The Princess Diaries
). Over the years, however, I've learned to love my lenses, and I've recently compiled quite the collection. Today I'm going to introduce you to six of my favorite pairs, one of them being my go-to sunnies.
Of course, I had to include the Hello Kitty plush that
Brandon
got me for my
birthday
when we were first dating. Could I be any more of a dweeb? I don't think so.
Clockwise from top right:
1) Jack & Norma SUN in Noir
from
BonLook
|| best sunglasses (see them on me
here
)
2) Roosevelt in Revolver Black Matte
from
Warby Parker
|| favorite everyday frame (see them on me
here
)
3) Cat Eye #F038 in Black
c/o
Firmoo
|| best retro look (brand new!)
4) Jack & Norma in Champagne
from
BonLook
|| best party pair (see them on me
here
)
5) Scout Festival in Brown
c/o
Glasses Direct
|| best color for autumn (see them on me
here
)
6) X-Ray BS23 in Tortoise
c/o
GlassesUSA
|| most versatile pair (see them on me
here
)