When I moved to California in September 2009, I couldn't have imagined all of the wonderful, painful, awkward and awesome events that were about to take place over the next five years. Then in December 2010, I opened my first public blog, and my life would never be the same. Over time, the magic and lights of Hollywood have lost their luster, but the blogging process is just as beautiful to me.
In a way, the blogosphere is a lot like Los Angeles. They are both filled with driven, talented, creative souls. There are people from all over the world, of all races and ages and sizes and cultures. But because of that, it's hard to stand out. It's also hard to make friends, because everyone already seems to have enough. And it's hard to get anywhere, because it's so populated. You have to push and shout to arrive where you want to be. You have to stay alert and aggressive and aware.
You have to stay strong.
It's easy to get burnt out while living in a big city or traveling down a popular career path, but I have three tips that may assist if you're struggling in one or both of those positions. The main thing to remember, though, is that it's all in your head.
Don't let your circumstances determine your happiness.
Wherever you are, whatever you're doing -- just relax, have fun, and enjoy the ride. That's how life should be.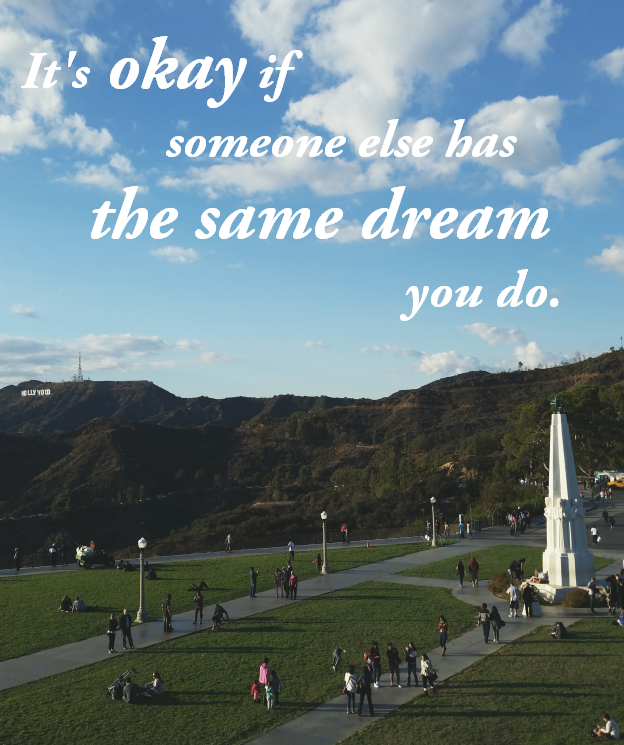 1) It's okay if someone else has the same dream you do.
Lately I've been trying to form more of a community here at The Loudmouth Lifestyle and at Baby Loudmouth, too. After brainstorming some ideas over craft beer at a hipster gastropub with my friend Angela, I came home and excitedly created 30 Days of Gratitude. Soon after posting my announcement on Instagram, however, I noticed I wasn't the only one hosting this type of photo challenge. But I didn't let that stop me.
Even though it turned out that the idea wasn't completely unique, that wasn't the point of the event.
The point was for all of us to come together and give thanks.
If people were doing that, it was a great thing, whether or not they were participating in my specific challenge. Plus, I am having so much fun seeing how other
bloggers
and
businesses
are approaching this idea, and peeking at the different
photos
and
prompts
! It's really inspiring and I'm finding new, cool IG accounts to follow every day.
Diane von Furstenberg
has a new TV show (we just got cable), and in a commercial for it she says something like, "We all do the same things; the difference is in how we do it." I love that, and it can apply to anything. Whether you're a blogger or writer, actress or singer, painter or photographer -- someone else is also that, but they're not YOU. Don't be afraid to do what someone else is doing. (You know, unless you plagiarize. I don't recommend that.) But you need do what you love.
Follow your heart, follow your gut, follow your instincts.
No matter what.
2) Keep your eggs in a few different baskets.
If you have one big dream, go for that. But you also need to fill your life with other goodies, or else you'll go crazy.
My main passion and profession is writing for TLL and BL. But I also contribute to Gotta Watch It, run dispatch and social media for my boyfriend's company, and look for freelance work when I can. In addition, I have responsibilities as a parent, partner, friend and daughter. I've learned to keep a balance between spreading myself too thin and only focusing on one specific thing. Don't put all your eggs in one basket, but you don't want too many baskets, either.
If you're overly obsessed with your one main goal, you'll begin to neglect other things and people that you enjoy. You'll lose energy, burn out, and may even start to dislike what you once loved. I know lots of people in LA who are models, actors, or singers and are also bartenders or baristas. They need the extra cash, but they also need something else to do. When you're able to maintain this balance, you can take a break from one thing and switch your focus to another, without missing out on anything.
You really can do it all, but you may have to cut down on what your "all" is. It's taken me years to figure this out, and sometimes, I don't feel like I have it figured out. But I can safely say that I'm in a place where
my life is full, but not overflowing
-- and though I have stressful days like anybody else, I am very happy.
I pray the same for you.
3) Always be willing to help others around you.
This is when participating in a competitive industry comes in handy. I believe that you should always keep a helpful heart -- whether you're assisting your grandma, the Boy Scouts selling popcorn down the street, or your friend who came down with a virus -- but you should especially look around at what the people in your field need.
Whether or not you believe in karma or keeping a positive reputation, it's also just plain kind. There are too many people in this world who AREN'T helpful, so why not be one of the nice ones?
I can't even tell you how many times I've reached out to a fellow blogger, asking a simple question or wanting to collaborate on something, and didn't even get a response (or worse, received a passive-aggressive "thanks but no thanks"). Of course, there have also been plenty of lovely, wonderful women who have taken the time to give me valuable information, trade guest posts, host a giveaway for me or provide something for my giveaway. Even if the answer was no, the response was warm, honest and friendly. I've been given suggestions and advice, sweet awards, fun shoutouts and even gifts on my birthday and for my baby. Some of my best friends were met because of blogging!
You may feel some resistance when it comes to helping others. Maybe you don't want to provide ideas because you want to keep them to yourself. Maybe you're jealous of their fame and don't think they deserve any more assistance. Maybe you're stubbornly independent and stuck on doing everything by yourself. But, guess what? I've felt those things, too.
And they didn't get me anywhere.
Remember #1? It's okay if you're both fighting for that spot of Best Blogger Ever (or Best Rocket Scientist Ever or Best Accountant Ever, whatever). You can help each other. It's okay. In fact, it's awesome. Not everyone is out to get you, so stop being on the defense. Open your eyes and arms to love.
Because it's everywhere. Sometimes, you just have to give it before you get it.
*Photos taken by me, with my phone at The Griffith Observatory.