Last year, I participated in Whole9's
Whole30
for the first time and it changed my life. Since I'd been pescetarian for years, I created a modified version (which I wrote about
here
,
here
,
here
and
here
). Now that I'm a full-on omnivore again, I'm ready to take the plunge and get my pre-pregnancy body back.
Whole30
is based on the paleo or "caveman" diet. The main food groups that you're supposed to cut out for 30 days are grains, dairy, alcohol, sugar, and legumes. I was planning on saving my next Whole30 month for January, but I
didn't want to wait
that long to start eating healthier.
Instead, I'm going to do
Loud27
, my own paleo journey for 27 days!
Why 27? Because that's how many are between Thanksgiving and Christmas, and I refuse to miss out on holiday food. I believe in treating your body with kindness and respect, which means eating both healthy stuff AND indulgent goodies. I also believe that we're all beautiful
just the way we are
, but you need to do what makes YOU feel that. I feel best about myself when I'm exercising and eating right.
Also, let's be honest --
I'm sick of wearing my maternity clothes!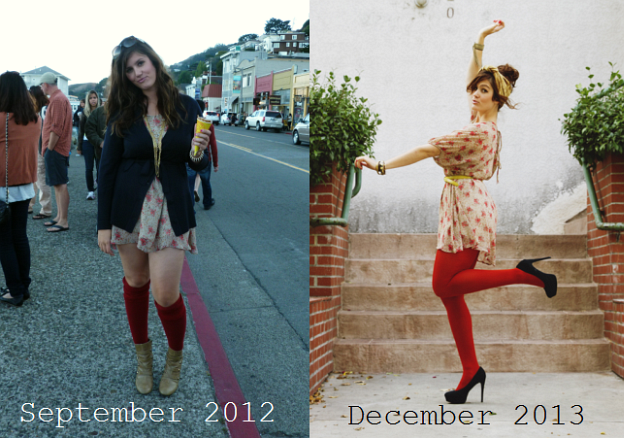 That's me, above, before and after the Whole30 I completed in September 2013. I tried again in January 2014, but I had just gotten pregnant and it was hard for me to stomach anything other than crackers and soda, so I didn't finish. Then, during my pregnancy, I totally gave in to my cravings -- Nutella, pizza, ice cream, jalapeño cheese taquitos from 7-Eleven, you name it.
It was fun and carefree, and I don't regret it. Every gal should have a 9-month stretch where she gets to stuff her face and not worry about gaining weight. But now, it's time to lose it.
I know that weight isn't everything. It's not the only indicator of health, but it's one of them and something I take into consideration, along with body fat percentage and pant size.
I lost 20 pounds over the course of 2013, then gained 60 during my pregnancy.
Since having my son I've lost a little more than half that, without working out or watching what I eat, unless you count walks around the block and trying not to drink too much beer.
I love my body, but I need to SHOW it more love. You know?
I hope you'll join me this holiday season, starting Black Friday. If you do, feel free to use the hashtags #Whole30 and #Loud27! (And check out my post on tips for completing it successfully, at
Equally Yolked
.)