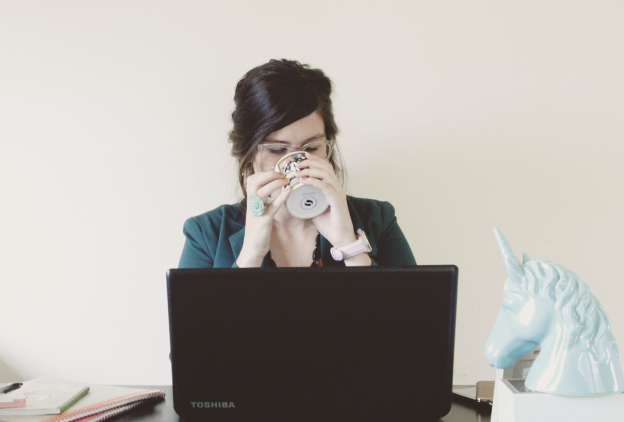 I'm an advocate of intentionally cultivating an extraordinary life.
But sometimes, we get too "busy" with "stuff" and our days begin to seem mundane. Adult responsibilities and grown-up expectations start to weigh down on us and push out the spice of life.
The truth is, all work and no play makes EVERYBODY dull, not just Jack. And it's not like I'm about to go all axe-murdery on my family, but when my priorities are not in order, and my plans don't line up with my priorities, and my protective policies get ignored -- I can become a little nutty.
Because I need balance. Structure. We all do.
That's why, this year,
I'm not making any resolutions
. Instead, I'm going to make sure that my priorities are the backbone of everything I do. Not just for 2015, but for life.
I loved the
guest posts
my friends wrote over the last couple weeks about letting go of this past year, starting fresh, creating goals and maintaining them. Today, I'm going to tell you exactly what I'm going to concentrate on over the next 12 months. Of course, things may change, because we should know by now that
God's plans trump all
. But, I'm hopeful that this new year will be one of practice, patience, research, and dedication as I hone my craft and learn more about how I can help change our world for the better.
In my annual survey (which is still open
here
), you guys said you were having trouble reading the light gray text of my posts. I've recently darkened it. 33% of you have only been visiting for a few months, and I don't want you to leave so soon just because you can't see what I've written about. You also said you wanted more posts featuring
life advice
,
personal essays
, and seasonal goals. I agree! I plan on making a
101 in 1001 days
list and
28 before 29
, but for now, here are the most important things in my life...
1. My relationship with God
2. My mental + physical health
3. My family + friends
4. My passions + creative work
5. My possessions + material things
I know that I'm not a perfect Christian. (Drunkenness? Yep. Foul language? Fuck yeah. Fornication? Um,
duh
.) But I also know that keeping Him at the center of everything keeps me in check. And when I start my morning with devotions, journaling and prayer -- which I've been doing quite often lately -- the rest of the day flows so much better. I'm more calm, alert, focused, productive, and happy. I'm not just a better person, but a better mom. And I can't reach my full mama potential if I'm not also emotionally stable.
That's why family and friends come after my spiritual, mental and physical health. I always say that you should choose yourself first, no matter what. Even if you're the boss of 85 people. Or the parent of 10 kids. Or the caretaker of your elderly aunt.
You can't love other people if you don't love yourself. And love is a verb.
Those things are cliches because they're true. (I'm not sure about a picture speaking a thousand words, though. I'd rather read the book than see the movie. But that discussion's for another day.)
So, with those 5 priorities in mind, here are 5 things I'll be working on this year.
1. Implement daily morning + night rituals
2. Do one just-for-fun activity per day
3. No work on weekends!
4. Intentional communication with a friend once a week (call, email, letter, in person)
5. Four out-of-state trips (Detroit, Seattle, New York, Las Vegas)
I believe that a nightly routine is just as important as a morning one. My
ideal dream day
might look like this... Read from my Bible, eat a hearty breakfast, take a walk outside, play with my baby, write a blog post, watch half a season of Glee, take a bubble bath, more writing, more baby, more reading, and bed.
Of course, I have other to-dos like working for
this
limo company, reviewing for
Gotta Watch It
, cleaning house, paying bills, and getting my tax shit together -- but all of those things aren't that big of a deal because I don't let them take over my life.
When my days are primarily filled with things I want to do rather than the things I feel obligated to, my obligations aren't as painful.
And honestly, I kinda like doing dishes. And reviewing The Bachelor. And creating spreadsheets. (Too weird?)
Moving on. Here's what's going to happen in my blogosphere. Get ready!
1. 3-4 posts on
my inspirational blog
empowering everyday women to
#liveloudly
2. 1-2 posts on
my personal blog
chronicling memories + connecting with moms
3.
Loud Ladies
, my year-long, yearly life coaching program for bloggers
4. An e-course in April,
Loud Ladies: Spring Break Edition (#girlsgoneloud)
5. An e-book in June,
Living Loudly in LA: Love, Sex + Feminism for the Good Girl
I'm really, really excited about all of these things.
I hope you enjoy them as much as I'm enjoying the creative process. And if you didn't get a chance to sign up for #loudladies2015, you can grab individual chat sessions + my original e-book
in my shop here
. I plan on bringing back secondhand clothing as well, plus starting a weekly link-up,
Twitter
parties, more
Instagram
challenges, etc... I also haven't given up on my dream of creating a clothing line.
But something my impatient brain has learned recently is that not everything I want to happen needs to happen all at once. You know?
If you
get on my mailing list
, you'll be the first to find out when something new launches.
You might even get free or discounted stuff.
Which brings us to my policies.
Everyone should have them.
They protect the things all of us -- not just entrepreneurs -- need. Stuff like money, time, health, respect.
1. I am going to continue
offering sponsored posts, guest posts, and giveaways
2. I am going to continue NOT offering sidebar sponsor spots
3. I am going to
keep comments disabled
4. I am going to keep purchases non-refundable and transferable
5. I am
no longer doing anything for free
You are welcome to click on any of the above links for further explanation, but here is my most valid reason for putting these policies in place:
They make my life easier.
Having sponsors makes my life easier because the money justifies the time spent on this blog. Not having sidebar ads makes my life easier because it keeps my layout clean and I don't need to constantly manage my blog design. (Which I'm terrible at. Which is why
I pay someone
. Which is why I need money.)
Not having comments makes my life easier because it's one less blog task to worry about when
I'd rather communicate with you in other ways and allow you to be inspired by my posts
without feeling obligated to respond. Not giving refunds makes my life easier because there's no confusion when you buy something and we can both be sure that it's right for you.
Not doing work for free makes my life easier because a lot of companies want me to post stuff about them without paying me and I would rather post about what I want if I'm not getting paid. And, to be honest, I would rather make money helping people than not make money helping people.
But all of my 1,000+ blog posts are free. And submitting a question to my
advice
column is free. And, like I said, I offer free sessions and stuff sometimes. But if I don't offer, please don't ask me to give it to you. I love you, but I love me more. This is my career and I take it very seriously.
Not TOO seriously. I just like to make my life as easy as possible.
Because life is hard and life is busy and I just don't have time to put up with bullshit. You feel me?
I challenge you to put together your own lists... and then
send them to me
. Because I'm nosy.
Happy new year, Loudmouths. It's gonna be a good one.
*Photo by
Megan Burke
on December 4, 2014 in Santa Clarita, CA.