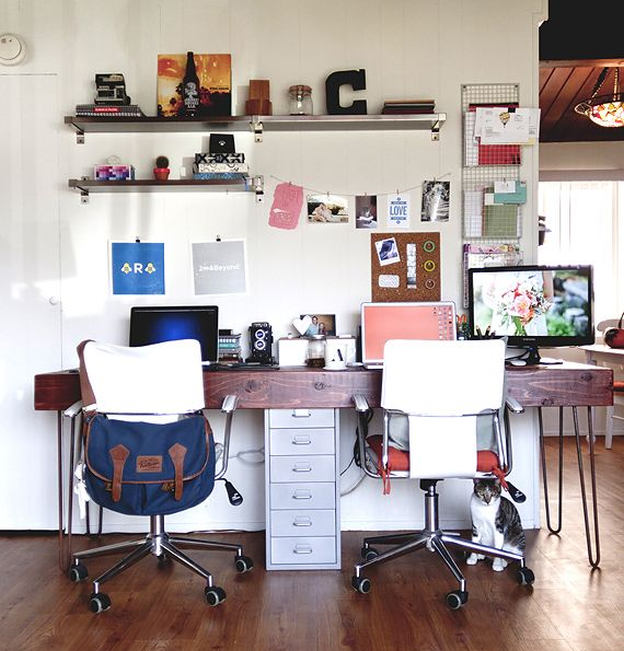 If you're new around here, you may not know that Brandon and I have been working as a team
since our son was born
.
Not only are we raising a child together, but we also run a
business
. We share a roof with my mother-in-law, but she certainly has her own day job and life. So, how do we handle it all without a babysitter, housekeeper, personal chef, office staff or daycare?
Believe it or not, I'm no Supermom. And we're still learning, every single day. But here are 4 things that have helped us along the way, and I hope they're useful for you too. These tips are great for those of you who work with a family member, best friend, or... well, people in general!
1. We have our own workstations.
When I'm working, I prefer peace and quiet. I get distracted WAY too easily, so 98% of the time, I'm in my
office
. (1% of the time I'm at a coffee shop with earbuds in, and the last 1% is at the kitchen table -- I need a hard surface to type at or my carpal tunnel goes insane.) Brandon, on the other hand, likes to work with both music AND a movie on, plus he's usually playing Poker on his tablet and popping a bottle in the baby's mouth at the same time. He knows that I can't multitask to save my life (as much as I try), so he parks it on the couch and we visit each other when we need something.
2. We choose to compromise.
He's Aquarius and I'm Aries. He's extremely stubborn and I'm extremely passionate. We don't always agree on things, but we know that we need to compromise in order to get shit done. What helps is always keeping in mind what's best for the business; as long as we both want to succeed, we'll get along just fine. We've learned to set aside our pride and keep moving forward.
3. We share responsibilities.
We both feed Trey and change diapers. We both check emails and make phone calls. However, we know each other's strengths and weaknesses. Brandon likes to cook, whereas I'd rather clean. He knows that I like words, so he'll write a letter and I'll edit. He's better with numbers, so he does most of the invoicing. And since social media is my forte, I'm in charge of that. I'm definitely more organized, but I try to be patient with him when paperwork is out of order... and he tries to be patient with me when I get frustrated. And then we hug it out.
4. We work smarter and play harder.
As you should know by now, I'm big on calendars, planners and to-do lists. If I finish one task per day, I consider it a success. If I cross off half the items, I'm over the moon. If I finish the whole list, I reward myself with a stiff drink and maybe even pizza. We know how to work hard, but we also know when to stop. I try to shut my laptop by 6pm each day and spend the rest of the night playing mindless phone games and watching TV with my family. After
years of not
letting myself take breaks, it feels nice to unwind with the people I love. (I highly recommend it.)
As you can see, my life isn't perfect. It's not always easy for my man and I to work side-by-side, but it's absolutely worth it. I wouldn't have it any other way!
*Photo found
here
.