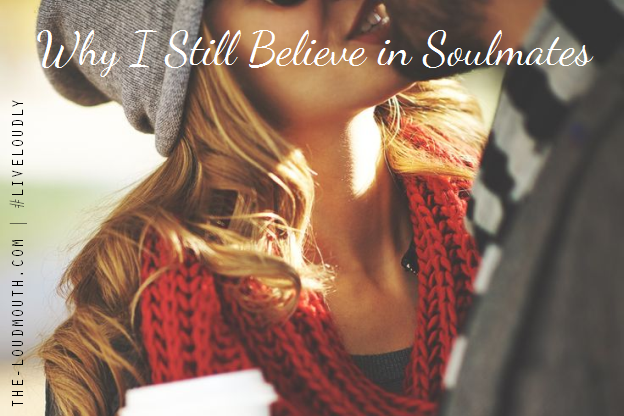 Is it just me, or has the concept of love lost its magic?
It used to be about fireworks and fairy tales and... feelings. Now, all I'm seeing is article after article about being "realistic" about love. People are saying you need to "choose" to love someone, and that you can even fall in love with "anyone". There was recently a meme going around with a list of questions that, upon reading your answers, someone could decide to be with you. And maybe that's why online dating works.
For some people, I guess. But it never worked for me. Because I still believe in magic. I believe in butterflies. I believe in the light-headed feeling of first kisses. I believe in the sparks that fly when you hold hands. I believe in love at first sight. I believe there's someone out there just right for all of us.
Call me old-fashioned, but I believe in soulmates.
I may not even be 30 yet, but I'm not a naive little girl anymore. I've had my fair share of dating escapades including 3-month infatuations, 4-year relationships, live-in boyfriends and one-night stands. I've had about 30 first dates and met at least 15 guys on dating sites. I've loved and lost enough to know that you can't fall in love with just anyone, and you can't force anyone to fall in love with you.
Sure, love becomes a choice... later.
When you've been together for awhile, and you have kids and responsibilities, and the sex doesn't happen as often but arguments do. Love does take work, I'm not denying that. It takes dedication and compassion and work. It's not all cupcakes and rainbows. But when I look at him, I'm still attracted to him. I still think he's sexy, I still think he's wonderful, I still feel feelings. They haven't faded, and I don't expect them to. And he feels the same way about me. I don't believe that you can force those feelings. And I don't believe that falling in love can happen without them.
Sure, love can happen with more than one person.
He's not the first person I've loved. Is he the person I want to be with for the rest of my life? Yes. But, God forbid something happens to him -- I know I could probably be happy with someone else. There can be more than one right person for us, but we don't necessarily have control over it. You can't just randomly choose someone. Or, maybe you could, but they might not choose you. And you might not be happy. Life is more satisfying when you follow your heart.
Sure, I could decide not to believe in soulmates and still be with somebody
. But then I would settle. I would be with someone who doesn't make me weak in the knees, but looks good on paper. I could be with someone who doesn't make a good match on paper (or the computer screen), but makes my stomach flip when I see him. Neither is good. There needs to be both. I believed that someone would have everything I want, and I found him. No one's perfect, but I found someone perfect for me. And so can you.
That's what I've found to be true.
But maybe that's just me.
Thanks to all who participated in last week's #liveloudly chat! Our next one will be Wednesday, 3/25 at 10am PST. I'm also booking life + blog + business coaching sessions for April, so be sure to check out testimonials from my current clients here. I love helping you turn dreams into reality!
*Photo found
here
. Text added by me.