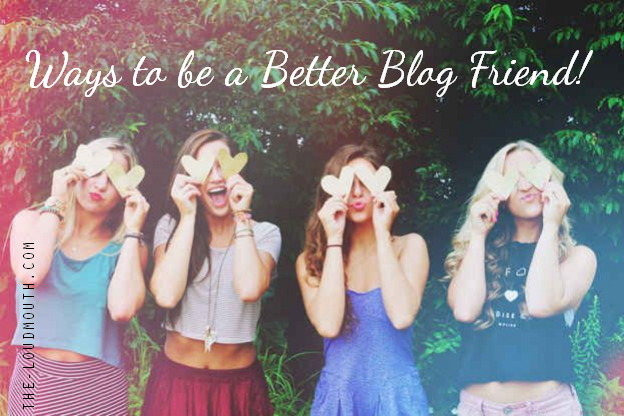 We all have friends (I hope). We all have buddies, chums, pals. Amigos, if you will.
And then we have our besties. Our BFFs. Our sisters from other misters.
You get the point.
And I wanna be that best friend to you. And I want YOU to be able to be the best friend you can to your circle, too. But, sometimes we just don't have the tools or the ideas to do that. Sometimes, we think we're giving a friendship our all, but we're actually missing out on a lot of powerful opportunities.
You feel me?
The thing is, our blog friends are just as important as the ones we have "in RL". They might be on the other side of the country -- or even the world -- but they're there for you. And they deserve your attention just as much as anyone else! Which, if you couldn't tell from the title, is the point of this post.
Here are 10 ways to love on them that maybe you haven't thought of.
1. Interview a friend on your blog //
My girl
Kristie
interviewed me recently, and I have my own interview series
here
as well.
Fenn
is thinking about starting to profile inspirational women on her blog, too. Having these simple Q+A sessions is the perfect opportunity for your readers to get to know another fabulous blogger, and it helps that blogger receive the recognition she deserves.
2. Review a friend's product on your blog //
Similarly, it's always a treat when a friend offers me an item to review, or when they offer to review one of my own products. I recently wrote about Danielle's book
here
and Casee Marie wrote about mine
here
. Don't forget to thank them for the collaboration, no matter what end you're on.
3. Guest post for your friend, or accept a guest post from her //
Guest posts are perfect when you're on vacation, hiatus, or simply wanting fresh content. Most bloggers like to trade posts so that the effort is worth it for all.
4. Promote your friend's posts on social media //
This is so quick and simple, but it's disappointing for me when I visit someone's Twitter page and it's all links to their own posts. It's important to promote your own, but don't forget to give shout-outs to other favorites as well!
5. Use your friend's affiliate links when online shopping //
Everyone uses the internet for shopping these days, right? (Well, unless you don't have a computer -- which, some people still don't -- but I don't know those people.)
Ashlee
suggests bookmarking your friends' affiliate links, and when you're going to buy something anyway (like on
Amazon
,
Kohl's
, or
Target
for instance) you can go through those. The blogger will receive a small commission at no extra cost to you.
6. Offer blogging tips, tricks and advice //
My favorite bloggers are the ones that are happy to answer my questions. If you have a suggestion for your friend's blog, don't hesitate to tell her about it! She may be missing something she doesn't know about yet.
7. Link to relevant posts on your friend's blog from yours //
If your post was inspired by someone else's, be sure to give them due credit. You can also link to other posts that may provide additional information having to do with the same topic.
8. Join your friend for a blogging meetup, conference or event //
It's fun to make friends online, but it's even more fun to meet them in person! Take the time and effort to plan coffee and nights out with your blogging besties. If that's not possible at this time in your life, even a Skype date is more personal than email.
9. Send personal emails and respond to theirs in a timely fashion //
On that note, be sure to respond to your friends' emails and share personal stories with them. Ask them for life advice and use them to vent if needed. Dare to be vulnerable and take your friendship to a deeper level. I'm pretty much the worst at cleaning my inbox, but it's something I'm working on.
10. Enter your friend's giveaways //
It's important that your friends get tons of giveaway participation. Why? If the prize was sponsored, the company will want to see that the collaboration was worth the cost. Adding entries to the giveaways (legitimately, of course) will allow these sponsors to see that the blogger is serious about her site. Lots of entrants also make the giveaway look super enticing to readers!
I'll be making more new blog friends this August at a 5-day, grown-ass woman summer camp with Stratejoy! As founder and life coach Molly Mahar put it, "I need a break from my beautifully full, wonderfully happy life." Sign yourself up here or donate to my trip here. Thank you for your support!
*Photo found
here
. Text added by me.