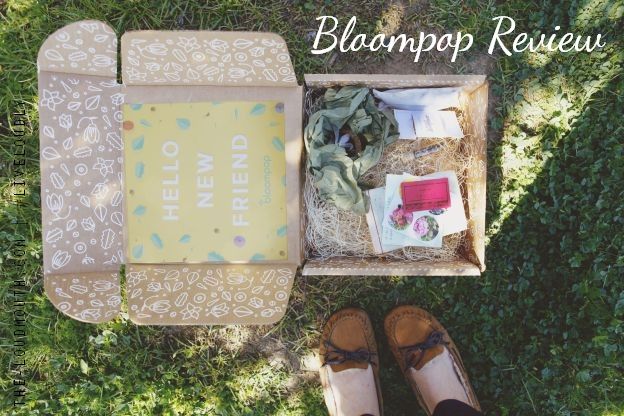 I seriously hate getting dirty.
So it's probably a shock that I recently had a sudden interest in gardening. The fact that D.C. startup
Bloompop
offered me a complimentary box of goodies is no coincidence; this business is certainly what sparked my interest. Their email said "no strings attached" but of course I wanted to share it with you anyway! The sunny company is known as "the Etsy of flowers" and only curates locally produced items.
The box itself was really adorable. It came with a few different packages of seeds, some cute stickers and an actual plant. I really had no idea what to do with it, but fortunately my photographer is also an avid green thumb. As a beginner, it would have been nice if the set came with directions or at least a list of contents. I wasn't sure what everything was, because not all of it was labeled properly.
I'm excited to start this new hobby though -- I've heard so many good things about gardening. Apparently, it's really good for your mental, spiritual and physical health. Basically, it's therapeutic. Now, if only I could get over my fear of bugs and we'd be good to go. It's a wonder I lasted 22 years in Michigan.
For those of you who know me as a badass boss, it's probably humorous to think that I have any fears at all. Back in the corporate world, one of my employees was surprised to hear that I cry. Yes, I get sad and mad and scared -- just like you. I'm not a robot! I've just learned how to be emotionally stable. It's a balance. I'm looking forward to facing this fear of something new and going all-in.
As of now, though, I only have the one pot on my balcony. In a townhouse, there's not much space for a garden. That's probably a good thing, because I certainly don't have time for yet another project -- but I'm crazy like that and love to add as much to my schedule as possible. Any other workaholics out there? I just want to have a full life and enjoy every single moment. Our time here is so short and precious.
I wore this cardigan at my
California baby shower
, and the dress for
Trey's newborn photos
. Combining those two memories is pretty special to me. Plus, this outfit is damn comfy. I swear, maxi dresses are better than sweatpants. I just need more of them. Time to check out
Twice
and
thredUP
for deals!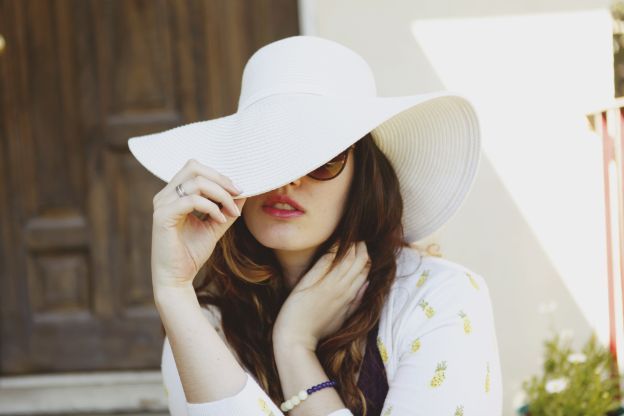 This is me saying, "Am I doing this right? Is this enough dirt?"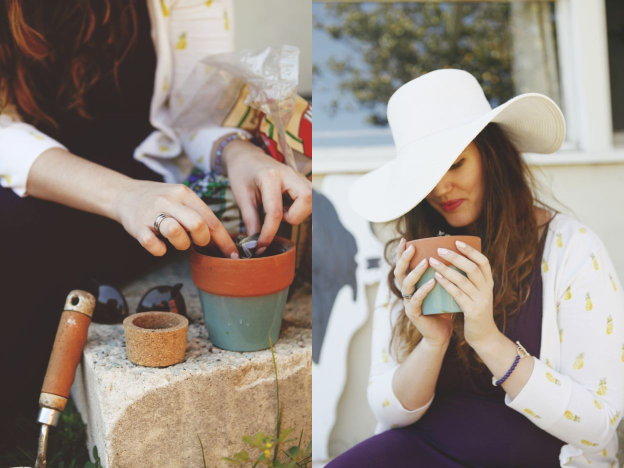 Dress -
Stitch Fix
Cardi -
Target
Bracelet - gift from Mona
Sunnies - borrowed from Megan
Hat - San Diego souvenir shop
Mocs - Payless
Ring -
Ann Taylor
Polish -
Julep
And, there you have it: my first potted plant. Let's see how long I can keep it alive. Woo!
This post was created in partnership with Bloompop. I have been compensated and/or given product in exchange for a review. However, all thoughts and opinions are my own. If you're interested in collaborating too, I'd love to hear from you. Don't hesitate to contact me here!
*Photos by
Megan Burke
.