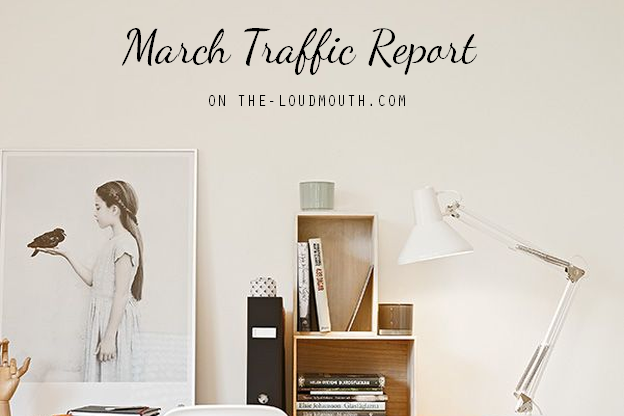 About two months ago, I
announced my goal
to double my traffic, income, and social media followings this year.
I thought it would be helpful if I shared a regular report and what has been working for me so that maybe you can garner some inspiration for your own blog or business.
To give you a bit of background if you're new here: I started writing when I was 7, blogging when I was 12, and posting here at The Loudmouth Lifestyle in 2010. I have a college degree, but I have never taken a class on business or finance. I've made a lot of mistakes and I've learned everything the hard way.
You're welcome to follow these links if you want to read more
about my blog
,
about me
,
my blogging journey
and
blogging tips
. You can see a list of my favorite blogs
here
and FAQ
here
.
FEBRUARY + MARCH TRAFFIC
I used to get 30,000 views per month. Sometimes more, sometimes less, but that was the average. This year, my traffic is the lowest it's been since I first started this blog. According to
Google Analytics
, I received 5,733 pageviews in February and 4,522 in March. The funny thing is, I published 6 posts in February and 16 in March. This is somewhat of a relief because it takes off the pressure to post often, and proves that quality is better than quantity. Maybe I don't absolutely need a blog for my business, because my social networks (and bank account) continue to grow, despite the severe dip in traffic.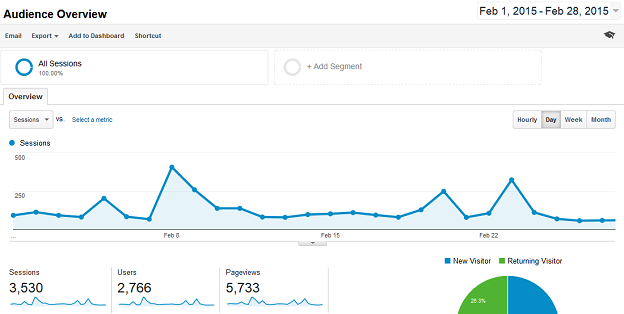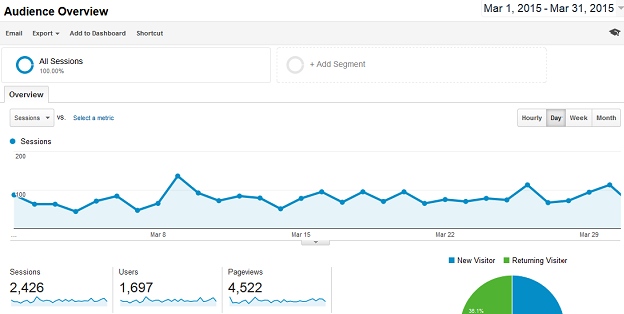 On the other hand, I'm a little sad, because blogging is fun for me and I don't want it to end. I'm also confused, because my
Blogger
stats are consistently higher than the ones in Google Analytics... pretty much double, in fact. Which of them is more accurate? Does anyone know where this big discrepancy comes from? According to Blogger (see below), I actually had 10,628 in March.
Either way, it's definitely down to less than half. I'm disappointed because I really wanted to hit 60,000 monthly views this year, but we'll see. Anything is possible, I guess. I also find it interesting that I got more traffic when I was posting pointless Pinterest roundups and Etsy wishlists. There's nothing wrong with those types of blogs, I'm just not like that anymore; I want to express something deeper and more meaningful. If that means I'm losing old readers, I'm okay with that, because it means I'm gaining new ones who are actually connecting to what I'm saying. I enjoy having a small, loyal community anyway.
(Note: These are only stats for the-loudmouth.com, not
babyloudmouth.co
or
stephanieshar.com
; I am not nearly as active on those, and let's face it y'all, I can only concentrate on so much at a time.)
Even if I can't double my traffic, I hope to at least double my impact on the world and make it a more positive place. That's the ultimate dream and, really, the whole point of what I do.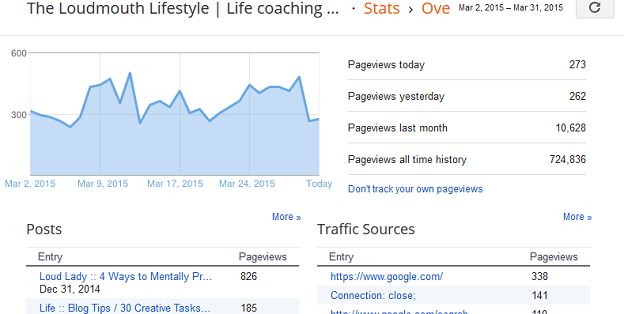 According to my top 10 traffic sources, most people searched for me or typed the web address right in, which shows that the name of my blog is easy to remember (hint: yours should be, too).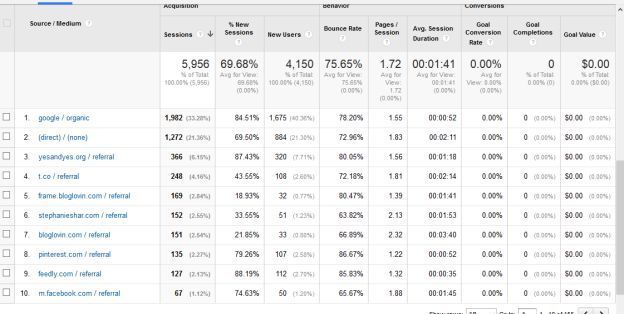 My top post for March was written by
Victoria
, and it's consistently received tons of traffic since it went up in December. How many times have I told you guys that guest posts are AWESOME?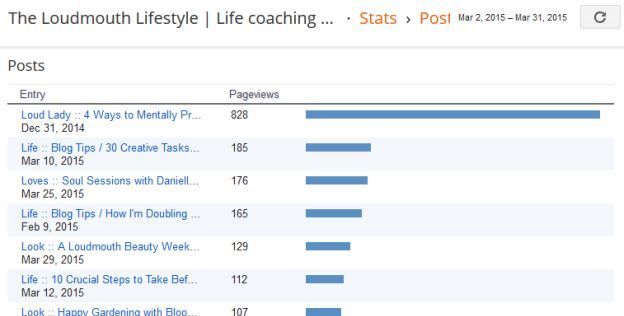 SOCIAL MEDIA PROGRESS
At the beginning of 2015, here's where I was at:
10,600
Twitter
2,270
Pinterest
1,235
Instagram
530
Facebook
450
Bloglovin'
250
LinkedIn
115
Google+
55
YouTube
10
Tumblr
Here are my followings now:
10,930
Twitter
2,315
Pinterest
1,835
Instagram
555
Facebook
455
Bloglovin'
500 LinkedIn
140
Google+
60
YouTube
40 Tumblr
Again, I'm not sure why I'm still getting Tumblr followers even though all I do is connect it to my Instagram, but I ain't complaining. I've also since created a Facebook
profile
(in addition to my page) and a
business
Instagram (in addition to my personal), so I will be including those in future reports!
Most brands look at social media in addition to (or as opposed to) traffic, so as long as I'm progressing there, I'm still confident in my internet presence. I'm not going to include LinkedIn and Tumblr in the future, since I've already hit those goals and I want to concentrate more on the others.
(Note: These are only the stats for social networks affiliated with The Loudmouth Lifestyle, Loudmouth Life Coaching, and Loud Ladies -- not the limo company I work for, Serenity Executive Transportation.)
HEALING MY RELATIONSHIP WITH MONEY
Money has always been a negative thing for me. I grew up seeing two kinds of adults: the ones who were super money-hungry and always wanted more so that they could be rich, and the ones who were super penny-pinching and afraid to spend it so they spent their lives miserable and bored.
I didn't want to be on either end of the spectrum. I didn't want to be greedy, and I didn't want my life to revolve around money. So, I decided that not caring was the best way to go. I decided that my happiness would not depend on money. I decided that my slogan would be "money isn't everything" and I spent it how I pleased. I didn't learn anything about saving, or budgeting, or credit or bills.
I moved out to LA, one of the most expensive cities in the country, when I was 22. And I didn't educate myself about money, because I was worried that if I concentrated too much on it, it would become an idol.
Little did I know that NOT having money would become my idol.
After not paying attention to my finances at all, for years, I found myself in an extreme amount of debt, with no idea how to get out. I've been slowly paying it off, and about a third of it is gone forever. But before coming up with a plan, I had constant anxiety about money. I had to fight off stress about it every single day. Because I always felt like I didn't have any, it consumed my thoughts.
I've since started to educate myself and learn from other people who know a lot more than me. (Two of my favorite blogs for this purpose are
And Then We Saved
and
Making Sense of Cents
.) During this long and strenuous process, I've realized two very important things:
1. Wanting money is not a sin. It is NECESSARY.
And focusing on it (as long as you don't obsess) is actually healthy. If you're an adult, and you're on your own, and you need money to survive, then you MUST to allow yourself to concentrate on it. Don't feel bad or selfish. It's not wrong. Give yourself permission to want to earn money, talk about money, and use money for the benefit of your family. As a Christian, I was always taught that money was a bad thing -- and that's what got me into trouble.
2. Money is not a bad thing!
Money is useful. And it's enjoyable. It's not just for paying bills; we can also save it for vacations and, ya know, fun stuff. When we manage it well, money is for us, not against us. As with any other stable relationship, the more effort we put in, the more we get out of it.
As far as how much I make from my blog and business, I don't yet feel comfortable enough being totally transparent. However, I will say that I've been making anywhere from $100 to $1,000 per month since I became self-employed a year ago, and after starting
Loudmouth Life Coaching
three months ago it has consistently been on the high end. Coaching is absolutely the most financially and spiritually fulfilling part of my business. I'm so glad I faced my fears and made the decision to start something new!
TIPS + TOOLS THAT WORKED FOR ME
I've really been concentrating on making my header photos more "pin-worthy" lately: keeping them the same size, using the same fonts, etc. Not only has it made Pinterest a decent source of traffic, but it's also made my Bloglovin' feed prettier! See screenshots below of The Loudmouth Lifestyle on left and Baby Loudmouth on right. Notice the difference? What do you think? Me likey.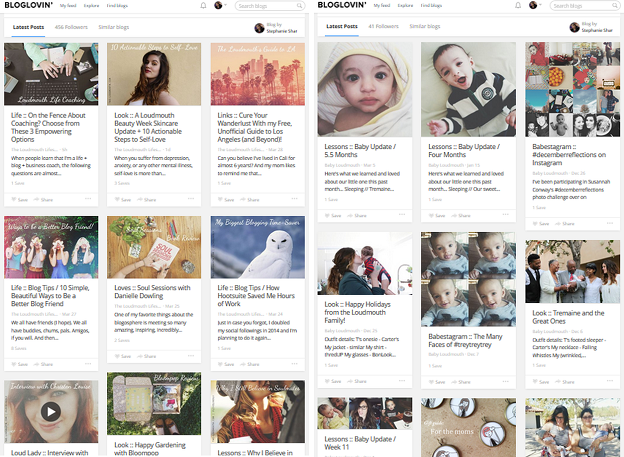 Of course, Trey is so cute that it really doesn't matter if his photos are inconsistent.
I've also started using
Hootsuite
, and I wrote all about it
here
.
One last thing that's totally improved Brandon and I's work environment (and relationship): having scheduled shifts. I'll work 9-1, he'll work 1-5, and while one of us is working the other watches the baby. It's so simple but for some reason we never thought of it before. Now, we can't argue about who's working more, or working less, or not spending enough time with our son... it feels a lot more fair for everyone.
I also get stuff done while Trey is sleeping, and I usually get up before 8 to work out. Learning to balance everything is a constant process and changes every month, but it's completely worth it to get to run my own business and be at home with my family. I'm very blessed and extremely grateful.
MINI BLOG + BIZ GOALS FOR APRIL
1. Put finishing touches on the Loud Ladies: Spring Break e-course
2. Knock out e-book listings and outlines
3. Complete Regina's
Love My Brand Kit
and
How to Create a Course in 12 Hours
(both are free!)
PERSONAL TO-DO LIST
1. Reorganize Trey's closet and pack away or donate stuff that no longer fits him (tear)
2. Finish reading the four books that I'm halfway done with
3. Continue thanking YOU for being so amazing and supportive ♥
*Photo found
here
. Text added by me.