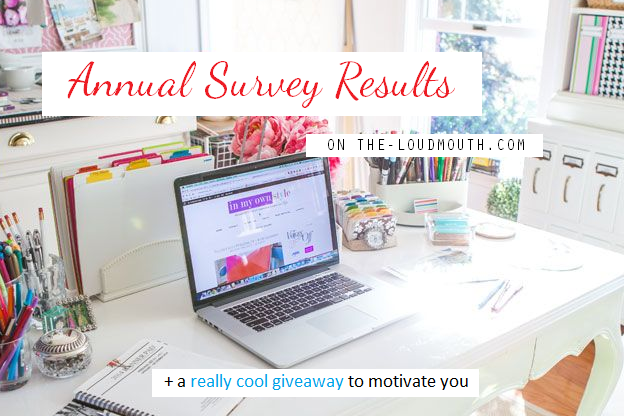 I've noticed a trend in the blogosphere recently that I really, really like.
This new wave of positive posts encourages us to:
I could go on and on, but those were my favorites as of late.
Self-love. Self-care. Doing what you want. Being who you are.
Sounds like we're ALL looking for a louder lifestyle, huh?
And my annual survey confirms that. About 1% of my readership filled it out (yes, a calculator was used there because I'm awesome at math). Thanks to those who took the time to share your thoughts. For the rest of you, I'm just gonna go ahead and assume that no news is good news. Cool?
I'm excited to show you some of the results today. Let's dive in!

Anything surprise you there?
Even though the survey won't open up again until the fall, you can still
shoot me your thoughts
through email, Twitter or anything else. I take any and all feedback into consideration. Help me help you!
Okay, so now onto the yummy stuff. I recently started this thing where I'm putting together monthly
giveaways
for you guys. These were
April's winners and prizes
(I'll get you your goodies soon)...
Liz
of
Furl Unfurled
// One Quick Question Session
Jessica
of
The Jessica L Blog
// Loud Ladies: Spring Break e-course PDF
Sarah
of
The Laughing Medusa
// 7 Steps to Living Loudly e-book PDF
Kelly
of
Swimming in Sunshine
// Blog Analysis
Jess
of
The Fire Stokers
// Access to private Loud Ladies group
Kerry
of
Kerry Hishon
// E-book Edit
Sophia
of
Sophia Chang
// 60-minute Coaching Session
Congrats, babes! Hope you enjoy. I can't wait to chat about your goals, dreams, hopes, fears.
And a sneaky little secret for y'all: I'm opening Loud Ladies membership to pretty much anyone within the month.
Today's prize(s) go back to that notion of treating ourselves and enjoying life. My all-time favorite thing for a quick pick-me-up (besides sex, wine and chocolate) is coffee. If you follow my personal account on IG, then I'm sure you already know this. The following is one of many photos that features a mug:
Dope, right?
I don't know what your go-to is when you wanna #treatyoself, so I'm going to give you a little something called #coffeecash.
At first, I was just gonna grab some Starbucks gift cards, but then realized that there may be some local hipster haunts you like. Or maybe you'd rather drink tea. Or Red Bull. Or water. (Weirdos! Kidding. I need to drink more water.)
So I'm just going to send you some money via Paypal. Does that work?
And you can spend it on anything you like.
But make sure it's something FUN. Something FOR YOU. Take a few minutes to celebrate your successes and reward yourself for your efforts.
There are no hoops to jump through or handles to follow for this one, but I do request that you RT or fave the following, and then I'll know you wanna win:
I love coffee, yes I do. I love coffee, how 'bout you? (That was lame but this #giveaway's not. Promise.) http://t.co/G25yYlKvNF #coffeecash

— Stephanie Shar (@loudmouthblogs) May 7, 2015
I'll choose four peeps at random. You'll either get $20, $15, $10, or $5 in #coffeecash.
Giveaway ends May 31. Good luck, folks!
Want even MORE free blog advice + biz tips? Sign up for my weekly newsletter. You'll get an email every Tuesday with never-before-seen exclusive content, plus a 20 minute coaching session with me so that we can chat about your EXACT situation. It's time for you to blog boldly and live loudly, girlfriend!
*Photo found
here
. Text added by me.