KISS YOUR 9-5 GOODBYE.

SAY "I DO" TO YOUR DREAM.

IT'S TIME TO...

You are SO sick of your job.

You want to do something you're passionate about. Something that helps you AND helps the world. Something bigger. Something more.

And, I know. I've been there.

In March 2014, I left my secure full-time career to start my self-employment journey. It wasn't easy, and I learned everything the hard way.

If only I'd had a program and a coach who could lead the way. Who could tell me her mistakes -- and how to avoid them. Who could give me the secrets I couldn't find by googling. Who could be my best friend and cheerleader and partner-in-crime and kick-ass guide all-in-one. That's why I've created this.

This is for you. And for me -- the me that once was.

The truth is, I wish I'd had something like this, but I didn't. And that's okay, because now I get to share everything I've learned with you.

Quit + Commit: From Self-Doubt to Self Employed is a 12-week program that will get you the knowledge and confidence you need to succeed in taking the leap so you can finally start your very own business.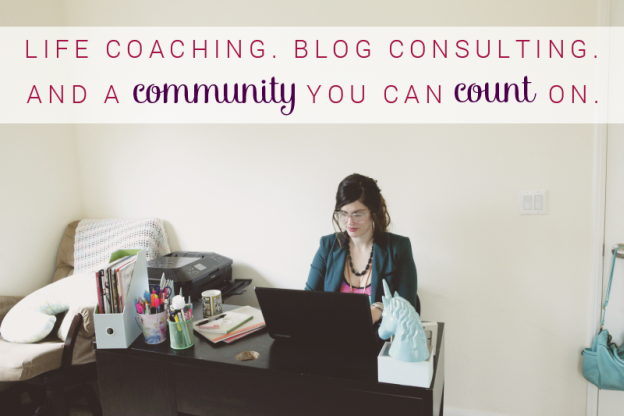 Here's just a sample of the tasks we'll tackle together...

WEEK ONE: GOAL SETTING

Choose an EXACT DATE that you're going to leave your job.
Decide how much you want to have in the bank when you leave.
Create goals with me + break them down into smaller ones.
Decide what you're good at + what you can teach.

WEEK TWO: AUDIENCE BUILDING

Decide on the SPECIFIC audience you want to help.
Revamp your website + social media platforms to be irresistible.
Create a stunning lead magnet + start an email list that your peeps love.

WEEK THREE: EDITORIAL PLANNING

Create a calendar + routine for your blog + business.
Start implementing systems (using my favorite, simple tools).
Form strategic partnerships for guest posting + collaborations.

WEEK FOUR: CLIENT CONNECTIONS

Find your people + where they hang out (I'll tell you my fave spots).
Offer free services for testimonials -- there's only a certain amount you need!
How to collect client inquiries from people that can't WAIT to work with you.

WEEK FIVE: BLOG + SOCIAL MEDIA POSTS

Why less is more when it comes to blogging.
When + how to schedule your posts for the best possible results.
What to post about on social media + which platforms to use.
How to participate in chats/groups/scopes + stand out from the crowd.

WEEK SIX: TIME + MONEY MANAGEMENT

Money/budget check-in with me.
How to manage the work/life/blog balance.
When to schedule which tasks in order to save time + money.

WEEK SEVEN: QUITTING 101

How to properly put in your resignation with class.
What to say to your family/friends/coworkers.
Setting up health insurance + establishing legal biz shiz.

WEEK EIGHT: OWN YOUR WORTH

How to create premium packages + establish long-term clients.
Relaxation + self-development techniques to give you confidence + clarity.

WEEK NINE: MARKETING + PROMOTION

The secrets to marketing yourself even when you don't like marketing.
Promoting the right e-courses/e-books/workbooks to the right people.

WEEK TEN: STRATEGY + SALES FUNNELS

Getting leads + streams of inquiries.
How to turn followers into traffic > subscribers > clients.
Making sure you are emotionally READY when business comes in.

WEEK ELEVEN: TYING UP LOOSE ENDS

Setting up your environment/brain/bank account for success.
Making sure your physical/mental/spiritual health is a priority.

WEEK TWELVE: TAKE THE LEAP

Last check-in with me!

QUIT HIDING BEHIND YOUR DESK. YOU ARE EFFING AWESOME AND THE WORLD NEEDS YOU.




Sign up by October 20 and get these hot bonuses (along with your 12 weeks of step-by-step lessons):
1. Three one-on-one coaching sessions with me (an $847 value)
: We'll talk about your blog, business and exact situation at the beginning, middle and end of the program. I've been blogging for 4+ years and coaching for 9 months; see testimonials from my amazing clients
here
. It works.
2. A Blog Analysis ($129 value):
You'll get final feedback on your site before I let you go on your merry way at the end of the course. I'll analyze your content based on a series of criteria and give feedback on your design + layout, social media + blog posts, monetization methods and more.
3. Access to a private party for program participants ONLY:
We'll have a private Slack chat open 24/7 so that you can meet other students and collaborate, form friendships, ask questions, etc.
4. Weekly Facebook coaching hours:
I will have open messaging hours each week for you to contact me about anything you want and get instant feedback. This is in addition to the monthly coaching calls.
5. Worksheets, videos, checklists and more:
You'll receive TONS of resources throughout the course to keep you on track and help you learn as much valuable information as possible (including an exclusive e-book made up of all the lessons so you can print it out and refer to it forever!)

THIS COURSE WILL RUN FROM NOVEMBER 15 - FEBRUARY 5. I DO NOT KNOW IF OR WHEN I WILL OFFER IT AGAIN. NOW'S YOUR CHANCE!